First Felony Arrests Near Bayou Bridge Construction Made Under New Louisiana Law Penalizing Pipeline Trespass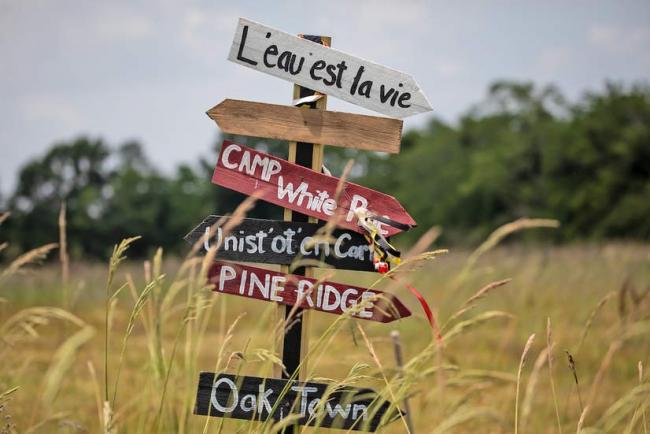 August 22, 2018
Karen Savage, an award-winning investigative reporter, did not expect to be arrested as she covered Energy Transfer Partners' controversial construction of the Bayou Bridge pipeline through Louisiana's Atchafalaya Basin, a river swamp bigger than the Florida Everglades.
"We were on land that the pipeline company doesn't even claim to have," she said, adding that she had permission in writing from the property owner to be there. "I didn't think there was really any risk at all."
Savage, a freelance reporter who teaches at the City University of New York's graduate school of journalism, has previously covered the BP oil spill and environmental justice issues. Truthout describes her as "embedded" with L'eau Est La Vie protest camp, which opposes the pipeline.
She now faces "critical infrastructure" trespass charges, as do over half a dozen others recently arrested near Bayou Bridge construction. These felony charges come under a newly minted Louisiana law modeled after "critical infrastructure" laws in other states, which have been criticized as efforts to criminalize oil and gas pipeline protests.
Louisiana's first felony trespass arrests came on August 9, when three people kayaking through waters adjoining Bayou Bridge construction were charged under the new law, according to pipeline opponents who said the kayakers were paddling in public waterways. And three more people were arrested the same day as Savage, according to Truthout.
Early Monday morning, a Bayou Bridge activist who identifies as a "water protector" was tased and arrested after being forced from a "skypod," a device similar to the tripods sometimes used in civil disobedience campaigns. That person was charged and held on $10,000 bail, according to a statement put out by local activists.
Like many who opposed Energy Transfer Partners' Dakota Access pipeline in North Dakota, Bayou Bridge opponents identify themselves as water protectors. Some of those opposed to Bayou Bridge have engaged in tree-sits as a form of civil disobedience.
Trespassing Near 'Critical Infrastructure'
Traditionally, trespass charges are relatively low-level crimes often punishable by little more than a fine.
The law turning trespassing — if it's near "critical infrastructure" or construction sites for critical infrastructure — into a felony carrying a sentence of up to five years went into effect on August 1. It specifically amended the Louisiana criminal code to include oil and gas pipelines under the definition of "critical infrastructure," and, when originally proposed,* included "conspiracy" charges to enter or damage these sites with harsh penalties both in terms of prison time and fines.
Energy Transfer Partners, the company building the Bayou Bridge pipeline, supported the bill elevating "critical infrastructure" trespassing to a felony, a local ABC News affiliate reported in April.
Another ALEC Bill Now Law
The Louisiana law is similar to a bill pushed nationwide by the American Legislative Exchange Council (ALEC), a corporate-funded bill mill whose members include oil and gas companies like Chesapeake Energy and Continental Resources. Energy Transfer Partners has twice supported ALEC's annual conferences, according to Sourcewatch.
Part of the reason that trespass charges are rarely serious is that it can be a complex legal issue to sift out who exactly owns a piece of land, especially if ownership is disputed. The owners of land where Bayou Bridge construction is currently underway have said that the company never obtained an easement or seized their property through eminent domain, meaning that they believe the construction is illegal.
Bayou Bridge opponents predicted that the bill would be used to target their campaigns — particularly if there's a risk of being arrested for a felony even when you reasonably believe you are not trespassing.
"Clearly the purpose is to chill lawful dissent," New Orleans-based environmental activist Meg Logue told The Advocatein April.
Other reports of police misconduct and the blurring of the lines between public officials and private security at Bayou Bridge sites drew a warning from lawyers from three prominent civil liberties organizations in late July.
Police stood by while company "[c]onstruction workers [used] chainsaws on the very trees these individuals are sitting in," William P. Quigley, law professor and director of the Loyola Law Clinic; Pam Spees, senior staff attorney at Center for Constitutional Rights; and Lauren Regan of the Civil Liberties Defense Center wrote in a July 28 letter to Louisiana's governor. "We also have reports that various state employees from the Department of Public Safety, Corrections, and Probation and Parole are working as private security in this matter."
DeSmog has previously reported that legislatures in at least three other states have begun considering laws similar to ALEC's model bill. So far this year, "critical infrastructure" bills have passed either the state House or Senate in Iowa, Pennsylvania, Oklahoma, and Wyoming. Similar bills have also been introduced in states including Virginia, New York, Ohio, and Minnesota, and Colorado and Washington state have also considered related measures.
*Update 8/24/18: Corrected to note that the final version of the law was amended to drop the conspiracy charges.
Main image: Signs from L'eau Est La Vie protest camp in Louisiana. Credit: ©2018 Julie Dermansky