Powell River activists to serve sentences for Kinder Morgan protests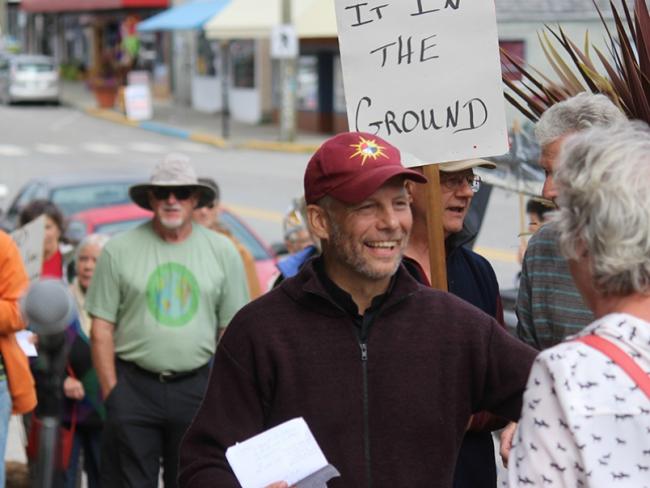 September 12, 2018
Joining thousands of people around the world on Saturday, September 8, for Rise for Climate Change, Powell River protesters gathered outside the office of Powell River-Sunshine Coast MLA Nicholas Simons.
About 40 people attended to rally against tar sands, Trans Mountain Pipeline and prime minister Justin Trudeau.
Climate Action Powell River member Fred Guerin told the protesters tar sands expansion and fossil-fuel projects must stop, and that Canada must honour the Paris Agreement by investing in sustainable green alternatives, and release the secret records of the federal Trans Mountain review.
"The right thing for them to do is to instruct the federal prosecutors to drop all charges and forgive all fines against protesters whose reasons for resisting the pipeline expansion have now been acknowledged and validated by the Federal Court of Appeal," said Guerin.
Powell River residents Ron Berezan and Jo Murray were both charged for being on the blockade on May 18 during a week of protests at the Kinder Morgan terminal in Burnaby.
"I'm going to jail in November unless something changes," said Berezan.
After his arrest, Berezan said the sentencing structure changed from a $500 fine or 2,500 hours in community service to a $5,000 fine, 250 hours of community service or a one-week prison sentence.
"For a lot of reasons I'm not going to pay the fine and I'm not going to do the community service," said Berezan.
On August  30, the Federal Court of Appeal ruled against the federal government's approval of the pipeline because it had not properly consulted with first nations.
"The big news, the big celebration is that the court decision not only ruled that first nations were inadequately and meaningfully consulted but also failed to consider the marine impacts, the environment and animals that live in the environment," said Berezan.
However, in the days following the court's decision, Trudeau and federal infrastructure and communities minister Amarjeet Sohi said the government is weighing all options to move ahead with Trans Mountain.
"This is a long-haul issue and unfortunately the federal government and the provincial NDP government of Alberta have turned it into such a black and white scenario that they have not given themselves a graceful exit," said Berezan. "Politically speaking, it was not a surprise that the Liberal government elected to comment right after the ruling that they will continue to find a way to get the pipeline built."
[Top photo: RISING UP: Powell River resident Ron Berezan will be going to jail for his arrest at the Kinder Morgan terminal in May during a week of protests against the Trans Mountain Pipeline. David Brindle photo]