'The science is irrefutable': US warming faster than global average, says report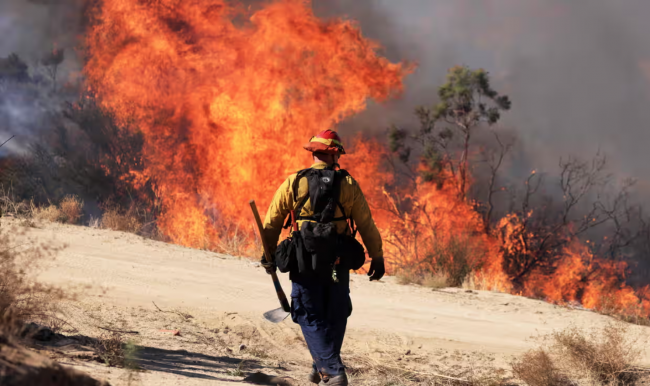 Nov. 14, 2023
The US is warming faster than the global average and its people are suffering "far-reaching and worsening" consequences from the climate crisis, with worse to come, according to an authoritative report issued by the US government.
An array of "increasingly harmful impacts" is hitting every corner of the vast country, from extreme heat and sea level rise in Florida to depleted fish stocks and increased food insecurity in Alaska, the new National Climate Assessment has found.
While planet-heating US emissions have fallen since peaking in 2007, the reductions are still not enough to meet international targets to avert disastrous climate change, and without deeper cuts in carbon pollution "severe climate risks to the United States will continue to grow", the report states.
"Even if greenhouse gas emissions fall substantially, the impacts of climate change will continue to intensify over the next decade," the report finds, adding that choices made by the US and other countries will "determine the trajectory of climate change and associated impacts for many generations to come".
The release of the fifth iteration of the Congressionally-mandated climate assessment, an exhaustive distillation of climate science compiled by more than 750 experts across the US federal government, follows a summer of vivid climate change-fueled events across the country that have included catastrophic, deadly fires in Hawaii, choking wildfire smoke along the US east coast and record-breaking heat in multiple states.
The report shows "more and more people are experiencing climate change right now, right outside their windows", said Allison Crimmins, a climate scientist and director of the National Climate Assessment. Crimmins said that escalating dangers from wildfires, severe heat, flooding and other impacts mean that the US suffers a disaster costing at least $1bn in damages every three weeks now, on average, compared to once every four months in the 1980s.
"We need to be moving much faster and we need to go much further," she said. "We know that each degree, each tenth of a degree, of additional warming brings more severe climate impacts to the US and those impacts are felt more acutely by overburdened communities."
The report, released just weeks before crucial United Nations climate talks in Dubai, is the first of its kind to be released under Joe Biden's presidency, with the previous assessment put out by Donald Trump's administration the day after Thanksgiving in 2018.
The White House has used the updated report to trumpet the US president's efforts to address the climate crisis, announcing more than $5bn in new spending directed at upgrading the electric grid, bolstering resilience to disasters and furthering efforts to combat environmental injustice.
The administration is attempting to quell growing unease among those concerned about climate change about the president's ongoing approval of oil and gas projects that further extend the lifespan of the fossil fuel era.
Biden is responsible for "historic" investment in clean energy, via the Inflation Reduction Act, according to Ali Zaidi, Biden's climate adviser, who pointed to the climate assessment's endorsement of the economic, as well as health, benefits of switching to solar, wind and electric vehicles. "President Biden's leadership on climate change is about turning crisis into opportunity, investing into the core of America," Zaidi said.
We need to get to net zero by 2050, which will require transformation of the global economy at a size and scale that's never occurred in human history
But the administration acknowledges the challenge remains huge. "It's beyond question the climate crisis is here," said John Podesta, a clean energy adviser to Biden. "We need to get to net zero by 2050, which will require transformation of the global economy at a size and scale that's never occurred in human history. It sounds like a daunting task and it is, but the national climate assessment tells us the United States is already making that transformation happen."
Scientists who worked on the 32-chapter report, which touches on everything from climate change's impact upon the oceans to agriculture to transportation to cultural practices, say that scientific confidence about the influence of global heating upon extreme weather and other phenomena has only strengthened since the last report in 2018.
"Climate change is here, it's happening now, it's unequivocal that humans are causing it," said Adam Terando, a US Geological Survey scientist and report co-author.
"Those who operate in this sphere think this message gets tiresome, but it's worth reminding people over and over that we are seeing the response of the physical system to what we are doing to it. Dependence upon fossil fuels has real consequences."
Kristina Dahl, a climate scientist at the Union of Concerned Scientists, who was not involved in the publication, said the report is "the latest in a series of alarm bells and illustrates that the changes we're living through are unprecedented in human history".
She added: "The science is irrefutable: we must swiftly reduce heat-trapping emissions and enact transformational climate adaptation policies in every region of the country to limit the stampede of devastating events and the toll each one takes on our lives and the economy."
The report's findings include:
The climate crisis is causing disruption to all regions of the US, from flooding via heavier rainfall in the north-east to prolonged drought in the south-west. A constant is heat – "across all regions of the US, people are experiencing warming temperatures and longer-lasting heatwaves" – with nighttime and winter temperatures rising faster than daytime and summer temperatures.

People's health is already being harmed by worsened air quality from smog, wildfire smoke, dust and increased pollen, as well as from extreme weather events and the spread of infectious diseases. Children born in 2020 will be exposed to far more climate-related hazards compared to people born in 1965.

There are "profound changes" underway in the water cycle, raising the risk of flooding, drought and degraded water supplies for people in the US. Snow cover in mountains is decreasing, while the nation's supply of groundwater is under threat from warming temperatures.

Americans' everyday and recreational activities are at risk, with a changing climate causing invasive species and harmful algal blooms that prevent access to beaches and fishing for certain species. Culturally important species for Indigenous people, some of them subsistence hunters, are shifting in response to temperature changes.

Emissions in the US, the world's largest historical carbon polluter, have dropped by around 12% since 2005, with the costs associated with wind and solar energy plummeting by 70% and 90%, respectively, over the past decade. The benefits of deep emissions cuts "far outweigh the costs" of shifting to clean energy, the report states.
[Top photo: A firefighter walks toward flames as the Highland Fire burns in Aguana, California, on 31 October 2023. Photograph: David Swanson/AFP/Getty Images]