'Think Green' Stickers In Alberta Mask Extreme White Nationalist Message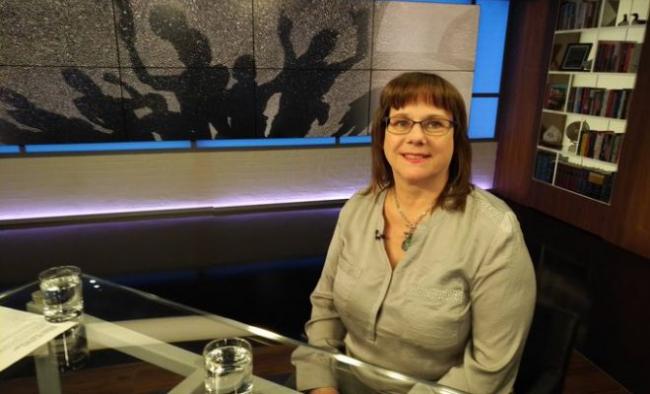 Mar. 9, 2020
An ostensibly pro-environment message on a poster showing up on lamp posts in downtown Red Deer, Alberta links back to an extreme white nationalist website that was already on the radar of anti-racism campaigners, reports the Edmonton bureau of the Toronto Star.
The poster "comes across as harmless at first glance: A symbol featuring the rising sun nestled behind the Rocky Mountains and three maple leaves, surrounded by two wheat stalks with the words 'Think Green, Buy Local'," the Star reports. 
But the URL on the poster points to a site that "tells a very different story," the paper adds. "The website identifies ID Canada as 'Canada's leading identitarian movement' and says it was created as a response to 'Canada's decaying identity, increased third world immigration, and the prevalence of anti-European sentiments'."
Its credo: "Canada is not a 'Nation of immigrants.' The Dominion of Canada was formed by Europeans."
The Star links the latest news to stories just 10 days ago about two sets of decals that advocated extreme violence against #FridaysforFuture founder Greta Thunberg and blockaders opposed to the Coastal GasLink pipeline in British Columbia.
"The decals are part of a trend across Canada of far-right groups spreading their messaging through posters and stickers in public places, especially since the election of Donald Trump," the paper adds, citing experts in extremism. "They say there's been a shift of far-right groups moving from the online sphere, where extreme ideologies are typically disseminated and welcomed, as they try to target a wider audience in mainstream society."
Barbara Perry, director of Ontario Tech University's Centre on Hate, Bias and Extremism, made a chilling distinction between the two formats. "It is another symbol to the extent of which people do feel emboldened to express those kinds of sentiments," she told the Star. "There is a public recognition that it's more OK now than say 2016, 2015, to make those kinds of public statements."
The Canadian Anti-Hate Network reported six to 12 postering incidents in the last month, mostly in Alberta and Ontario.
Citing Perry, the Star casts the "Think Green" messaging as an example of extremist groups trying to "present their message in an innocuous and unobjectionable way," aiming to "seduce Canadians who may be more wary of blatantly racist or anti-immigrant messaging."
The words on the poster "don't come across as hateful, but Perry acknowledged that the 'Buy local' phrasing could be interpreted as a racist dog whistle," the paper adds, possibly associated with what she described as a growing "ecofascism" movement. "They lay the blame for environmental problems, global warming, climate change, at the feet of the Far East in particular, the expansion of non-white populations and unbridled growth," she explained.
The Star says ID Canada, the group behind the poster, didn't respond to a request for comment.
[Top photo: Barbara Perry - Steve Paikin/Twitter]