$18 billion in subsidies, public financing during pandemic: report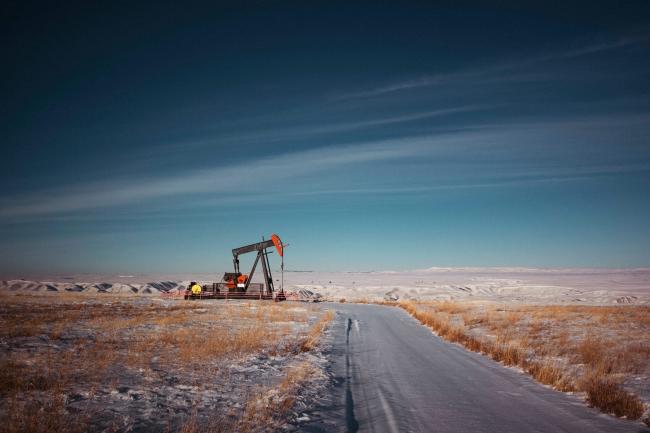 Apr 15, 2021
Despite long-held promises to phase out fossil fuel subsidies, Ottawa increased assistance to the industry in 2020 with public funding for pipelines, inactive well clean-up and policing of Indigenous opponents
"We're seeing this pattern of oil and gas companies using the pandemic as an excuse to lobby for more subsidies and more public financing, and the government saying 'yes' and pretending to be committed to a green recovery," said Julia Levin, climate and energy program manager for the non-profit group Environmental Defence, which published the report on Thursday.
"There's a real hypocrisy this year that has been made clearer than ever," Levin told The Narwhal. "We need to be starting the wind-down of the oil and gas sector in order to ensure that we have a liveable planet — and these subsidies do the exact opposite."
Included in the $18 billion are $3.28 billion in direct spending and $13.6 billion in public financing for oil and gas companies that primarily comes from the opaque crown corporation Export Development Canada, according to the report, Paying Polluters: Federal Financial Support to Oil and Gas in 2020.
The report found that federal government agencies have played a key role in financing the construction of pipelines that have large carbon footprints, violate Indigenous Rights and put ecosystems at risk during a global biodiversity crisis. 
In 2020, Export Development Canada provided up to $5.25 billion in financing renewals for the Trans Mountain pipeline expansion, a publicly owned project that will cost at least $12.6 billion and comes with a hefty carbon footprint.
It also approved a loan of up to $500 million for TC Energy, the owner of the Coastal GasLink pipeline that will supply fracked gas from northern B.C. to the LNG Canada project, one of Canada's largest single sources of carbon pollution — on par with Teck's mothballed Frontier oilsands mine in terms of its greenhouse gas emissions.
According to the report, Export Development Canada provides an average of almost $14 billion a year to support domestic and international oil and gas companies.
Subsidies listed in the report include more than $13 million the RCMP spent to police the Coastal GasLink pipeline conflict in northern B.C. between January 2019 and March 2020. 
On-going construction of the pipeline, which is opposed by hereditary chiefs from all five clans of the Wet'suwet'en Nation, prompted the UN Committee on the Elimination of Racial Discrimination to ask the federal government to suspend the project until the free, prior and informed consent of Indigenous people is obtained. 
Canada lags behind other countries in phasing out fossil fuel subsidies
The federal government first announced a commitment to phase out fossil fuel subsidies in 2009. More than one decade later, Canada provides more public finance for fossil fuels on a per capita basis than any other G20 country except for China. 
Canada's lack of action on fossil fuel subsidies comes as other countries follow through on promises to slash subsidies and high-profile investors, such as Sweden's central bank and Norway's sovereign wealth fund, divest from oil sands projects. 
On April 12, the New York State Pension Fund — the third largest such fund in the U.S. — announced it had divested $7 million from six oil sands corporations, including Imperial Oil, Canadian Natural Resources, Husky Energy, and Cenovus Energy, saying the companies have not shown they are prepared for a transition to a low carbon future. 
U.S. President Joe Biden has made eliminating fossil fuel subsidies and public finance a priority for his administration, directing all federal agencies to eliminate such spending from next year's budget and instructing relevant departments and agencies to end international public finance for fossil fuels. 
The executive director of the International Energy Agency and the Secretary-General of the United Nations have also recently urged countries to remove fossil fuel subsidies and supports that include public finance. 
In contrast to the $18 billion Canada's federal government dedicated to the oil and gas sector in 2020, the government's new climate plan promises $15 billion in climate initiatives over a 10-year period. The initiatives aim to help Canada reach the commitment it made under the Paris Agreement to reduce greenhouse gas emissions by 30 per cent below 2005 levels by 2030 and to move to net zero emissions by 2050.
"When we set climate targets and we continue to hand out $18 billion a year to oil and gas companies, we make it so that those commitments are impossible to reach," Levin said. "The oil and gas sector is the sector in our economy that produces more emissions than any other sector, and it's the fastest growing. It's incompatible with these climate commitments."
She said fossil fuel subsidies could increase if funds from Canada's new climate plan are directed to the oil and gas sector for initiatives such as carbon capture and storage and blue hydrogen derived from fossil fuels. 
Canada has vowed for years to eliminate fossil fuel subsidies in order to drive more support for diversified sources of clean and renewable energy. Photo: Todd Korol
Support for oil and gas industry increased during pandemic at request of industry
According to the report, many Canadian government support programs established in 2020 were at the request of the oil and gas industry. In April 2020, the Canadian Association of Petroleum Producers sent a letter to cabinet asking for an array of measures that were granted, including funding to reduce environmental liabilities and increased access to credit through Export Development Canada. 
The federal government subsequently announced it would spend $1.7 billion to clean up orphan and inactive wells in Alberta, Saskatchewan and B.C. Alberta received the lion's share of the funding — $1.2 billion — while $400 million was designated for Saskatchewan and $120 million for B.C. 
Levin said the funding should only have been granted on the condition that provinces enforce the 'polluter pays' principle, which compels companies that cause environmental damage to shoulder the cost. Before distributing the funds to Alberta, Ottawa should also have insisted the provinces conduct a needs assessment to determine if companies like Canadian Natural Resources [CNR] were capable of paying for their own reclamation work, she said. 
"What ended up happening is that companies like CNR, all the big companies, paused their own reclamation work and stopped spending their own money, and applied and got the funds through this program. [They] just replaced what they would have been doing anyway with government funds … We just transferred the cost of doing it away from private companies onto taxpayers."
The government also announced a $750 million program in 2020 to reduce greenhouse gas emissions in the oil and gas sector, especially methane. The report said the same outcomes could be achieved — with no public cost — by putting regulations in place to force companies to invest their own funds into solutions, noting that by taking on the cost of reducing emissions, "we are not holding industry accountable and the cost of doing business is lowered." 
Oil and gas companies also claimed funds from pandemic support programs such as the Canada Emergency Wage Subsidy while continuing to issue shareholder dividends, the report pointed out. Imperial Oil claimed $120 million through the wage subsidy program and issued $320 million in dividends, the report said. 
Jay Averill, media relations manager for the Canadian Association of Petroleum Producers, said the oil and gas industry is cautiously optimistic after being impacted economically by the pandemic and the association is forecasting a 14 per cent increase in upstream natural gas and oil private investment this year, with capital spending reaching more than $27 billion. "This represents an additional $3.36 billion of private investment into the Canadian economy at a time when very few industries are planning to increase spending," Averill said in an emailed statement. 
"As one of the largest private investors and employers in the country, the natural gas and oil industry can be a foundation for national economic recovery," he said. "The industry is committed to working with governments, at all levels, to create an environment where businesses can thrive and attract investment back to Canada. This is how we will maintain jobs and create new opportunities for Canadians."
Averill also said about 75 per cent of all clean technology investment in Canada comes from the natural gas and oil industry. "These efforts were recently recognized by the Harvard Business School which noted that traditional energy companies are some of the most prolific and influential producers of green innovation."
Levin said the report underestimates total government support for the oil and gas sector because the lack of transparency makes it difficult to quantify all annual subsidies. Federal tax deductions are not disclosed, for instance, and there is no comprehensive inventory of direct spending by the government.  
She said Environmental Defence uses the World Trade Organization definition of subsidies: any kind of financial contribution by a government or government agency that confers a benefit to the recipient, including tax breaks and direct spending. 
Canada's support to oil and gas companies includes providing funds to conduct research into new technology to lower their costs of doing business, paying for access to credit, loan guarantees and tax breaks. 
"Allowing oil and gas companies to access unique government financing or to leave their mess behind without paying for cleanup is just as helpful to a company's bottom line and incentivizing production as a direct payment or tax incentive," the report noted.  
Levin said the upcoming federal budget and Earth Day Leaders Summit on Climate provide ideal opportunities for the federal government to redirect support away from the fossil fuel industry while providing sufficient support for workers and communities. 
"We're a global laggard and really need to take steps to catch up." 
Moria Kelly, press secretary for Environment and Climate Change Canada, said the government remains committed to phasing out "inefficient" subsidies by 2025 and is on track to do so.
Kelly said Canada has already eliminated eight tax breaks for the fossil fuel sector and is working with Argentina on a peer review of fossil fuel subsidies to help determine what needs to be done next in order to meet its commitment. "Our government will continue working with Canadians to cut pollution across the economy in a practical and affordable way," she said in an email.
Kelly said the Environmental Defence report labels environmental policies that reduce emissions and keep life affordable as fossil fuel subsidies, including orphan well clean-up, support for Indigenous communities that rely on diesel, efforts to ensure Canadian companies decarbonize faster and help the clean-tech sector scale up, and support for workers through the wage-subsidy program.
Environmental Defence is calling on the federal government to develop and publish a roadmap to achieve Canada's commitment to phase out fossil fuel subsidies by 2025 and to ensure that funded programs apply the 'polluter pays' principle. It's also asking the government to phase out all domestic and overseas public finance for fossil fuels, including financing from the export credit agency Export Development Canada. 
The report did not examine provincial subsidies for the oil and gas industry or include externalities such as healthcare costs from the impacts of fossil fuels and the cost of pollution clean-up. According to the Canadian Medical Association, the burning of fossil fuels is responsible for $53.5 billion in health-related costs each year in Canada.
[Top photo: Oil and gas infrastructure on a roadside near Calgary, Alta., on December 30, 2020. A new report from Environmental Defence found support for the oil and gas sector grew to $18 billion in 2020. Photo: Todd Korol]