68% of Canadians Oppose Ottawa Write-Down on Trans Mountain Pipeline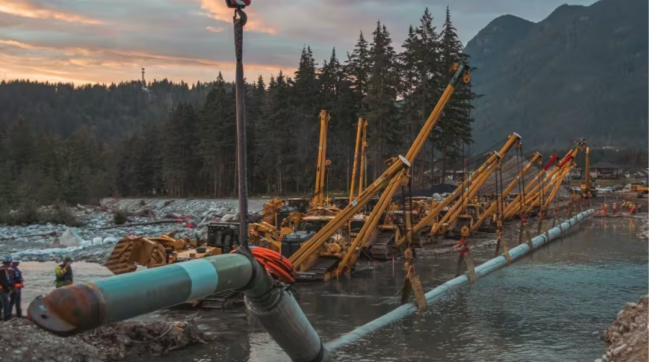 Oct. 24, 2023
Reuters) – More than two-thirds of Canadians oppose the federal government taking a multibillion-dollar writedown on the Trans Mountain pipeline, a survey showed on Tuesday, a dilemma for Justin Trudeau's Liberals as they look to sell it ahead of an election expected by 2025.
Ottawa has sunk roughly C$35 billion ($25.6 billion) into the Trans Mountain oil pipeline, which the federal government bought in 2018 to ensure a controversial expansion project known as TMX went ahead.
TMX will nearly treble the pipeline's capacity to 890,000 barrels per day and improve access to Asian markets when it starts shipping oil early next year. But the project cost has more than quadrupled from its original budget and analysts say the government will likely have to take a significant haircut on its investment.
Finalising that loss ahead of an election that must take place by autumn 2025 looks set to antagonise voters, many of whom are struggling with Canada's rising cost of living and high interest rates.
The Nanos survey found 68% of respondents opposed or somewhat opposed Ottawa writing off between C$15 billion and C$20 billion of the debt incurred by Trans Mountain Corp, the government-owned corporation building the expansion.
"In the context of people worrying about paying for groceries and paying for their rent and mortgage, writing off that debt is going to be political jeopardy for the Liberals," said Nik Nanos, founder of Nanos Research.
The survey was commissioned by West Coast Environmental Law, which works with Indigenous communities against oil pipelines and tanker projects in British Columbia.
Trans Mountain is a key conduit shipping crude from Alberta to Canada's Pacific Coast and the expansion will be a huge boost to oil producers by opening up refining markets in Asia and the U.S. West Coast.
Six in 10 Canadians surveyed said it should be mostly oil companies responsible for funding TMX, while nearly half of respondents said the federal government was going in the wrong direction on the project.
"The federal government has spent reams of political and financial capital on TMX, but Canadians do not support billions of dollars in additional subsidies to the oil and gas companies," said Eugene Kung, a staff lawyer with West Coast Environmental Law.
Trans Mountain is currently locked in a dispute with contracted oil shippers over tolls, which will play a part in determining the long-term value of the pipeline. The Canada Energy Regulator is set to make a preliminary decision on interim tolls this autumn.
[Top photo: A replacement pipeline segment is lowered into the Coquihalla River by Trans Mountain near Hope, B.C., on Aug. 9, 2022.  CBC News 2023]