After Keystone XL denial, a boom for crude-by-rail is not a foregone conclusion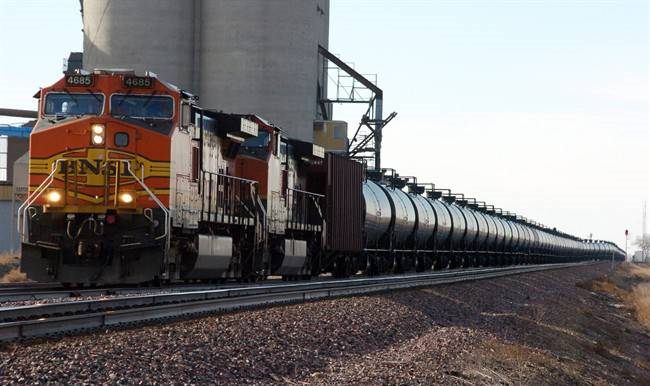 CALGARY - Now that the Keystone XL pipeline has been rejected, it's not a foregone conclusion that much of the 830,000 barrels a day that would have flowed through it will move on trains instead, industry watchers say.
"I think that rail certainly will play a part, but a lot has to do what happens to the price of crude and happens to oilsands projects," said Dirk Lever, an analyst at AltaCorp. Capital.
Proponents of Keystone XL and similar proposals frequently trumpeted the benefits of moving crude by pipeline over rail — safety-wise, economically and environmentally.
"This denial will result in more oil moving by rail along with an increase in (greenhouse gases)," TransCanada warned after U.S. President Barack Obama announced he'd be denying a permit for the US$8-billion cross-border pipeline.
The safety of shipping crude by rail has been top of mind since a fiery crash in the summer of 2013 killed 47 people in Lac Megantic, Que.
Canada's crude-by-rail exports have fallen this year, according to National Energy Board data.
The industry finished off 2014 shipping an average of 158,532 barrels a day across the border. In the first quarter of 2015, that dropped to 119,755 and in the second quarter it plummeted to 83,605.
Shipping crude by rail is significantly more expensive than pipeline — think US$10 a barrel versus US$5 a barrel, though it does vary depending on market conditions, said Lever.
The West Texas Intermediate crude price, the main U.S. benchmark, is around US$42 a barrel. But that's not even the price oilsands producers get for their heavy, trickier-to-refine product.
"If you're getting US$120 a barrel, you might not care about that US$5. But when you're getting US$30, you care very much," Lever said.
There's also a question mark hanging over the outlook for how much crude output is coming, given some projects have been cancelled or delayed. The barrels Keystone XL would have shipped aren't being produced today; the idea was to build the pipeline in time to carry crude from expansions that are in the works, said Lever.
Afolabi Ogunnaike, a Houston-based analyst at consulting firm Wood Mackenzie, agrees rail is "less desirable" because of the dent to producers' bottom lines — at least in today's market.
"Many of these projects, they are long-lived projects and between now and 2020, we would expect that the price of oil will rise some," he said.
Joshua Axelrod, a policy analyst at the U.S.-based Natural Resources Defense Council — one of the environmental groups that campaigned against Keystone XL — said it's not well understood that the boom in U.S. rail traffic hasn't been originating from Canada, but rather from the Bakken oil deposit centred on North Dakota.
"Keystone XL would not have relieved that problem," he said.
There are a number of crude-by-rail facilities planned for the Pacific Northwest that would surely be attractive to oilsands producers, but those are contentious. So between mounting opposition, the costs of rail and the lack of certainty on new oilsands projects, the prospects for crude-by-rail filling the Keystone XL gap aren't good, said Axelrod.
"With all those caveats, there's no way that Alberta oil is going to be put on trains and come to the U.S. It would be such a loser for the industry that it would basically sink it."
[End of article]