Canadian oil trains to US to reach "staggering" levels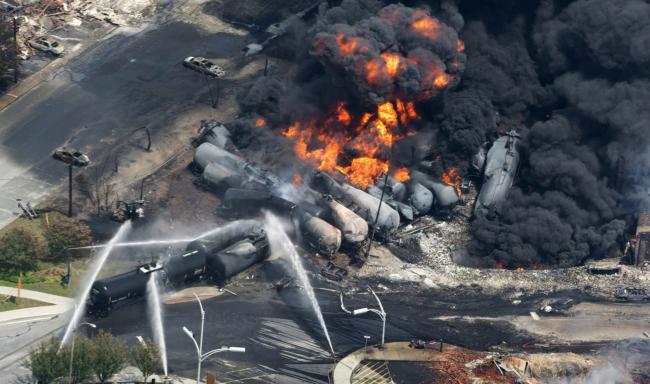 Some call them bomb trains. Oil trains — loaded with explosive Canadian crude — are expected to roll into U.S. communities in "staggering" numbers, says a new study released Thursday by a Seattle sustainability think tank.
S
ightline Institute
says oil shipped by rail into Washington and Oregon states alone will reach one million barrels per day by the year 2018, quadrupling current levels. The cancellation of TransCanada's proposed Keystone XL pipeline last week is only expected to worsen this trend, the report states.
The analysis comes amid opposition to oil trains from cities and towns in these states. On Thursday, the City of Portland passed a resolution opposing oil by rail expansion, and directed city staff to investigate the health, safety and climate impacts.
The controversial issue has been gaining steam since 2012, when the region's first crude oil rail terminal was installed to load oil tankers.
"If there were an oil train explosion ... we'd all be vaporized"
"If there were an oil train explosion here or near my house — we'd all be vaporized," said Annie Christen, a resident near Rainier, Oregon, population 1,800, in a YouTube video last year. "I live a third of a mile from these tracks."
"The tracks run literally right through the centre of Rainier. In order to back out of your parking place, you have to back up over the tracks," she says in the video.
Christen recently told National Observer that since she posted her video, the state has begun upgrading the rails, and realigning the town's car parking for safety. But, she said, far more needs to be done. America's bridges, roads and communities are not ready for the Canadian oil train surge.
"You don't have to be an environmentalist to not want to be incinerated," she wrote in an e-mail Thursday.
"There is significant anger and frustration regarding the danger of the oil trains and the lack of real action from those in positions to help us be safe."
There are now seven oil-by-rail terminals in the region, moving 250,000 barrels of oil per day. A total of 14 facilities are in the works.
"The capacity that the industry is trying to build right now is staggering," said Sightline's policy director, Eric de Place, on Thursday from Seattle.
"People are largely unaware of it, except when the trains derail and explode. Then they become painfully aware."
Canadian oil still growing, despite Keystone XL rejection
And while environmentalists across North America celebrated President Obama's nixing of the giant Keystone XL pipeline last Friday, Canadian oil production itself is still growing — even with very low oil prices.
"Even without the [Keystone XL] pipeline, Canadian crude has always found its way down to the U.S. — and this is by rail," said U.S. Energy Information Agency (EIA) economist Lejla Villar on Wednesday from Washington, D.C.
The U.S. government forecasts Canadian oil production will expand by 60,000 barrels per day this year, and an additional 90,000 barrels per day in 2016.
Oil train protest in Grays Harbor near Seattle in October 2015. Photo provided by Sightline Institute.
Rail will be now be the "sole driver" of new growth in Alberta's oil sands exports, says the Sightline study.
"The Kinder Morgan [pipeline] expansion in B.C. would be a 590,000 barrels per day increase. But we're talking about almost double that much in rail capacity for oil trains — it's a lot."
The greenhouse gas from the oil train surge in the Pacific Northwest is equal to the pollution of adding nine to 22 million cars, says the Sightline report.
Canada's oil lobby group says oil by train is a reality as the industry struggles to get the approval of giant pipelines.
"Low world oil prices are causing a slower pace of oil development throughout North America. Even with this slower pace, additional transportation capacity will be required over time," wrote Matthew O'Connor of the Canadian Association of Petroleum Producers in Calgary.
"The industry has several pipelines (new and expansions of existing) currently in the regulator process ... Rail is one component of that transportation network and currently makes up about five per cent of that total capacity," he added.
One of the industry's next anticipated projects is Kinder Morgan's Trans Mountain pipeline expansion between Alberta and B.C.'s coast. However, the $5.4-billion project is facing uncertain delays with a new government in Ottawa pledging to overhaul Canada's environmental review of pipelines.
As of August, Canada provided 45 per cent of all crude oil imports to the United States, almost three times as much as all Persian Gulf countries combined, says the U.S. EIA.
An environmentalist report on oil trains also released this month — co-produced by Waterkeeper Alliance, Riverkeeper and ForestEthics — used 250 citizen investigators to survey bridges used by oil trains in 15 U.S. states. They photographed bridges cracking and in an apparent bad state of repair, though they admitted they were not engineers.
The report also chronicled a growing list of U.S. oil train accidents, where derailments have spilled oil into rivers and other watersheds.
Map of proposed and existing oil-by-train infrastructure. Source: Sightline Institute.
[End of article]