Did This First Nation Band Consent to a Massive Gas Terminal or Not?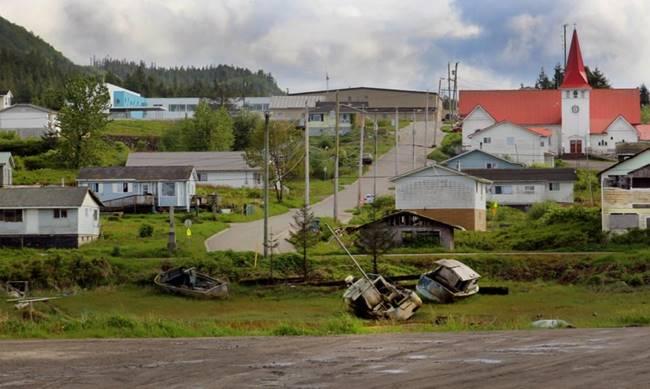 June 27, 2016 - If you ask the premier of British Columbia, Canada's largest resource project proposal now has a green light from the five First Nations groups it was legally required to consult.
The massive $36-billion liquefied natural gas terminal proposed by Pacific Northwest LNG already earned signed agreements (or preliminary agreements with conditions) from four of the five bands on BC's far northwest coast. It just needed consent from one more.
Last month, Premier Christy Clark told a room full of conference attendees the final holdout group, Lax Kw'alaams, had "voted overwhelmingly in favour of moving to the next stage of this agreement on LNG." Her office later clarified the elected band council went to "a community engagement process" where band members voted 244-to-3 in favour of the development.
That vote is obviously great news for a premier who won an election on the promise of creating a multi-billion-dollar LNG industry, who has yet to deliver even one finalized project. The problem is, at least according to this recent investigation by Discourse Media, there's no evidence that vote ever happened.
VICE spoke with the investigation's authors, and attempted to get an answer out of the premier's office, to figure out if or how this vote went down. When asked for details about the vote—like maybe the date and time—a spokesperson for the premier referred all process questions to the First Nation band council, which did not immediately return calls.
First, some background. Lax Kw'alaams is a tiny community of a few hundred people just north of Prince Rupert, BC. It claims the proposed LNG terminal location on Lelu Island as its traditional territory. (The other First Nations groups consulted as part of the environmental assessment are located along the project's proposed pipeline route.)
Back in April and May 2015, the band voted against a $1.2-billion benefit package over 40 years because they thought the proposed location would damage a juvenile salmon estuary on Flora Bank. In three separate evening votes in Lax Kw'alaams village, Prince Rupert, and Vancouver, the band unanimously said no way, you're trying to build right at the mouth of the Skeena River, a place researchers have called "Grand Central Station" for salmon. Some Lax Kw'alaams have maintained an occupation on the island since August of last year.
Then the band council had an election in November, and voted in a new mayor, John Helin. In early March 2016, Helin wrote a letter to the Canadian Environmental Assessment Agency—the federal body that has yet to approve the project—reiterating their position: no thanks, we'd rather keep one of the world's largest salmon watersheds intact.
Eight days later, Helin wrote another letter reversing his band council's position, offering conditional support for the project. "We don't know what happened in that eight days, and nobody in the community knows either," Erin Miller, who worked on the Discourse Media investigation, told VICE. Her reporting crew found no evidence of a public meeting during that time—no invites, no public postings.
That letter became a talking point for Premier Clark over the following months. Discourse Media found Clark had on multiple occasions referred to a vote in support of the project. Most recently at a June 3 press conference, she suggested more than 150 people showed support.
But according to Millar, the May 2015 vote against the project was "the only vote we could substantiate whatsoever." Their reporters talked to a couple dozen community members, sought records of the vote, asked band council members what's up, and came up empty.
VICE reached out to the premier's office and the energy and mines ministry to verify the information Clark has given during public addresses and on background to Discourse Media reporters. A spokesperson for the premier referred all questions about the band's "engagement process" to the Lax Kw'alaams council. The spokesperson suggested mail-in ballot or other show of support could have been sought.
"Lax Kw'alaams First Nation conducted its own community engagement process and vote, prior to its letter being submitted to Canada's Environmental Assessment Agency," reads a ministry statement. "It is the understanding of the government of BC that the vote was significantly in favour of providing approval for Pacific NorthWest LNG to move forward under certain conditions."
VICE also reached out to Lax Kw'alaams band council members, but did not immediately hear back.
In the meantime, the feds have pushed making a decision on the project until September of this year, and an upcoming public meeting to discuss the project has been cancelled.
Above photo Village of Lax Kw'alaams. Photo by Ash Kelly