* Dozens drop out of 'biased' energy board review of Trans Mountain pipeline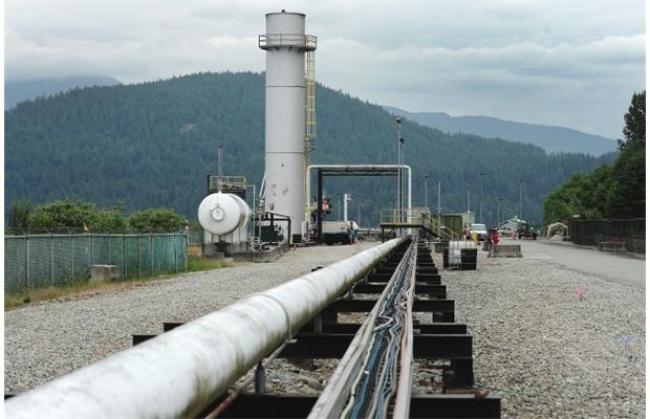 VANCOUVER - Dozens of participants have dropped out of the controversial National Energy Board review of Kinder Morgan's proposed Trans Mountain pipeline expansion, saying they can no longer support a "biased" and "unfair" process.
Thirty-five commenters and interveners, including the Wilderness Committee and the Canadian Parks and Wilderness Society, sent a letter to the board today announcing their immediate withdrawal.
"It's a sad day. We do not like to fly in the face of regulatory processes," said Wilderness Committee climate campaigner Eoin Madden in a phone interview. "But we can't abide by the system any more. It's too flawed."
The news came as the energy board was to release its draft conditions for the pipeline expansion. Commenters have six days to respond to the conditions, which are legally-required and do not mean the board has made a decision yet.
The latest departures are in addition to the earlier withdrawal of two other high-profile interveners. Economist Robyn Allan announced her exit from the "rigged" process in May, while former BC Hydro chief executive Marc Eliesen called it a "farce" when he pulled out last year.
Spokeswoman Tara O'Donovan said the board was disappointed the participants had chosen to withdraw.
"As interveners and commenters in the process they had an opportunity to add their voice to the record, and work to influence the decision of the board," she said in a statement.
The review includes about 400 interveners, who can provide evidence and testimony, and 1,300 commenters, who can submit letters. O'Donovan said the board will consider all submissions and it is committed to a thorough and fair environmental assessment.
"Our processes are fair and guided by legislation. We are also bound by the rules of natural justice, and our decisions are subject to review by the federal Court of Appeal."
Kinder Morgan's $5.4-billion proposal would triple the bitumen-carrying capacity of the Trans Mountain line by laying almost 1,000 kilometres of new pipe between Edmonton and Metro Vancouver, increasing the number of tankers in Burrard Inlet from five to 34.
The letter, signed by two environmental groups and 33 citizens, states the board has discounted evidence from experts and First Nations, ensuring an "unbalanced and ill-informed" hearing.
It chastises the board for not considering the project's impact on climate change, shutting out the vast majority of citizens who applied to participate and excluding cross-examination.
Peter Wood, terrestrial campaigns director for Canadian Parks and Wilderness Society, said his group's voice would be best heard outside the process.
"We will still be able to voice our concerns. The NEB will no longer be able to cite our participation as an example of legitimacy or buy-in by the environmental community."
The society is especially concerned about five parks that the proposed pipeline would cut through, including Lac Du Bois Grasslands Protected Area near Kamloops and Bridal Veil Falls Park in Chilliwack.
Wood called on the B.C. government to conduct an independent review of the project that considers climate change and potential oil spills.
A number of citizens who withdrew today live in the Gulf Islands. Sandra Leckie, a former park ranger who moved to Salt Spring Island six years ago, said a tanker spill would completely shut down the region's tourist economy.
"It doesn't take long for salt water to become part of your blood," she said. "I think many people who live on the Gulf Islands have a visceral reaction to the image of an oil spill here."
[End of article]