Four More Whoppers about LNG in British Columbia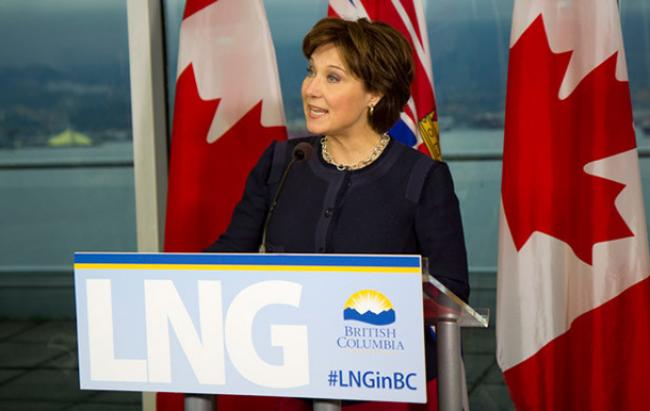 The B.C. budget claims the province is making money from shale gas. But last month The Tyee showed the province is pouring more cash into the industry than it is getting back.
In fact the only time the B.C. government made any money from shale gas was during a land lease boom nearly a dozen years ago. Ever since then, revenues have dwindled to next to nothing due to low royalties and taxpayer-funded subsidies to the ailing shale gas industry.
Dig deeper, and four more claims made by the B.C. government turn out to be liquefied natural gas whoppers as well.
New information on employment numbers, shale gas reserves, transmission lines and the LNG promise of economic prosperity show that stretching the truth remains a persistent trend in the Christy Clark administration.
Whopper #1: Vastly less gas to sell than claimed
Let's begin with the government claim that British Columbia "has more than an estimated 2,900 trillion cubic feet (tcf) of marketable shale gas reserves," or more methane in the ground than the entire United States.
Last year David Hughes, a former analyst with Natural Resources Canada who mapped much of the nation's coal and gas supplies, took a hard look at real reserves and found that the government claim had no basis in reality.
Hughes pointed out in a report for the Canadian Centre for Policy Alternatives that the BC Oil and Gas Commission estimated that B.C. only had 376 tcf of marketable shale resources. (Hughes added 40 tcf to this number for good measure, for a total of 416 tcf, to account for possible resources in developing plays.)
But proven reserves, or what industry can extract with existing technology, were only 44.4 tcf. That's one sixty-fifth of the government's inflated figure of 2,900 tcf. When Hughes noted that the emperor was wearing no clothes, the emperor (Minister of Natural Gas Development Rich Coleman) accused Hughes of misrepresenting the facts.
Coleman wrote an op-ed that said "B.C.'s natural gas supports long-term prosperity." The op-ed did not correct the government's accounting errors.
But according to a series of freedom of information requests just received by Marc Lee at the Canadian Centre for Policy Alternatives, that's not what civil servants were telling politicians.
In several email exchanges, they admitted that the government had used the wrong terminology and "misused terms or values such as 'reserves,' 'resources,' or 'marketable' in describing B.C.'s oil and gas endowment."
Hughes notes that the BC Oil and Gas Commission now estimates raw methane reserves in the province to be 51 tcf. Once processed, that gas might amount to 44.4 tcf.
Yet National Energy Board regulators had already approved 12 export permits totalling 205 tcf at the time Hughes's report was published, and were reviewing seven more with a combined total of 435 tcf (the NEB has since approved another six permits).
If the Clark government's aspirations of five LNG terminals come to fruition, this would require exports of 150 tcf of gas by 2040, or more than three times current proven marketable reserves.
Given the uncertainties in resource estimates compared to proven reserves, coupled with Canada's own needs, Hughes, a conservative energy analyst, questions the wisdom of a strategy hell-bent on liquidating these finite resources as fast as possible, particularly if B.C. and Canada care about meeting the greenhouse gas emission reductions committed to in the Paris climate talks. Yet the dubious figure of 2,900 tcf remains on the government website.
Whopper #2: Vastly fewer LNG jobs than claimed
The next wacky accounting LNG figure concerns the government claim that its non-existent industry will gainfully employ 100,000 British Columbians some great day in some near future, or more specifically 2018.
Last year, Lee at the CCPA also dug into that fiction.
He discovered that the impressive and magical number came from a report written by the accounting firm Grant Thornton. The firm only used government-provided data and economic models.
Not surprisingly the government published the report just prior to the 2013 election. In his study Lee found the numbers were highly inflated and bore no resemblance to the real economic world of LNG.
Lee concluded that B.C.'s LNG sector could be expected to support "only 2,000 to 3,000 construction jobs per LNG terminal over three years and 200 to 300 permanent workers once operational." As a consequence, five LNG terminals might create between 15,000 short-time jobs, but not 100,000.
When Lee released his findings last year the government immediately attacked the CCPA report as "misguided and poorly researched."
A freedom of information request, however, has revealed, once again, that email exchanges between civil servants largely supported Lee's version: real job creation numbers might be a few thousand but not 100,000.
One email thread confirms that the Petronas Pacific NorthWest LNG project will launch only "330 long-term operation careers."
Clear-headed analyses by the industry around the world also confirm Lee's realistic job assessment and question the government's credibility. The International Monetary Fund, for example, recognizes LNG as a capital-intensive industry with a poor record of job creation. A typical LNG plant will only create a few hundred jobs during the planning phase, a few thousand during the construction phase, and only a few hundred when operating. That's it.
Consider the example of Mozambique, which wants to exploit its rich offshore natural gas reserves. A 2014 report on its prospects emphasized the well-known fact that LNG is not a job-creating industry. "In terms of employment, the capital intensive nature of the industry means that its direct contribution to job creation is extremely limited, at less than 0.5 per cent of formal sector jobs," explained the Oxford Institute for Energy Studies report.
"Of key importance will be the ability to link the extractive sector -- which is capital intensive and responsible for few direct jobs -- to the wider economy," added the report.
And then the report makes this notable revelation: "Unlike the situation in Tanzania, where politicians frequently promise citizens tens of thousands of jobs in the gas industry, the Mozambique government's expectations of massive job creation have already been moderated. Most estimates put job creation linked to the LNG ventures at around 7,000–7,500."
To date, a million-dollar government website designed to connect citizens looking for work in the LNG industry has not connected anybody to anything. But it has employed one previous politician, Gordon Wilson, a former leader of the BC Liberal party.
Wilson now earns $150,000 a year to advocate for a capital-intensive industry that hasn't created any jobs -- except for Clark supporters.
In Australia, LNG has left another poor employment horror show that the government in B.C. has failed to study or acknowledge. Unfettered LNG exports in Australia not only increased both natural gas and electricity costs for consumers, but also reduced the manufacturing sector's ability to compete and create jobs.
"U.S. policymakers should look to the Australian LNG export example as a warning for what can occur due to escalating LNG exports," recently warned one industrial energy consumers' group. In other words, a successful LNG business could kill the province's manufacturing base by inflating natural gas prices.
Whopper #3: No, LNG prosperity is not close at hand
Along with the jobs fiction, the government has also manufactured a prosperity fiction. In February the Conference Board of Canada published a glowing report on the province's proposed 21 LNG projects called "A Changing Tide: British Columbia's Emerging Liquefied Natural Gas Industry."
Even though not one project has proceeded to the construction phase, the optimistic report concluded that just three large LNG terminals could export 30 million tons per annum (MTPA).
Such activity would generate 33,000 permanent jobs and $7 billion in investment and raise GDP. It would also double the amount of shale gas production by an additional five billion cubic feet, and carpet-bomb much of northeastern B.C. with gas wells.
But these figures are all pie in the sky and again bear no resemblance to reality.
Here's one bitter taste of reality. Most readers will recall that Apache Corp., a Houston-based energy firm, conducted some of the largest frack jobs in northern B.C. and was one of the first companies to champion an LNG terminal. But in 2014 it sold its interests in its Kitimat proposal along with an Australian project. Here's why: last year the shale fracking company posted a loss of nearly $25 billion. That's right: $25 billion. Fracking shale gas, an exercise in declining returns, rarely pays the bills.
More reality can be found in a 2015 report by Oxford Institute for Energy Studies, a rigorous non-profit educational group based in London that analyzed the prospects for North America's LNG industry.
It was blunt: "Despite Canada's abundance of gas resources and the plethora of proposed LNG export schemes, the current business environment, characterized by low oil prices and industry consolidation, does not indicate that any Canadian LNG scheme will be commissioned before the middle of the next decade."
Moreover, "the window of opportunity to capture premium Asian markets has eluded the Canadian projects" because of deep uncertainty and falling demand in those markets. U.S. LNG projects are also cheaper.
The report concluded that the fate of Canadian projects is tied to the price of oil, and they would only succeed if oil were selling for somewhere between $76 to $90 a barrel, "which does not seem competitive with the first generation" of U.S. LNG projects.
In other words there is no emerging LNG industry in Canada, and if one does appear it won't arrive until 2025, or nearly a decade from now. And even that is uncertain.
The Conference Board (which makes no mention of the Oxford Institute report) was funded by Progress Energy, which is owned by Petronas, the Malaysian state-owned oil giant backing the Pacific NorthWest LNG project.
Most media stories on the report failed to mention this apparent conflict of interest. But the government of B.C. is only too happy to cite this as gospel while cheerleading a fantasy industry.
Whopper #4: Yes, Site C dam is for powering frackers
Last but not least come some wacky accounting numbers on the Site C dam, a $9-billion public works project that analysts generally agree will increase everyone's electricity bills. Although provincial authorities swear the project has nothing to do with LNG, Ben Parfitt, an investigative journalist, has revealed otherwise in a DeSmog Canada article.
Last January, the province announced a new $300-million transmission line to power shale gas development in the south Peace Region. Two other transmission lines are also being proposed. The lines will allow shale gas drillers to use electricity to power their operations instead of methane.
As a consequence they'll have more gas to export and access to cheap energy subsidized by taxpayers.
What the press release did not explain, notes Parfitt, is that "virtually all of this new transmission infrastructure is being built at public expense to provide power to one entity and one entity alone -- the natural gas industry."
Two other proposed lines reinforce the story. One 140 kilometre-long project will fragment the forest to bring power to the Pink Mountain Region in the north Montney basin. It will benefit one shale gas extractor in particular: Progress Energy.
That shale gas drilling company is owned by Petronas, which successfully lobbied the government to lower its LNG tax rates. Meanwhile, Progress Energy paid for the boosterish Conference Board report.
Petronas is also one of the backers of the controversial Pacific NorthWest LNG project off Lelu Island at the mouth of the Skeena River.
ATCO, the anointed builder of the Petronas transmission line, recently argued that no public review of the project was necessary and asked for an exemption under Section 22 of the Utilities Commission Act.
"The project is being developed on an aggressive schedule to meet with Progress [Energy] timelines. Failure to meet these timelines reduces the feasibility of electrification and poses a substantial threat to the project proceeding."
Energy Minister Bill Bennett supported the corporate request in a Business in Vancouver story: "My understanding right now is that if I do not direct the BCUC [British Columbia Utilities Commission] to allow these projects to go ahead, that we may lose some interest on the part of the gas companies.... They just don't feel that they can wait for a long BCUC process."
When politicians elect to bypass mandated legislated safeguards to protect the public purse by evaluating the need for projects (and that's what the BCUC does), then they are no longer working for taxpayers.
But the logic is clear, says Parfitt. "The more transmission lines erected to allegedly 'green up' the field operations of fossil fuel companies, the more fossil fuel industry activity. The more such activity, the more the government and BC Hydro can justify Site C."
It's all a self-serving story. The government produces wacky numbers and accounting figures to justify corporate LNG scheming that no longer make any economic sense.
Years ago Jacque Ellul, the French philosopher, noted that "propaganda is called upon to solve the problems created by technology, to play on maladjustments, and to integrate the individual into a technological world." It's how government and industry now work.
In B.C. the government uses propaganda not only to integrate its citizens into its wacky LNG fantasy, but to subsidize foreign companies and pay for unneeded dams and transmission lines at the same time.
It is designed to make taxpayers smile while they are being robbed.

Andrew Nikiforuk is an award-winning journalist who has been writing about the energy industry for two decades and is a contributing editor to The Tyee. Find his previous stories here.
Nikiforuk's book on hydraulic fracturing, Slick Water, was published this fall by Greystone Books