Idaho's Far Right Suffers Election Loss to 18-Year-Old Climate Activist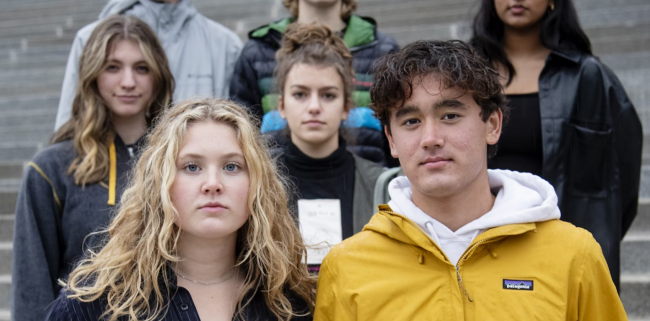 A good-news story about the far right for a change:
Sept. 13, 2022
High school senior Shiva Rajbhandari won elected office in Boise, defeating an incumbent school board trustee backed by local extremists.
THE NATIONWIDE CAMPAIGN to stifle discussions of race and gender in public schools through misinformation and bullying suffered a reversal in Idaho on Monday, when a high school senior vocally opposed to book bans and smears against LGBTQ+ youth took a seat on the Boise school board.
The student, Shiva Rajbhandari, was elected to the position by voters in Idaho's capital last week, defeating an incumbent board member who had refused to reject an endorsement from a local extremist group that has harassed students and pushed to censor local libraries.
Rajbhandari, who turned 18 days before the election, was already well-known in the school district as a student organizer on climate, environmental, voting rights, and gun control issues. But in the closing days of the campaign, his opponent, Steve Schmidt, was endorsed by the far-right Idaho Liberty Dogs, which in response helped Rajbhandari win the endorsement of Boise's leading newspaper, the Idaho Statesman.
Rajbhandari, a third-generation Idahoan whose father is from Nepal, was elected to a two-year term with 56 percent of the vote.
In an interview, Rajbhandari told me that although he had hoped people would vote for him rather than against his opponent — "My campaign was not against Steve Schmidt," he said — he was nonetheless shocked that Schmidt did not immediately reject the far-right group's endorsement. "I think that's what the majority of voters took issue with," Rajbhandari said.
The Idaho Liberty Dogs, which attacked Rajbhandari on Facebook for being "Pro Masks/Vaccines" and leading protests "which created traffic jams and costed [sic] tax payers money," spent the summer agitating to have books removed from public libraries in Nampa and Meridian, two cities in the Boise metro area.
But, Rajbhandari said, "that's the least of what they've done. Last year, there was a kid who brought a gun to Boise High, which is my school, and he got suspended and they organized an armed protest outside our school."
Rajbhandari, who started leading Extinction Rebellion climate protests in Boise when he was 15, is familiar with the group's tactics. "We used to have climate strikes, like back in ninth grade, and they would come with AR-15s," he said, bringing rifles to intimidate "a bunch of kids protesting for a livable future."
So when the Idaho Liberty Dogs called on Boise voters to support Schmidt — and a slate of other candidates for the school board who, ultimately, all lost — Rajbhandari told me he texted his rival to say, "You need to immediately disavow this."
"This is a hate group," Rajbhandari says he told Schmidt. "They intimidate teachers, they are a stain on our schools, and their involvement in this election is a stain on your candidacy." Schmidt, however, refused to clearly reject the group, even after the Idaho Liberty Dogs lashed out at a local rabbi who criticized the endorsement by comparing the rabbi to Hitler and claiming that he harbored "an unrelenting hatred for white Christians."
[Top photo: Last year, Shiva Rajbhandari, right, and other high school students on March for Our Lives Idaho's board lobbied for legislation to require minors to pass a gun safety test before being allowed to purchase weapons. Photo: Sarah A. Miller/Idaho Statesman/Tribune News Service via Getty Images]