A novel by Robyn Allan about protest and pipelines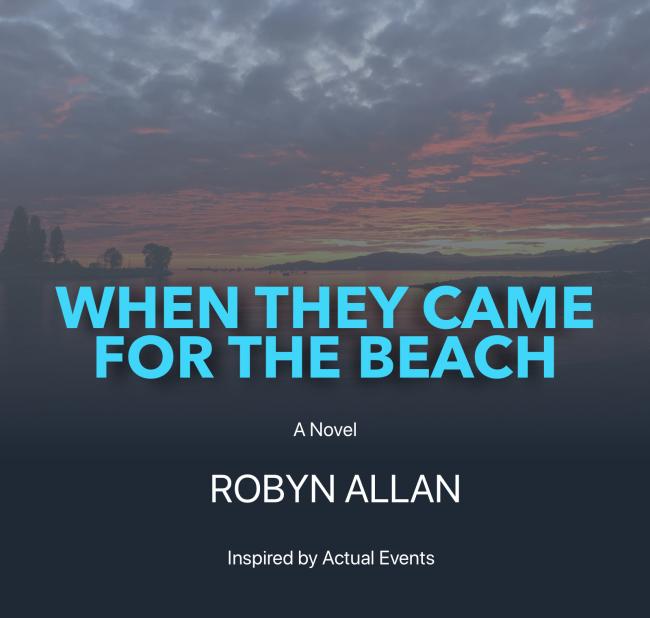 November 13th 2019
For more than eight years, independent economist Robyn Allan has amassed information about the economics and politics of pipeline expansion. She's appeared both as an expert witness at the Northern Gateway pipeline review and expert intervenor at the Trans Mountain expansion project review. Disappointed by the outcomes, she decided to do something completely different.
"What do you do when reason and sanity no longer have currency … What actions can people take when their government no longer protects their interests?" she asked hypothetically in our phone interview.
How about writing a novel?
As a contributor to various publications, including National Observer, Allan recognizes that news, essential to democracy, has a short emotional life. A single news story is like one tree in a forest. So Allan decided to put the trees together, to build a forest. The result, after four years, is an accessible, comprehensive and entertaining 200-page novel, When They Came for the Beach.
"When you see the chronology from 2013 to 2019 of one situation after another … it creates a kind of pressure to motivate action," Allan said. Written with a light hand, Allan's story presents an innovative and compelling approach to accurately unpacking corporate and government deception around pipeline expansion, and she's offering it to everyone free and online.
Friend group on fire
When They Came for the Beach, inspired by actual events, tells a coming-of-age story about a small group of initially naive twentysomethings who live in Vancouver's West End. Allan, a former business executive, chose the West End because it was her home for nearly 20 years. She knows how much locals, and young adults, love English Bay, the exit port for oil tankers leaving the Burnaby pipeline terminus.
"Young people right now are dealing with a serious, threatening situation they haven't really experienced before in Canada," Allan said. Contamination of English Bay, she continued, is "quite threatening."
The book's drama arises from the proverbial David and Goliath struggle, pitting these West End youth against the wealth and power of corporations, public relations firms and government. Over six years, the friends accumulate knowledge, experience betrayals and eventually stand in protest against development of the Trans Mountain pipelines.
The main character and narrator, Trude Richards, aka Trainer and Tru, works in security, patrolling a parkade at Vancouver's Hudson Bay department store. She has the smarts of an environmental lawyer, investigator and journalist combined. Her curiosity and persistence catalyze her friends, and together they organize a West End advocacy group, Friends of English Bay.
The core group of friends includes Kat, who studied at the London School of Economics and works at an investment firm, Flick, Barbara and Liz. They first meet Liz, an associate at a law firm doing pro bono work with the Trans Mountain Expansion Project, at the book's beginning. After organizing a meeting at a local community centre, which garners support from the community, the close knit group expands to include a seasoned West End advocacy couple, and later a Simon Fraser University professor.
After a short scene in a parking lot where Trainer overhears a stranger's phone conversation about an oil pipeline misinformation campaign, she meets her friends at English Bay beach and they play volleyball. Trainer moves to a log as the sun is setting and starts talking to Liz, who looks out despairingly over the water.
Liz explains to Trainer and the others how the pipeline will negatively impact English Bay. In counterpoint, Kat, who works on a team analyzing profits for oil producers, thinks the pipeline will stimulate the economy. Trainer's curiosity is piqued and later at home she googles oil sands, bitumen and Kinder Morgan. The group's fact finding mission begins.
Over the next six years, these inquisitive friends uncover all sorts of devious schemes and trickery meant to mislead the public. They unearth Kinder Morgan's deceptive tactics, corruption within the National Energy Board (NEB), dishonesty in Ottawa, court cases that don't add up, greedy motivation of oil purchasers, producers and shippers and government propaganda campaigns. They jostle with information and ideas, beliefs are dashed, community is created and activism begins.
A kind of maturity
Over time, the group develop a "kind of maturity," Allen explains. For instance, they expect the NEB to be credible and rigorous, but learn that lobbyists are working behind the scenes to manipulate outcomes. When Trainer reads a claim in one NEB report that the hugely increased number of oil tankers won't impact the orca population, she disagrees, believing, "It will bring about their extinction."
When the friends learn that Justin Trudeau is not going to overhaul the NEB as promised before the 2015 election and that he is pushing forward with the pipeline, she says, "They aren't just coming for our beach. They're coming for all the beaches."
Disillusionment and disbelief appear around every corner. Near the story's beginning, the young friends learn big international players such as Shell and Norway's Statoil are ditching deals with Kinder Morgan. Then they find out that shippers' contracts to pay for the pipeline's construction have been invalidated because of increased costs. And to top off this financial disaster, interest in dirty oil is declining. In the end, even Kinder Morgan recognizes this ship is sinking, and abandons the project.
As an economist, Allan observes the illogic with the same disbelief as her characters, explaining that "if proper analysis had been done, it would've been clear that this was a financial and economic failure. So there would be no reason to look at the environmental impacts and how negative they are. We would have walked away from this a long time ago."
False endings
As Allan was completing When They Came for the Beach, or thought she was, Trudeau announced Ottawa would purchase the Trans Mountain pipeline. Irrationality hit a high mark. Allan's characters would have to live on and her book writing resumed.
"I'm still trying to figure out why, when the information is there, Ottawa continued to push this project through. It has to have something to do with politics and supporting corporations at the expense of people and the environment and our future. So it's not rational."
Misinformation
Misinformation protects vested interests and leads to the entrenchment of climate change denial, Allan explained. "I've been surprised at how long climate change denial has gone on and how entrenched it is, how powerful it is. I think we just have to keep remembering that the vested interests don't want to make any changes."
Trainer and her friends are willing to resort to sleuthing in their attempt to uncover the truth. At their initial community centre meeting, Friends of English Bay notice a man, who they call "Blue Suit" and later "Alligator Shoes," lurking in the background, spying. They figure out how to contact him and Barbara sets up a dinner date. At the Fairmont Waterfront Hotel, she records him bragging about his work, misleading people, for Kinder Morgan and the NEB.
By backing up this fictionalized story with documents and facts, When They Came for The Beach shines a bright light on misinformation. Thirty years ago, this kind of tact was unnecessary, Allan said. In the 1970s and '80s, she said people could depend on the government to provide "good and reliable information." Not anymore.
"To hear Justin Trudeau talk about how Trans Mountain is going to move us away from the dependency on the U.S. and it's going to create new markets and that we're going to use the profits to invest in areas outside of fossil fuels. None of that makes sense," Allan said.
Bring back to obvious
My interview with Allan was days after youth advocate Greta Thunberg visited Vancouver. Allan watched the rally online from her home in Whistler. She was moved by the simplicity and clarity of Greta's question to adults, asking them why, if they love their children, aren't they taking care of their children's future.
"People are surprised when Greta says something that obvious, because we've moved so far away from the obvious. We spend so much time and effort on things that don't matter and deflect and deny things that do."
Allan praised young people, who are at the fore of this global battle, for their insight, energy and creativity. When They Came for the Beach is her way of supporting them by passing along tools she can offer, her experience as an economist and as an expert on the pipelines.
"I felt that the novel needed to be delivered and available for people that are interested in the history of how we got to where we are today," she said. "Because I do believe a lot of people are serious and thoughtful and are taking steps to protect our future. And they are being demonized. They're not being understood. They're being written off ."
Worst is yet to come … unless
I asked Allan what she thinks we can expect with the Trans Mountain pipeline project now that we have a minority government in Ottawa.
"Let's be serious … the worst is yet to come … Ottawa is pushing this pipeline through no matter what. And no matter how much it costs us."
She predicts, with everything taken into account, Canadians will end up subsidizing the project in the amount of $15 billion.
By the end of When They Came for the Beach, the characters understand that this is a battle bigger than the pipeline. It's about climate justice. In the last scene, the group gathers at Trainer's new rental apartment on English Bay. Kat is angry that Ottawa is proceeding with the Trans Mountain pipeline even though there are court cases challenging it. Trainer gets the last word. She says, Ottawa won't proceed. "Because we stop them."
Trainer, Barb, Kat, Liz and Flick are persistent and dedicated. But many people may not feel they can do the same. To this, Allan says, "You can either collapse or you can find a strength … a kind of calm strength and deal with it and push back."
Allan believes a lot of the responsibility now lies with the courts to see that due process is served. But it is also up to the people, like Trainer and her friends, to take action, "to make their voices heard." And that means feet on the ground. Allan's novel is there to help.
You can find When They Came for The Beach here.