Ohio Supreme Court Nixes Gerrymandering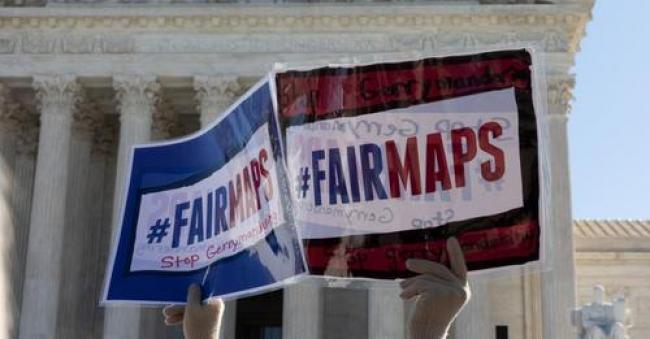 Jan. 14, 2022
"It is time for the state Legislature to put aside partisan interests and prioritize the needs of Ohio voters," said the head of Common Cause Ohio.
Voting rights advocates on Friday celebrated the Ohio Supreme Court's 4-3 decision to strike down new GOP-drawn congressional districts just days after a similar ruling against rigged maps for state-level legislators.
"When the dealer stacks the deck in advance, the house usually wins."
"The Ohio Supreme Court has once again sent the indisputable message that district maps are not to be toyed with or manipulated to the detriment of voters," said Julie Ebenstein, senior staff attorney with the ACLU's Voting Rights Project, in a statement. "This is another huge victory for voting rights."
Praising the court's "clear and meticulously detailed" opinion invalidating a congressional map that favored Republicans, ACLU of Ohio legal director Freda Levenson declared, "What a week for democracy!"
The opinion—authored by Justice Michael Donnelly and backed by the other two Democrats as well as Republican Chief Justice Maureen O'Connor—calls out Ohio GOP lawmakers for failing to comply with the state constitution, stating that their plan "is infused with undue partisan bias" and "when the dealer stacks the deck in advance, the house usually wins."
"That perhaps explains how a party that generally musters no more than 55% of the statewide popular vote is positioned to reliably win anywhere from 75% to 80% of the seats in the Ohio congressional delegation," the opinion continues. "By any rational measure, that skewed result just does not add up."
As Common Dreams has reported, the GOP map could have given Republicans control of as many as 13 of the state's 15 congressional districts.
Levenson highlighted that the new ruling "proclaims that 'gerrymandering is the antithetical perversion of representative democracy,' and enforces the mandate put forward by Ohio voters in 2018 who demanded an end to this abuse of power."
The Columbus Dispatch reports that "Ohio lawmakers will be sent back to the drawing board to craft a new map within 30 days. If they can't reach a solution, the Ohio Redistricting Commission—a panel of statewide elected officials and state lawmakers—will have 30 days to do so."
The deadline for Ohio candidates to file paperwork to run for office is March 4 and the state's primary election is scheduled for May 3.
"Ohio voters have been waiting too long for fair districts," Common Cause Ohio executive director Catherine Turcer said Friday. "We all deserve to participate in meaningful elections, which is why nearly 75% of Ohio voters approved putting clear rules prohibiting partisan gerrymandering in the Ohio Constitution. We are glad the Ohio Supreme Court agrees."
Asserting that "it is time for the state Legislature to put aside partisan interests and prioritize the needs of Ohio voters," Turcer said her group expects state leaders "to learn from their mistakes and finally listen to the people's call for fair maps."
"Although time is short," she added, "we expect significant opportunities for public input and that mapmaking this time will be conducted with full transparency."
The development in Ohio comes amid uncertainty about the future of federal legislation to prevent gerrymandering and protect voting rights due to obstruction of two bills by Republicans along with Democratic Sens. Joe Manchin (W.Va.) and Kyrsten Sinema (Ariz.).
[Top photo: Demonstrators gathered outside as U.S. Supreme Court heard gerrymandering cases on March 26, 2019. (Photo: Aurora Samperio/NurPhoto via Getty Images)]