The overbudget Trans Mountain pipeline project is carrying $23B in debt — and needs to borrow more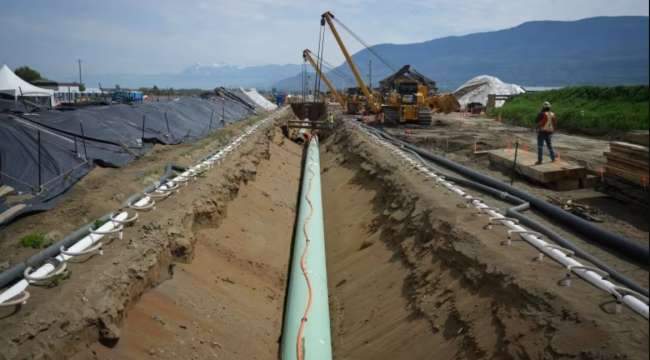 May 13, 2023
Pipeline watchers say Ottawa may need to take a haircut if it wants to find a buyer
The overbudget Trans Mountain expansion project owes its lenders at least $23 billion and is looking to take on more private debt as the federal government shuts its wallet and construction costs skyrocket.
CBC News has reviewed newly released documents from Trans Mountain and another federal government entity. They show the expansion project is burning through cash and needs to borrow billions of dollars more to finish the work, which the company says was almost 80 per cent complete as of March.
"The business is significantly leveraged with debt," Trans Mountain's updated corporate plan says.
That same plan says Trans Mountain will need to borrow more to cover anticipated work in 2023 on pipeline sections and terminals.
The expansion project will twin the existing pipeline, raising daily output to 890,000 barrels.
Financial statements from the Canadian Development Investment Corporation (CDEV), the federal Crown corporation that owns the pipeline project, flag Trans Mountain's growing liabilities as a financial risk — especially since the pipeline now must turn to private lenders.
When Trans Mountain's costs surged again in February 2022, Finance Minister Chrystia Freeland said the government was committed to completing the project but would commit no more public money to it.
The documents show Trans Mountain had secured at least $10 billion in credit from Canada's big private banks as of December 2022. Trans Mountain says it still needs to borrow billions more. The rest of its debt is held by the Government of Canada.
CDEV warns Trans Mountain has "no assurance" of receiving more private financing and there is "material uncertainty" about Trans Mountain having "sufficient" financial resources to meet its obligation in 2023.
Trans Mountain warns in its corporate plan that if new funding is not secured, "construction of TMEP (Trans Mountain Expansion Project) will need to be stopped, workers laid-off, contractors demobilized and the in-service date of TMEP would be delayed."
As for Trans Mountain's existing debt, CDEV pointed out that it's government-backed and said that once the expanded pipeline begins operations in 2024, the "excess cash flow of the expanded system will be used to pay down debt."
"TMC (TransMountain Corporation) remains a solid business," CDEV's president and CEO Elizabeth Wademan said in one financial report.
Trans Mountain says that over the pipeline's first full year of operations, it's expected to generate $2.4 billion in adjusted EBITDA (earnings before interest, taxes, depreciation and amortization.) It says that sum is expected to grow annually afterwards.
But EBITDA is not net profit. 
"EBITDA is meaningless since it excludes interest expense and debt repayment," said Robyn Allan, an independent economist and pipeline watcher.
"When all the money used to purchase the existing pipeline was debt, by focusing on EBIDTA, Trans Mountain is deliberately misleading the public."
CBC has been requesting interviews with Trans Mountain's president and CEO Dawn Farrell for the past nine months. Trans Mountain has said Farrell is not available.
In a media statement, Trans Mountain said it "continues to progress its financing plans to complete the Expansion Project."
It added Canadians can expect an update on its borrowing when its first quarter financials are posted later this month.
One of Trudeau's 'most expensive mistakes'
Those who keep an eye on large infrastructure builds tell CBC News that while the pipeline's debt is manageable, since the government backs it, it's still huge.
"This is way more than expected," said Laura Lau, chief investment officer with Brompton Funds.
Input costs like steel and labour have gone up as Trans Mountain competes for these scarce resources with other major projects, Lau said. Trans Mountain also stretches across B.C.'s treacherous interior, posing considerable environmental and engineering challenges.
The expansion initially was projected to cost $7.4 billion when the federal Liberal government purchased the project in 2018 after Texas-based Kinder Morgan pulled out.
It was then revised to $12.6 billion in February 2020. Two years later, the project's price tag hit $21.4 billion. 
As of this year, the estimate is $30.9 billion.
Nearly 80 per cent of these cost overruns can't be passed on because companies with locked-in contracts to ship oil through the pipeline are shielded from cost overruns.
The "astronomical" sum remains a political liability for the Liberals, said Eugene Kung, a staff lawyer with West Coast Environmental Law.
"They have put a lot of political capital as well as actual money behind this project, which has become one of Justin Trudeau's most expensive mistakes," Kung said.
Finance Canada, the federal department overseeing the project, said in a media statement the expansion project remains in the "national interest" and will make Canada's economy more "sovereign and resilient."
"As with any major capital project, TMC is making investments in the short term in order to increase revenues and profits in the future," said Freeland's press secretary Adrienne Vaupshas. "TMC's debt is being used to support the construction of the Trans Mountain Expansion Project."
The department said BMO Capital Market and TD Securities assessed the expansion project and concluded it remains commercially viable, with strong interest from investors.
The Parliamentary Budget Officer's financial analysis, meanwhile, concluded that the pipeline would not be profitable at a price tag of $21.4 billion — a cost estimate it has since soared past.
A $35.6 billion pipeline is a tough sell
In its statement, Finance Canada insists the federal government will not be Trans Mountains' long-term owner and will "launch a divestment process in due course." 
But Trans Mountain's most recent corporate plan doesn't envision returning the pipeline to the private sector this year. 
"No sale of TMC to the private sector is assumed, and Indigenous participation in the form of ownership or other means is not reflected in the 2023 corporate plan," it says.
Lau said she doubts the government can recoup its $30.9 billion investment — or the $4.7 billion it paid Kinder Morgan in 2018 — by selling Trans Mountain.
"I'm not sure they can," she told CBC. "I think we have to be prepared for this to be sold at a net loss."
Independent economist Robyn Allan said in a recent report that before Ottawa can offload the pipeline onto the private sector, Trans Mountain's mounting liabilities "will need to be written off."
"Debt forgiveness is looming," she wrote.
Despite Ottawa insisting no more public dollars are going into Trans Mountain, Allan and others point out the federal government is still responsible for the interest accumulating on the public debt and has guaranteed the project's $10 billion in private sector credit.
"It's owned by the government in Canada. They are on the hook for that money," said Ian Lee, a professor at Carleton University's Sprott School of Business. He added that Ottawa's claim that it has turned off Trans Mountain's money tap "borders on propaganda."
According to Trans Mountain, the existing pipeline is the largest single source of motor fuel in the Pacific Northwest. Pipeline supporters also argue the pipeline expansion is still needed because it will boost tax revenues, government royalties and GDP, while reducing the oil price differential and the amount of oil shipped by rail.
They also argue it will help to displace Russian oil, cutting off a revenue source Moscow is using to fund its war in Ukraine.
The Trans Mountain expansion was supposed to be finished in 2022 before the deadline was pushed to 2023. Now, the pipeline is not expected to enter into service until first quarter of 2024.
Its expansion also means a bigger carbon footprint. Trans Mountain estimates its system will generate 630 tonnes of carbon dioxide equivalent annually.
Much of that output comes from the electricity it uses to transport the oil. It does not account for the emissions produced when the oil is burned.
Trans Mountain says it hopes to cut those emissions by almost 15 per cent in 2030 before achieving net zero by 2050.
[Top photo: Workers lay pipe during construction of the Trans Mountain pipeline expansion on farmland in Abbotsford, B.C. on May 3, 2023. (Darryl Dyck/The Canadian Press)]