Right-Wing Group Funded by Lululemon Founder Helped Promote Film Demonizing Vancouver's Homeless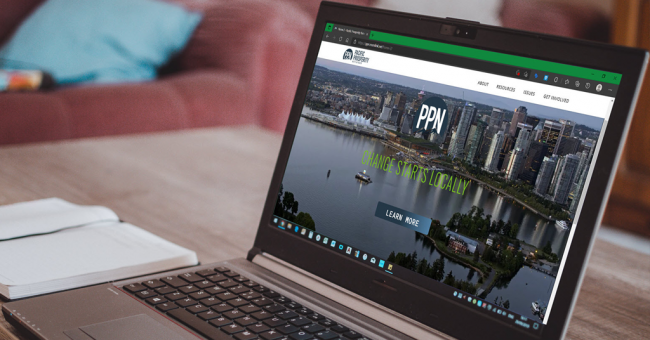 Oct. 14, 2022
A group funded by Lululemon founder Chip Wilson sponsored an event that brought together Vancouver's police union and right-wing political activists
Vancouver's police union president, city council candidates and far-right political activists came together at a film screening event last week that was sponsored by an organization funded by the founder of Lululemon.
The Pacific Prosperity Network, a right-wing political organization funded by Lululemon's founder and former CEO Chip Wilson, was listed as the main sponsor for the premiere of a documentary called "Vancouver is Dying" at Simon Fraser University's Vancouver campus
Aaron Gunn (Facebook)
The documentary was created by Aaron Gunn, the former BC Proud spokesperson and BC Liberal leadership candidate who was kicked out of the leadership race and disavowed by the party for comments on issues of "reconciliation, diversity and acceptance."
The film repeatedly portrays Vancouver's Downtown Eastside as beset by "skyrocketing crime and violent attacks" and repeatedly characterizes the city's homeless population as "violent." It ultimately blames "harm reduction" programs as well as Vancouver Mayor Kennedy Stewart for not increasing the city's police budget.
Joining Gunn at the screening was Ralph Kaisers, head of the Vancouver Police Union – one day earlier, the VPU controversially broke with tradition and endorsed right-wing mayoral candidate Ken Sim for mayor.
Kaisers, who is also a donor to Ken Sim and appears in the documentary, spoke on a panel following the premiere. Photos show he was seated next to a controversial right-wing political activist named Angelo Isidorou.
Isidorou, who moderated the event and is listed as the executive producer of the documentary, previously worked for the company behind the right-wing page Canada Proud and was also a member of UBC's Free Speech Club.
Isidorou was also a board member for the right-wing NPA municipal party, but resigned in 2021 after The Tyee published a photo of him wearing a "Make America Great Again" hat and flashing a hand sign associated with hate groups at a pro-Trump Rally in Vancouver.
According to The Tyee, Isidorou said he was unable to comment on the photo due to a non-disclosure agreement he signed when he was joined the NPA board in 2020.
Isidorou has also done work with the Pacific Prosperity Network.
The Pacific Prosperity Network did not respond to requests for comment from PressProgress about their role in sponsoring the event or supporting the film.
Sean Orr, a Vancouver city council candidate with the Vote Socialist municipal party livestreamed from the event and posted photos showing the Pacific Prosperity Network's banner on display outside the theatre.
"Wilson, the richest man in Vancouver, is sponsoring a documentary called 'Vancouver is Dying'," Orr told PressProgress. "(We) just wanted to get in there and just show that we're not going to be intimidated, we're not going to let them control the narrative that Vancouver is dying."
In July, Chip Wilson wrote a letter to a number of wealthy acquaintances in Vancouver requesting donations of up to $200,000 to PPN.
In the letter, which was first reported by the Vancouver Sun, Wilson states that he had already made a donation of $380,000 "to build software to run a successful campaign, to gather big data, empower grassroots, and be an effective full-time voice for the right."
Excerpt from Chip Wilson's letter
Others in attendance at the film premiere included NPA Candidate Arezo Zarrabian, former Vancouver Police department analyst was featured in the documentary as well, and "Progress Vancouver" candidate Mauro Francis.
The Pacific Prosperity Network, which is formally registered as a non-profit "society" in BC, does not have charitable status and is not currently registered as a third party group.
Earlier this month, the Pacific Prosperity Network was slapped with $1,000 in fines in connection to its failure to register prior to "sponsoring election advertising."
---
Rumneek Johal
BC Reporter
Rumneek Johal is PressProgress' BC Reporter. Her reporting focuses on systemic inequality, workers and communities, as well as racism and far-right extremism.