Survey shows biking share up, transit share down in Vancouver commuting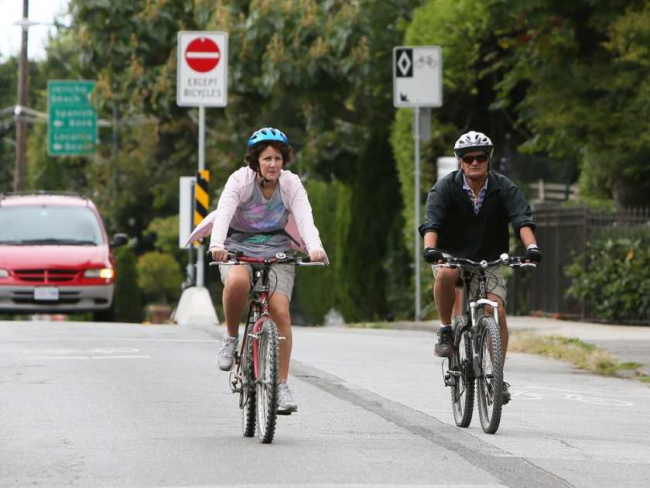 More people bike to work in Vancouver than any other major city in North America — including U.S. cycling mecca Portland, new numbers from the City of Vancouver suggest.
About 10 per cent of all trips to work by city residents in 2015 were by bike, according to results of the city's latest panel survey on transportation, presented Wednesday to councillors. That would put Vancouver well ahead of Portland, but staff caution they will need to compare the results of the 2016 census to those of the American community survey to confirm Vancouver's No. 1 ranking.
Nearly 2 million trips are taken each day by city residents, and while about half are by vehicle, an increasing share of trips since 2013 have been by foot or by bike, according to Wednesday's presentation.
Residents made 131,000 total cycling trips each day in 2015, according to the city's survey. Those accounted for seven per cent of all trips taken last year to any destination — not only the workplace. That's up from five per cent the year before. Walking saw a one-per-cent increase over 2013 and 2014 to 27 per cent, while transit use declined to 16 per cent from 18 per cent in previous years.
Meanwhile, Vancouver drivers appear to be taking shorter trips. The annual average distance driven per resident fell from 5,950 kilometres in 2007 to 4,319 in 2015 (a decrease of 27 per cent), according to data from the city's survey and ICBC. Those results came despite a major increase in car sharing among residents. About 26 per cent of adults in the city are car share members, up from 20 per cent in 2014, the city found.
Jerry Dobrovolny, the city's general manager of engineering, cautioned that there is a strong correlation between fair weather and active transportation. With that in mind, the drought conditions that persisted through much of 2015 could explain some of the boost in biking and walking last year.
Steve Brown, the city's manager of traffic and data management, compared some of the results to leading North American cities.
About six per cent of trips to work in Portland are by bike, Brown said, noting that the Oregon city has been ranked as the top cycling location among North American municipalities with more than 500,000 residents. 
"(Vancouver's survey results are) really good, but we can't just party and end now," Brown said, adding that 18,000 more trips are made each year by Vancouver residents as its population grows, and keeping the cycling rate up among newcomers will take effort from staff.
While the city's survey results indicate Vancouver may be ahead of North American leader Boston with respect to walks to work, Brown said the different data cannot be compared with confidence. What is more certain is that Vancouver is well behind transit leader New York, where 55 per cent of trips to work are made by bus, train and other forms of mass transit. "They're very hard to reach," Brown said.
The city's annual panel survey primarily relies on travel diaries from randomly recruited individuals who record the trips they take on a daily basis.
The results of the survey have less than a five-per-cent margin of error at a 95 per cent level of confidence.