The Trans Mountain pipeline purchase has been a "necessary failure" says Globe & Mail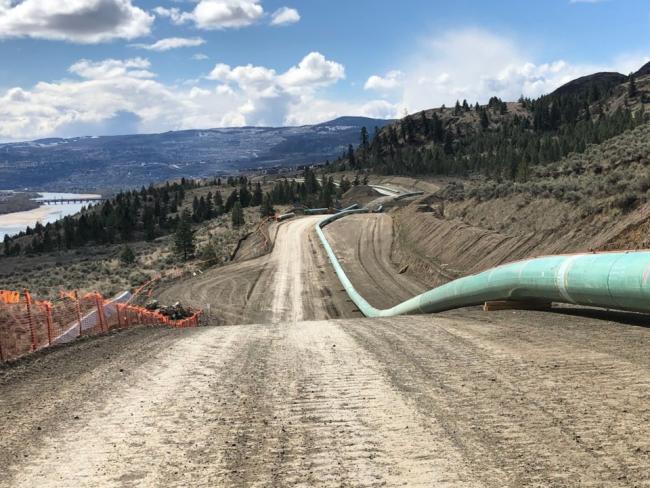 Canada's big-business newspaper considers squandering $31 billion (which doesn't include lots of large related expenses like policing services) as necessary, "given Canadian political realities." The big-talk-no-action BC NDP could have changed those realities.      - Gene McGuckin
Website editor: Too bad if it isn't an actual failure on the ground.  Of course it should never be used - given the realities of climate change and the warnings of the IPCC.  But then climate crisis and existential survival take a back seat to business and political 'necessities'!
Mar. 19, 2023
In the spring of 2018, the American pipeline company Kinder Morgan gave up on the Trans Mountain oil pipeline, despite having government approval to triple its capacity between Edmonton and Vancouver.
It was a fraught time in the oil business. Prices for Canada's No. 1 export were low for a fourth consecutive year, yet rising output in the oil sands stoked worries about adequate pipeline capacity.
The federal Liberals were about to pass major climate legislation, including a carbon tax. They had also approved two large export pipelines – TMX and Line 3 to the U.S. Midwest – but rejected a third, Northern Gateway in British Columbia. A fourth project, the Alberta-to-Texas Keystone XL, was mired in the U.S. courts.
The spectre of TMX's demise spooked Ottawa. Alberta wanted pipelines, especially to the West Coast to reach Asia, but no one in industry stepped up. Ottawa paid Kinder Morgan $4.5-billion for the existing pipeline and the expansion, whose budget was $7.4-billion. The deal was billed as a "sound investment opportunity." Ottawa suggested it would sell before construction was complete.
Five years later, Canadians still own the pipeline and TMX's budget is, as of last week, $30.9-billion, up more than 40 per cent from a $21.4-billion estimate a year ago and four times greater than in 2018. It is supposed to be moving oil by this time next year.
The cost escalation – and the consistent understating of costs by Trans Mountain Corp., the company Ottawa bought – is a financial disaster. But the project is a political necessity: the landlocking of Alberta oil would have had disastrous consequences for national unity.
Several independent analyses last year, including one by the Parliamentary Budget Officer, showed Ottawa will lose money on Trans Mountain – and that's when TMX's cost was $9-billion lower. TMX now looks like the biggest industry bailout in the country's history, coming as the oil industry is enriched by windfall profits.
Trans Mountain casts the blame, of course, on inflation and supply chains. It also blames mountainous terrain in B.C., where the old pipeline runs alongside a major highway. It even blames the challenge of building a new pipeline through urban areas of B.C.'s Lower Mainland. One wonders why pipeline executives and engineers were surprised to discover mountains and cities during construction.
A year ago, Finance Minister Chrystia Freeland declared no more public money for TMX. So Trans Mountain got a $10-billion loan from the banks – guaranteed by Ottawa. Trans Mountain is again looking for loans. Presumably, Ottawa will again guarantee the debt. It's not public money, but Canadians will be on the hook for it.
Bankers have told Ottawa the expanded pipeline will make an EBITDA operating profit of $2.4-billion a year. This appears ambitious. Capacity will triple to about 900,000 barrels a day – but annual EBITDA profit at 300,000 b/d is about $200-million, less than 10 per cent of the expected profit.
Ottawa still wants to sell the pipeline. It has shielded Trans Mountain from some debt, holding it instead in several public entities: Canada Development Investment Corp.'s TMP Finance Ltd., and the "Canada Account" at Export Development Canada. Companies that will ship oil are also shielded, responsible for only a small portion of the new costs.
But once oil flows, and if it garners a higher price per barrel as Ottawa and industry promise, oil company profits will be bolstered. Alberta's treasury could see several extra billion per year. The only losers are Canadian taxpayers.
TMX, however, could be pragmatically cast as a necessary evil. In 2018, the prospect of no new pipeline at all seemed grim. TMX solves the capacity question – Canada will never need another new oil pipeline again. And when it opens, it will lessen Canada's dependence on U.S. buyers.
Of the pipelines planned in the 2010s – TMX, Northern Gateway, Keystone XL and Energy East – it was always TMX that made the most strategic sense. Still, when Canadians look back in 2050, spending more than $30-billion on a fossil fuel pipeline, all of the cash either public money or backed by the public, will not seem like the savviest investment.
It's clear that TMX has not turned out to be a sound investment opportunity, as Ottawa first said. To the contrary, it's a failure, financially speaking. But given Canadian political realities, TMX is a necessary failure.
[Top photo: Construction on the Trans Mountain pipeline expansion project.Trans Mountain]