* TransCanada explosion fuels controversy surrounding Energy East pipeline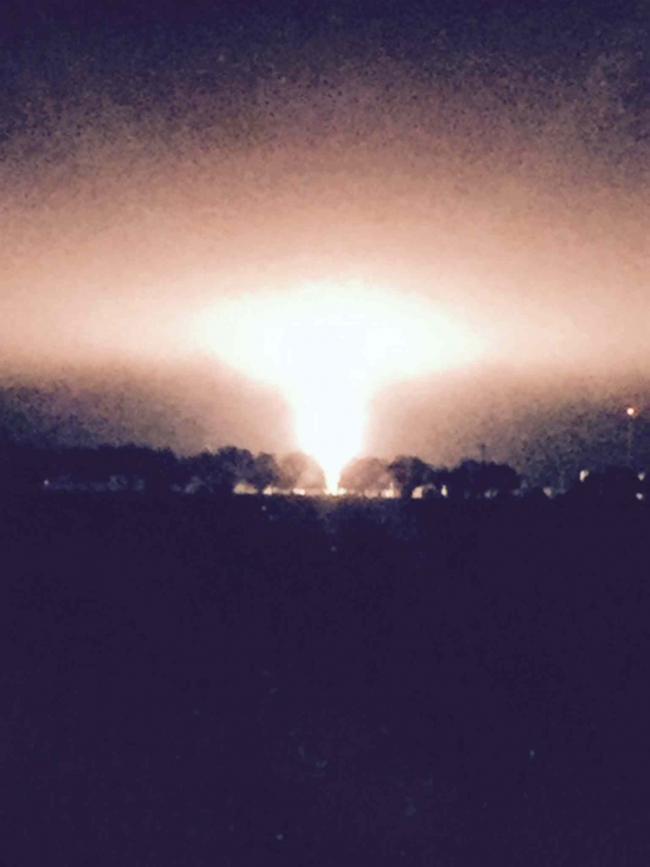 A massive gas explosion this weekend has added fuel to the fire of controversy raging around TransCanada's proposed Energy East pipeline project.
Numerous media outlets reported a rupture in a natural gas pipeline near Emerson, Manitoba, Saturday night. The Winnipeg Free Press reported that the volunteer fire department was called out after flames 20 to 30 feet high and 10 to 15 feet across fanned out at the explosion site.
Emerson fire chief Jeff French's photos of the explosion show a geyser of fire burning high in the sky. He told the Free Press that the flames could be seen from miles away.
The rupture occurred at the St. Vincent compressor station in Kittson County, Minnesota, about a kilometre south of the Canadian-U.S. border near Emerson.
Two homes were evacuated, but after the fire was extinguished some four hours later, residents were allowed to return. 
The cause of the explosion is under investigation.
TransCanada has had previous pipeline ruptures in Manitoba. One at Otterburn in 2014 is still under investigation. Earlier ruptures at Brookdale and St. Norbert were respectively caused by stress corrosion cracking and metal fatigue.
Last week opponents to TransCanada's proposed Energy East pipeline, which would partially use a converted gas line to carry Alberta tar sands crude and volatile Bakken crude oil, expressed concern over TransCanada's history of pipeline ruptures.
A new report from the Council of Canadians said the Energy East pipeline would have a 15 per cent chance of rupturing annually that could produce a potentially catastrophic oil spill.
TransCanada has disputed those numbers as "unfounded." Company spokesman Tim Duboyce says TransCanada spends a billion dollars annually on inspection and maintenance of its infrastructure and aims for zero incidents.
[End of article]