Trudeau Liberals shouldn't shelve $100 billion climate plan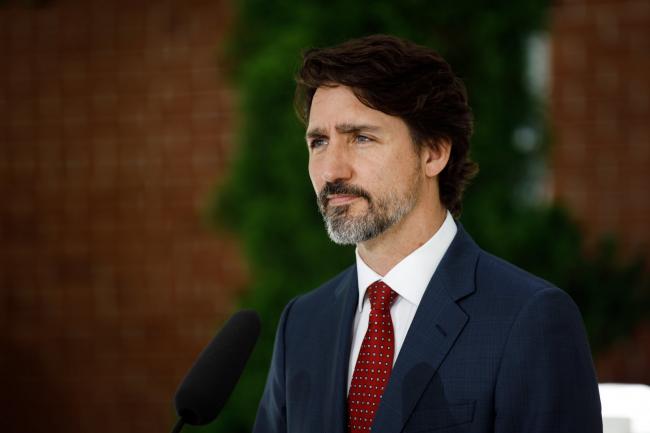 [Editor: Too bad that the Author's answer to the question "So what can people do to push back against this barrage of disinformation and denial?" is only "We can all write letters to our MPs, demand more action from the federal government now, for a start."  Though she does say ". . for a start"!! ]
September 15th 2020
As of Sunday, around 4 million acres have been scorched by wildfires in California, Washington and Oregon.
These fires are a reminder that for all our struggles with COVID-19, climate change remains the number one threat against human civilization.

Yet even now, we can't even acknowledge this reality.

The Liberal government was expected to unveil an ambitious $100-billion green spending plan, plus major changes in environmental regulation in the upcoming throne speech, according to a Global News report.
But now the government seems to have shelved that plan, over fears of being perceived as taking advantage of the pandemic to execute its climate agenda, according to information obtained by Global News.
The idea of this is infuriating and it's wrong.
Global News sources say the government will still focus on a structural recovery that will include a "green" and "clean" recovery plan and industrial strategy.
But that is not enough.
Now is the time to act, and to act boldly to come out of the Covid-19 economic crisis with a smart green stimulus package.
We watch as monster fires burn. Families flee. Children die.
Last fall, wildfires were terrifying in Australia. Today, the tragedy of massive wildfires revisited the west coast of America, carrying toxicity into Canada.
The Los Angeles Times summed it up with a banner headline splashed across the top of the Sunday paper: 'California's climate apocalypse." "The calamity is no longer in the future," the subtitle read. "It's here, now."
Monster fires. Families fleeing. Children killed. Now is the time to act, and to act boldly to come out of the Covid-19 economic crisis with a smart green stimulus package, writes @linda_solomon #ClimateCrisis #cdnpoli
In Vancouver, we were having our own apocalyptic scene. Smoke blowing in from the U.S. turned the Greenest City white, making it the second most polluted in the world, following Portland.
The mountains disappeared, and so did visibility. Public health warnings sounded through the city and communities up the coast.

Stay inside. No strenuous outdoor activities. Wear a mask outside.
It was depressing. And what was possibly even more depressing was that hundreds of anti-mask and QAnon conspiracy theorists still turned up to protest downtown on Sunday, even as smoke and ash from wildfires clogged up the sky.
As my 24-year-old son put it: "First Covid constricts social interactions. Now smoke is preventing me from biking, playing soccer, etc."
"Pretty apocalyptic-looking," he added, captioning a photo of the smoke-dulled downtown scene out of his apartment window.
It must be strange to be young in this world. I live with a household with three teenagers.
Yet I still can't wrap my mind around what it's like to be them, coming of age during a pandemic, explosive wildfires, racially-based murders, rising extremism, polarization, and above all else, to be aware of mass species extinctions and the mounting dangers of climate change. Scary. And normal.
And that's the scariest thing of all, how normal it is beginning to seem.

Left: Oakland, CA. Photo by Wikimedia Commons. Right: Vancouver. Photo by the Canadian Press.
 
Meanwhile, it turns out that Big Oil has been lying to the public about plastic recycling since at least the early seventies.
The plastics industry, including Exxon, Chevron, Dow and DuPont, poured money into ads to convince the public that plastic waste could be recycled, when in reality that was never possible for the majority of products.
They lied, knowing that plastics were going to fill our oceans for decades to come.

Photo by Brian Yurasits, Pexels.com
So what can people do to push back against this barrage of disinformation and denial?
We can all write letters to our MPs, demand more action from the federal government now, for a start.
We depend upon the government to do the right thing, to create a secure future and to protect public health.
Protecting the lives of Canadians is crucial and, like Covid-19, climate change mitigation is urgent, too. As climate chaos intensifies and COVID-19 rates swing upwards, trustworthy journalism is more important than ever.
As we watch the West Coast go up in flames, let's be sure the sight of smoke doesn't blind us. Let's be proactive and do whatever we can to protect the earth's climate, reduce global warming–– to bring about real and meaningful change.
Canada's government can and must boldly lead the way.
[Top photo: PM Trudeau speaks with media at Rideau Cottage in Ottawa. June 18, 2020. Photo from PMO Flickr feed.]