Trudeau: Pipelines to finance transition to green economy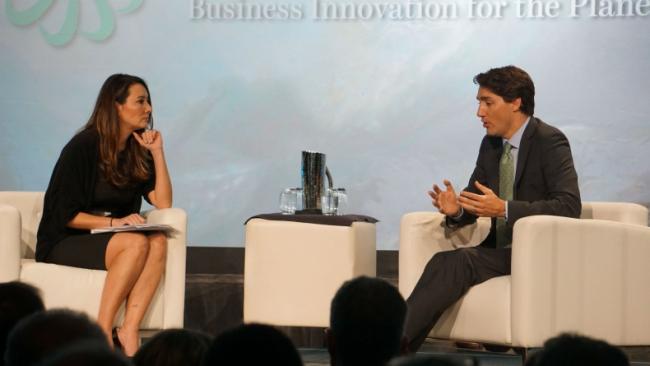 The Daily Planet's Ziya Tong grills Justin Trudeau on sustainable energy development in Canada at the 2016 Globe Series launch in Vancouver, B.C. on Wed. March 2, 2016. Photo by Elizabeth McSheffrey
Steadfast in his commitment to getting Canadian oil to market, Prime Minister Justin Trudeau said putting pipelines in the ground will pay for the country's transition to a greener future.
"We want the low-carbon economy that continues to provide good jobs and great opportunities for all Canadians," he told a crowd of hundreds of business, civil society, and science innovators.
"To get there, we need to make smart strategic investments in clean growth and new infrastructure, but we must also continue to generate wealth from our abundant natural resources to fund this transition to a low-carbon economy."
The answer however, wasn't enough for Discovery Planet's Daily Planet host Ziya Tong, who had the privilege of grilling him on stage before conference participants. Given the 28,666 oil pipeline leaks that have occurred in the last 37 years, she asked him how he could even consider projects like Energy East while trying to move towards a clean, green future:
"We have hundreds and hundreds of pipelines across this country carrying all sorts of different things," he answered, "and we need to make sure that we're getting the reassurance of communities, Indigenous people, environmentalists and scientists that we're doing it responsibly.
"It's what Canadians expect of their government and industries, and that's what we're going to be working very hard to deliver."