This is what the BC wildfires look like from 25,000 ft. in the air (VIDEO)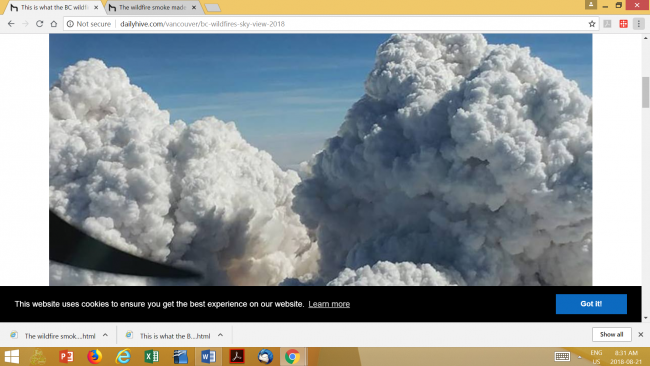 Go to http://dailyhive.com/vancouver/bc-wildfires-sky-view-2018 to see the video.
Against the brave and dedicated efforts of firefighters, wildfires still continue to burn across the province.
Heavy smoke and haze from wildfires has caused pitch-black conditions [see photo and link below] for some towns in interior BC and early last week, the BC government declared a provincial state of emergency.
Even from drastically high elevations, there's still a ghastly amount of smoke.
Zsolt Timar-Geng was able to get an up-and-close look at the smoke from a BC wildfire at 25,000 ft. in the air.
He posted a video and several pictures of the conditions, revealing a thick, fire-induced cloud in an otherwise light blue sky.
On his Instagram post, Timar-Geng explained that the video and photos were taken between the municipalities of Burns Lake and Smithers, BC.
Several BC wildfires to the south of Burns Lake have prompted for evacuation orders and alerts.
The Shovel Lake wildfire, Island Lake wildfire, Verdun wildfire, Nadina Lake wildfire, and Gilmore Lake wildfire all surround the area where Timar-Geng would have been travelling.
Surrounding wildfires near the Burns Lake area (black dot).
*********************************************************************************************
Prince George at 9.00 am August 17:
Full story: http://dailyhive.com/vancouver/wildfire-smoke-bc-town-dark-august-2018