Will Trudeau's infrastructure plan worsen the climate crisis?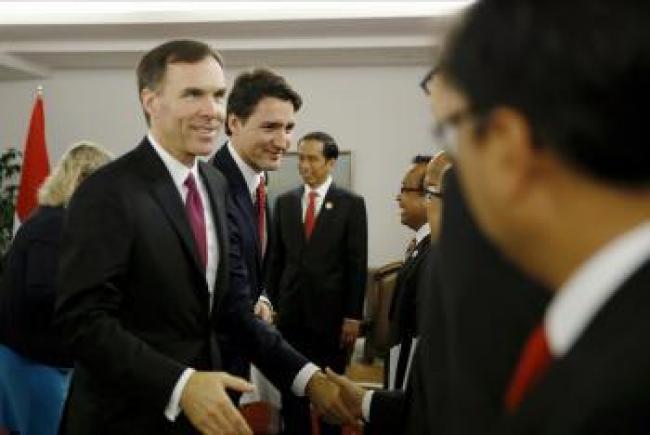 Prime Minister Justin Trudeau marked the Paris climate agreement by committing to take on the "tough work that still needs to be accomplished both at home and around the world to implement the agreement." Part of that tough work will be re-orienting federal funding to stop making the climate crisis worse.
Given Trudeau's statements on the seriousness of the climate crisis, you might expect that the multi-billion dollar infrastructure program he ran on in the election would already be targeted to reduce carbon pollution. You would be wrong.
The federal Liberals 'historic infrastructure plan' acknowledges that infrastructure will need to be beefed up to deal with climate impacts such as flooding from more intense storms and rising sea levels. But when it comes to reducing the carbon pollution that threatens everything humans value, the plan is silent. And that leaves open a big door to provincial, municipal and regional governments getting billions in federal funds for projects that make the climate crisis worse. There is money in Trudeau's budget allocated to a public transit fund which can reduce carbon pollution, but even 'green infrastructure' is mainly focused on replacing sewer pipes and the like rather than reducing carbon pollution.
The Globe and Mail quotes Trudeau in Paris saying "every single one of us can, and should be, much more conscious of the ways we can act to reduce our carbon footprint" but he seemed to be referring to individuals turning down the thermostat, rather than giving direction to cabinet ministers dolling out billions to provinces and cities.
In B.C., Premier Christy Clark returned from the Paris climate talks and promptly went looking for freeway expansion funding from Ottawa. Clark told the Vancouver Sun that her scheme to replace the four-lane Massey Tunnel with a massive $3 billion freeway bridge would "reduce our impact on the environment 
because there will be less idling."
British Columbia's Provincial Liberal government has been misrepresenting the negative impacts of road building on carbon pollution levels for some time. Their current Climate Action Plan dates back to the Gordon Campbell administration, and claims that freeway expansion will "reduce congestion and associated GHGs from idling vehicles." These claims are prime examples of 'strategic misrepresentation',a term defined by renowned Oxford professor Bent Flyvbjerg as "deliberately misstating the likely outcomes of actions." 
The cliché "you can't build your way out of congestion" is well supported by studies and experience, and has important implications for climate policy. In a 2007 study Clark Williams-Derry, Research Director of the SightLine Institute, found that "considering the increased emissions from highway construction and additional vehicle travel, adding one mile of new highway lane will increase CO2 emissions by more than 100,000 tons over 50 years."
Before Stephen Harper gutted the federal Environmental Assessment system, Environment Canada blasted the B.C. government's Port Mann /Highway 1 misrepresentations and found that roadway expansion leads to a "deterioration of air quality and an increase in GHG emissions." Of course, that did not stop this massive freeway expansion scheme.
Most other organizations are not as brazen as the BC Liberals in claiming that up is down, but softer misrepresentations may be more effective. Rather than open themselves up to ridicule from the public and media with blatant misrepresentation most governments just ignore the climate crisis while blithely proposing road widenings that increase carbon pollution. For example, Ontario's Highway 427 Expansion project in Metro Toronto is proceeding with barely a mention of climate or carbon pollution. Similarly, Infrastructure Canada's web page is silent on the increased climate pollution that will be caused by widening the federal portion of Autoroute 15 in Montreal.
It is early days for our new government in Ottawa, but the signs are not good on climate and infrastructure. My request for comment to Amarjeet Sohi, federal Minister of Infrastructure and Communities produced only a vague email statement claiming that investments would be "environmentally sustainable."
Trudeau has urged us to "take an active part in" ensuring the success of the Paris climate agreement. Every dollar of public money spent on roadway expansion is a dollar spent to sabotage the Paris Climate agreement, and to push humanity towards truly catastrophic global warming. Let's help Justin succeed in this tough work, by demanding that not one dollar of public infrastructure money go to increase carbon pollution. 
Eric Doherty is a Vancouver-based transportation planning consultant. Find him on twitter at@Eric_Doherty.  A version of this opinion piece originally appeared in the Vancouver Sun.