Stand.earth B.C. Election Debrief
Join Stand.earth's B.C. election team and volunteer community for an insider briefing on what just happened in the provincial election.

We'll break down what the results of the election mean for the climate issues this community cares about, look at what wins we had during the campaign period and on election day, and where to go from here.

Looking forward to seeing you there!
The results are in from the B.C. election.
Though we won't know the official outcome until mid-November, it looks as though the BC NDP has won a historic majority. The Liberal party lost support in every region of the province, while the Greens look likely to retain their seats.
But with a healthy NDP majority, both opposition parties have lost some of their bargaining power. That means we all have to work harder than ever to hold the BC NDP accountable to their election promises, and push them to do better on climate than they have the past three years.
So what were those election promises, and why am I feeling so hopeful? Let's rewind and look back at what we achieved in just a few short weeks.
When the election was called six weeks ago, it was clear we had our work cut out for us. A whopping 97% of the Stand.earth community we surveyed thought the previous NDP minority government had done only OK or badly at protecting the environment. Three focus areas that stood out as key concerns for this community were stopping the expansion of LNG, hitting our climate targets, and protecting our last old growth forests.
Stand.earth is a non-partisan organization, so we never planned to endorse a particular party or individual candidates. Instead, we set a strategic goal to make your key concerns major election issues, and push every party to improve their platform and commitments on fossil fuel subsidies, old growth forests and climate change.
A mere six weeks and a lot of public pressure later, we achieved two significant wins:
1)  Old growth: The BC NDP joined the BC Green Party in committing to implement all 14 of the old growth review recommendations, which means they will immediately stop logging at-risk old growth forests once taking office. With an NDP majority projected, we'll be keeping up the pressure to make sure they act on this promise right away. The BC NDP didn't anticipate that old growth would become an election issue, and had previously gotten away with vague statements. But one week out from election day, our collective pressure compelled them to update their platform.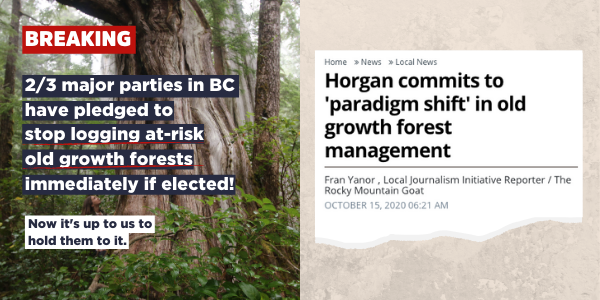 2)  Fossil fuel subsidies: The BC NDP also pledged to review oil and gas royalty credits, which was the key demand in the report Stand released right before the election was called. To date, the government has been giving $350 million of your taxpayer dollars annually to Big Gas in the form of these royalty credits. The industry has now accumulated $2.6 billion in credits, which is a major liability for taxpayers and reduces public revenue for future generations. A review of these credits is a critical step towards ending B.C.s largest fossil fuel subsidy, and a huge achievement during this election period.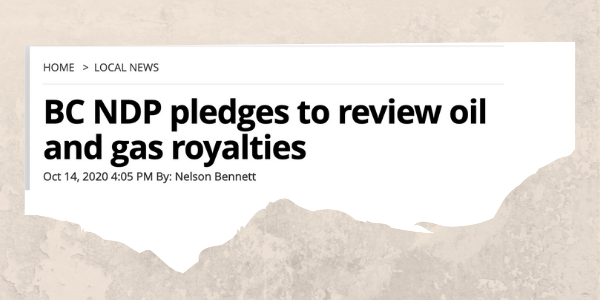 In just a few short weeks, this community managed to secure commitments on old growth forests and fossil fuel subsidies, while also raising the profile of LNG as a key campaign issue. Politicians were challenged on each of these topics during the leaders debate, subsequent environmental debates, and frequently on the campaign trail. And after several weeks of relentless pressure, they started to change their tune.
How did we do it? A whole lot of people power.
Over 1142 people sent personal letters to the leaders of the major parties calling for urgent action on these issues, and then again to the local candidates running in their riding. In the last month, a whopping 44,000 people signed the petition calling on the B.C. government to immediately stop logging at-risk old growth forests. We then personally emailed this petition to candidates in key ridings across the province, highlighting exactly how many people in their riding had added their names. We reached 320,000 people with powerful Facebook ads exposing the truth about our government's record on LNG, fossil fuel subsidies and old growth – and we continued to build people power on these campaigns by bringing over 7,000 new British Columbians into the Stand online community. These ads were powered by hundreds of small dollar donations from people like you.
Throughout this whole period, we also had an incredible team of election volunteers who sent 25,241 text messages to other Stand members in B.C. with important campaign and voting information. As a direct result of these conversations, hundreds of people then reached out to their candidates to demand they take action on old growth forests and climate change, and thousands more climate voters were equipped with the critical information they needed to cast their ballots.
What we achieved together in a matter of weeks is truly remarkable. But I'll be honest with you: it's just the beginning.
If we don't continue working hard to hold the new government accountable to their election promises, we might lose the momentum we've built to end fossil fuel subsidies. And if the government stalls action on old growth any longer (as they have for the past several years), we could lose our last standing giants. Continuing to work hard means setting up meetings with our new MLAs, and reaching out to them repeatedly over email and on the phone. It means signing more petitions, sharing information over social media, and continuing to build our power on this campaign.
But you know what? I'm not worried. At Stand.earth, we do the impossible on the regular. So thank you Ann, for being a part of this incredible community, and for everything you did to make this the climate election in B.C.
With a team like this, I have no doubt that we can turn these election promises into action.
With respect,
– Solaye and the whole Stand.earth election team
P.S. This may have seemed like a long email already, but we actually have a lot more to say about the B.C. election outcome, what it means for the issues you care about, and where we're headed next. Click here to RSVP on Zoom for our election debrief on November 10th at 5:30pm.
Date:
Tuesday, November 10, 2020 - 17:30