Billionaire Bonanza 2020: Wealth Windfalls, Tumbling Taxes, and Pandemic Profiteers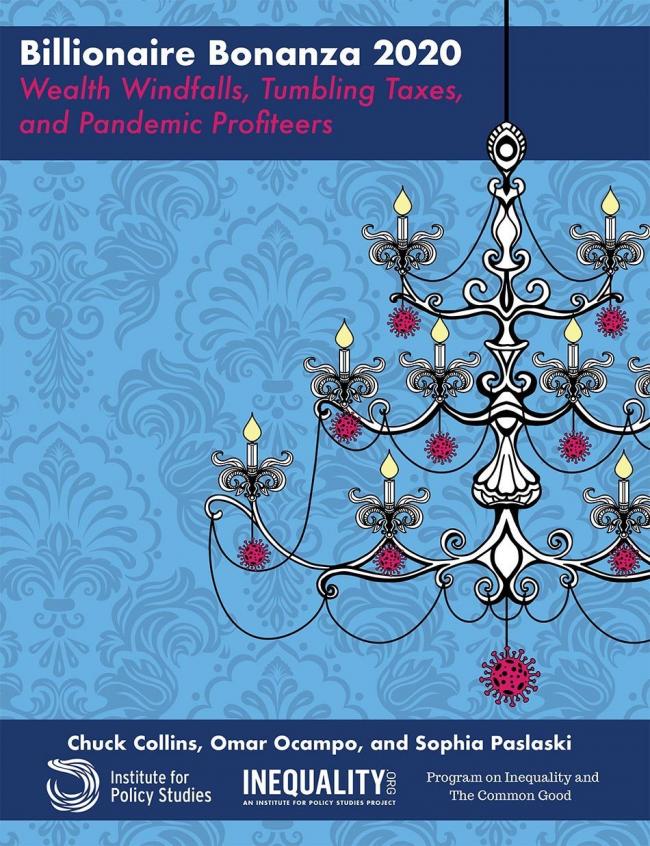 Key Findings:
• Between 1990 and 2020, U.S. billionaire wealth soared 1,130 percent in 2020
dollars, an increase more than 200 times greater than the 5.37 percent growth of
U.S. median wealth over this same period.
• Between 1980 and 2018, the tax obligations of America's billionaires, measured as
a percentage of their wealth, decreased 79 percent.
• Between January 1, 2020 and April 10, 2020, 34 of the nation's wealthiest 170
billionaires have seen their wealth increase by tens of millions of dollars. Eight of
these billionaires — Jeff Bezos (Amazon), MacKenzie Bezos (Amazon), Eric Yuan
(Zoom), Steve Ballmer (Microsoft), John Albert Sobrato (Silicon Valley real
estate), Elon Musk (Tesla and SpaceX), Joshua Harris (Apollo Global
Management), and Rocco Commisso (Mediacom) — have seen their net worth
surge by over $1 billion.
• The Jeff Bezos wealth surge is unprecedented in modern financial history and
varies greatly day by day. As of April 15, his fortune had increased by an
estimated $25 billion since January 1, 2020. This is larger than the Gross Domestic
Product of Honduras, $23.9 billion in 2018.
• Billionaire wealth rebounded quickly after the 2008 financial crisis, taking less
than 30 months to attain its pre-meltdown levels. Between 2010 and 2020, U.S.
billionaire wealth increased 80.6 percent in 2020 dollars, more than five times the
median wealth increase of 15.1 percent for U.S. households over the 2010 to 2016
years, based on most recent available data.
• The billionaire share of America's increased wealth has risen throughout the past
four decades. Between 2006 and 2018, nearly 7 percent of the real increase in
America's wealth went to the country's 400 wealthiest households.
Recommendations
• Establish a Pandemic Profiteering Oversight Committee that goes beyond
oversight of stimulus funds.
• Discourage wealth hiding through passage of the Corporate Transparency Act.
• Levy an emergency 10 percent Millionaire Income Surtax.
• Unleash a Charity Stimulus to mandate payouts of donor-advised funds and
emergency 10 percent payout for private foundations for three years.
• Make the federal estate tax more progressive and institute a wealth tax.
• Shut down the global hidden wealth system.
Full report - https://ips-dc.org/billionaire-bonanza-2020/