Film Showing Nov 23: This Living Salish Sea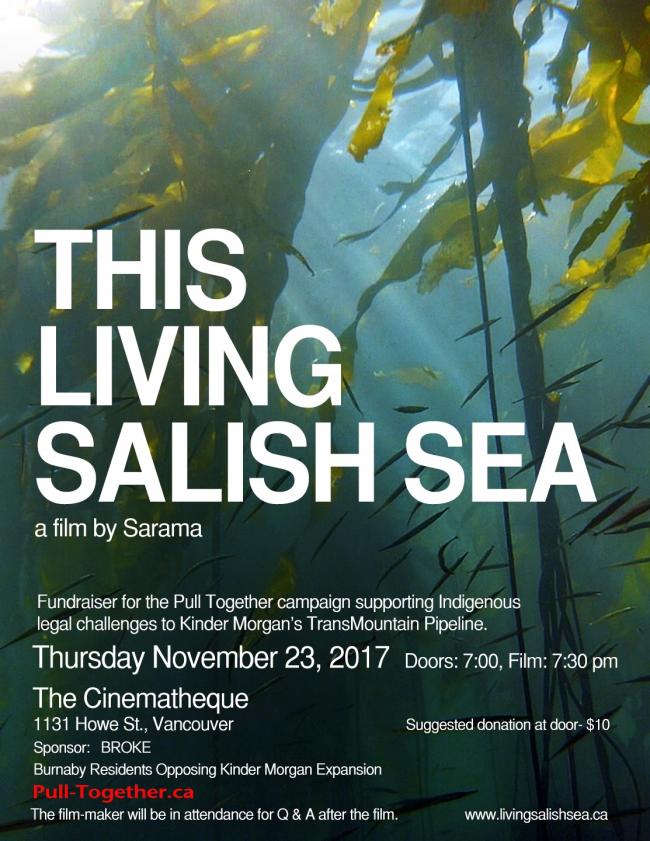 ​Join BROKE on Thursday, November 23 for the Vancouver premier of​ This Living Salish Sea, and help raise funds for Pull Together, which funds First Nation legal challenges to Kinder Morgan. We will be screening it at The Cinematheque, doors 7 p.m., screening 7:30 p.m..
See the trailer here:
Please share the Facebook Event HERE
Extensive underwater cinematography shows the life and beauty of the Salish Sea. In addition, local communities stand along with First nations to protect this environment with compelling civil disobedience and challenges to inappropriate industrial development. Talks with scientists and First Nations, along with detailed research, reveal impacts to local ecosystems, climate change and ocean acidification. The arrests on Burnaby Mountain of people resisting Kinder Morgan's TransMountain pipeline expansion foreshadow things to come. The sound track by Wayne Harjula and music by others combine with Sarama's narration to create an informative, inspiring, powerful and thought-provoking film.
Film maker/director, I Sarama, will be present to talk about the film and answer questions.