Time to stop dangerous wishful thinking about LNG Canada's climate impacts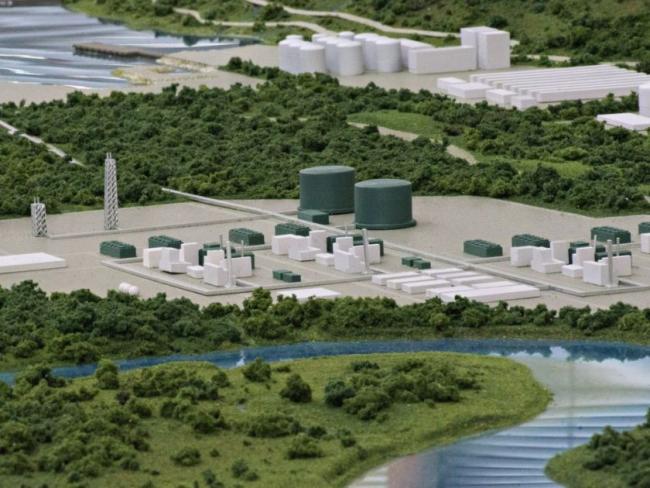 June 17, 2018
With the debate over the Trans Mountain Pipeline and tankers project at fever pitch, another project with enormous climate impacts is slipping under the radar. After B.C. announced new climate commitments in May, LNG Canada's CEO hinted construction will start soon. More recently, the Malaysian multinational Petronas announced a 25-per-cent stake in the LNG Canada project.
LNG Canada's final investment decision is imminent.
The only way this fracked gas terminal can be built is if the B.C. government chooses to fail at meeting climate targets, or if all other sectors of the economy drastically, disproportionately — and perhaps impossibly — reduce emissions.
Premier John Horgan and the B.C. government seem to think they can have LNG while also taking meaningful action on climate change. This is wishful thinking.
Defending our communities from climate impacts means doing more than setting weak climate targets, with vague talk about somehow meeting them sometime in the future. Being a climate leader means making the tough decisions today to stop investing in new fossil fuel projects and instead directing political support and subsidies toward readily available and affordable renewable energy and efficiency solutions.
These energy alternatives are becoming cheaper by the day and create many more jobs per dollar invested than fossil fuels. With government leadership we can ensure a just transition in which workers, families and communities have abundant choices and thriving post-carbon economies.
Instead, B.C. recently abandoned its legislated 2020 targets for emissions reductions and announced a (still weak) 2030 target instead. In other words, we have failed to reduce carbon emissions as promised, so the government has kicked the can farther down the road, with no interim accountability.
Rather than getting lost in the numbers, let's see the big picture: B.C.'s new climate targets are not strong enough to keep us below the amount of warming that global leaders committed to in the Paris climate agreement.
No one ever said dealing with the problem of climate change would be easy. But then again, living through unprecedented wildfires and severe flooding — with worse to come — isn't easy either. Climate impacts are already here, and a number of countries are taking serious action to stop things from getting worse. Sweden has legislated a goal of zero emissions by 2045.
By setting weak targets, the B.C. government is creating a fantasy world in which so-called climate leadership and new LNG terminals co-exist. Yet in the real world, the LNG Canada project and associated upstream fracking operations would increase B.C.'s greenhouse gas emissions by millions of tonnes, with even more emissions in overseas markets from burning the gas.
In March, the government said that LNG projects must "live up to the Province's climate commitments." Only in a Trumpian alternative reality in which facts don't matter can we increase emissions while at the same time reducing them. It's either that, or we admit from the get-go that we will fail to meet our targets.
Over the past decade, provincial emissions have failed to go down. But climate impacts — and the costs of responding to climate-induced disasters — have ramped up.
In the real world of uncontrollable wildfires and floods, we need aggressive targets that drive a rapid transition to a post-carbon economy. The government should be setting targets for 2020 and 2025, as well as a stronger 2030 target (half of 2007 emissions).
We also need to address the fracking and LNG industry's contribution to greenhouse gas emissions, particularly methane leakage — which is 82 times more potent a greenhouse gas than carbon dioxide. Environmental assessments of major industrial projects should include a robust climate test that considers upstream and downstream emissions, ensures all projects are consistent with emissions targets and keeps us within our remaining carbon budget.
We've had a decade of talk about climate leadership in B.C., but virtually no progress to show for it. A decisive course change is needed. With viable alternatives already on offer, driving post-carbon innovation and creating good green jobs is a no-brainer.
Actively building new LNG terminals — while willfully ignore their impacts — is nothing short of a climate crime.
Caitlyn Vernon is campaigns director at the Sierra Club B.C.
[Top photo: A model at the LNG Canada offices in Kitimat shows the proposed liquified natural gas liquification plant and marine terminal. ROBIN ROWLAND / THE CANADIAN PRESS]