'Extreme situation': Antarctic sea ice hits record low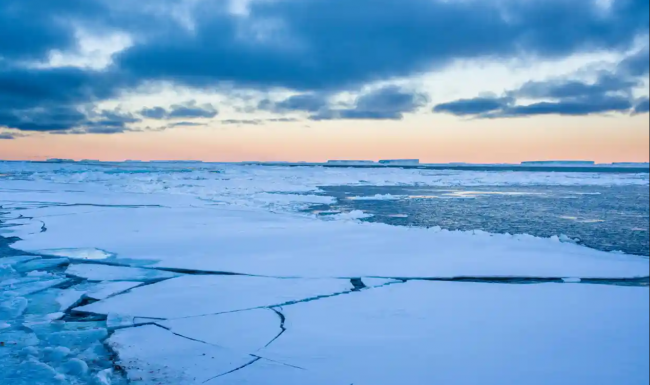 Feb. 15, 2023
Sea ice helps protect glaciers and ice caps that would cause massive sea level rise when lost, scientists warn
The area of sea ice around Antarctica has hit a record low, with scientists reporting "never having seen such an extreme situation before". The ice extent is expected to shrink even further before this year's summer melting season ends.
The impact of the climate crisis in melting sea ice in the Arctic is clear in the records that stretch back to 1979. Antarctic sea ice varies much more from year to year, which has made it harder to see an effect from global heating.
However, "remarkable" losses of Antarctic sea ice in the last six years indicate that the record levels of heat now in the ocean and related changes in weather patterns may mean that the climate crisis is finally manifesting in the observations.
Scientists were already very concerned about Antarctic ice. Climate models suggested as far back as 2014 that the giant West Antarctic Ice Sheet (WAIS), which sits on the continent, was doomed to collapse due to the levels of global heating already seen then.
The increasing loss of sea ice exposes ice sheets and their glaciers to waves that accelerate their disintegration and melting, researchers warned. A recent study estimated that the WAIS would be tipped into gradual collapse – and four metres of sea level rise – with a global temperature rise as low as 1C, a point already passed.
"I have never seen such an extreme, ice-free situation here before," said Prof Karsten Gohl, from the Helmholtz Centre for Polar and Marine Research in the Alfred Wegener Institute, Germany, and who first visited the region in 1994.
Gohl, on board the research vessel Polarstern in Antarctica, said: "The continental shelf, an area the size of Germany, is now completely ice-free. It is troubling to consider how quickly this change has taken place."
Prof Christian Haas, also at the Helmholtz Centre, said: "The rapid decline in sea ice over the past six years is quite remarkable, since the ice cover hardly changed at all in the 35 years before."
Scientists at the National Snow and Ice Data Center in the US have also said a new record low has been set. They said Antarctic sea ice extent fell to 1.91m square kilometres on 13 February, below the previous record set on 25 February 2022.
The German scientists said the "intense melting" could be due to unusually high air temperatures to the west and east of the Antarctic peninsula, which were about 1.5C above the long-term average. Furthermore, there have been strong westerly winds, which increase sea ice retreat. The result is "intensified melting of ice shelves, an essential aspect of future global sea-level rise", the researchers said.
Historical records also show dramatic changes in Antarctica, they said. The Belgian research vessel Belgica was trapped in massive pack ice for more than a year in the Antarctic summer 125 years ago, in exactly the same region where the Polarstern vessel is now sailing in completely ice-free waters.
Prof Carlos Moffat, at the University of Delaware, US, and recently returned from a research cruise in the Southern Ocean, told Inside Climate News: "The extraordinary change we've seen this year is dramatic. Even as somebody who's been looking at these changing systems for a few decades, I was taken aback by what I saw."
[Top photo: Broken and melting sea ice in the Weddell Sea, Antarctica. Photograph: Peace Portal Photo/Alamy]