Alberta Approves Suncor Tailings Plan Despite Reliance on 'Unproven Technology'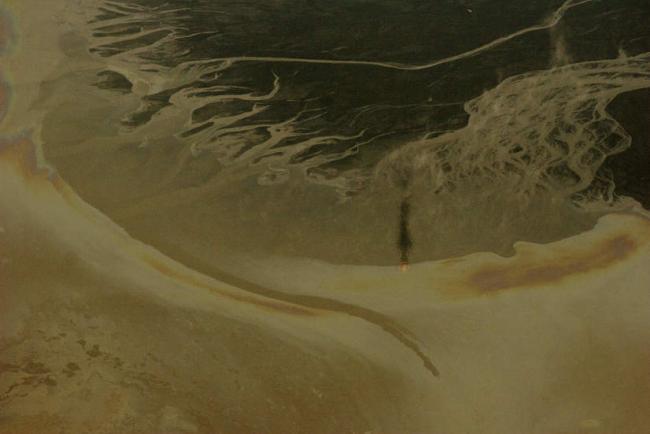 The Alberta Energy Regulator (AER) has approved a tailings management plan from oilsands giant Suncor, despite the plan relying on "newly patented, unproven technology" that will require decades of monitoring.
Wednesday's decision came only six months after the AER rejected Suncor's proposed plan for the same project because it relied on unproven technology and a 70-year timeline for reclamation. The regulator only later agreed to re-review the plan.
So what changed? Uh, nothing.
"Suncor really hasn't budged an inch in terms of actually changing anything," said Jodi McNeill, policy analyst at the Pembina Institute, in an interview with DeSmog Canada.
Critics are also concerned that the approval will set the tone for the remaining seven tailings management plans: all of which depend on unproven technologies in some capacity.
"Suncor has been operating for 50 years: they shouldn't be given another 15 years to monitor and confirm tailings treatments that may or may not work," said Tzeporah Berman, former co-chair of the Alberta Oil Sands Advisory Group, in an interview with DeSmog Canada.
"It is not a matter of the AER asking for more details. It's that oilsands companies should not continue to operate if they once again have shown they don't know how to clean up the mess they make. They have other technologies they can use. They just don't want to pay for them."
Industry Has 'Taken Advantage of Flexibility' of Regulator
It's been a long and windy road to get to this point.
Directive 085 was introduced by the AER in mid-2016 to replace the failed Directive 074, which was implemented in 2009 and saw every way company overshoot its respective tailing target without any consequence. The new regulations were intended to be less prescriptive and more flexible from plan to plan, working in tandem with the AER.
As evidenced by the approved Suncor plan, oilsands companies haven't changed their ways at all.
"Industry just hasn't held up their side of the bargain: they've come back with really vague, inadequate criteria and plans to water cap fluid tailings with extremely long reclamation timelines," McNeill said. "They've taken advantage of that flexibility rather than using it as a way to come to the table with ambitious plans."
The technology that McNeill referred to, water capping, would see fine tailings covered by freshwater to create an "end pit lake" that would eventually transition into a healthy aquatic ecosystem.
Glenn Miller, professor of natural resources and environmental science at the University of Nevada, has previously described end pit lakes as "a grand experiment that is highly uncertain and problematic."
Suncor Must Provide Plan by 2023, Only 10 Years Before Planned Mine Closure
Suncor's revised application included a supplementary chemical treatment called Permanent Aquatic Storage Solution (PASS), intended to keep the fine tailings consolidated at the bottom of the pit.
"It's just another supplementary component of water capping, "McNeill said. "And it doesn't address the fact that water capping oilsands tailings itself is unproven, risky, extremely unpopular amongst stakeholders and unapproved by the regulator."
McNeill said that if that fails, Suncor's fallback plan would require hundreds of years of monitoring and there would be a "really high likelihood that it's going to sink into an unmanaged swamp."
Key Tailings Testing Facility Still 
MIA
As previously reported by DeSmog Canada, the Canadian Oil Sands Innovation Alliance (COSIA) — a research alliance of most oilsands producers — has long talked about constructing a massive test facility called the Demonstration Pit Lakes Project, featuring more than a dozen mock tailings ponds.
According to COSIA's website, the facility was scheduled to open in 2017. Yet there's still no indication that construction has even started on the project. That means the key testing facility planned to determine the viability of end pit lake technology is totally MIA, despite it needing at least 15 years of testing and monitoring to adequately evaluate.
The AER noted in its approval that the Government of Alberta is expected to create policy on water capping and end pit lakes, with Suncor proposing "final closure outcomes" for the plan by 2023.
But even if the Demonstration Pit Lakes Project opened tomorrow, that would only allow for five or six years of monitoring: less than half of what's required for proper evaluation.
"They're all banking on the results of these different COSIA projects to guide the use of those technologies," McNeill said. "The difficult thing there is it's ultimately going to take decades to really understand all of the implications of this."
Oilsands Companies Have Only Contributed $900 Million of $20 Billion in Securities
Compounding the problem is the lack of security deposits in the province's Mine Financial Security Program, established to prevent Albertans from having to pay clean-up costs if a company goes bankrupt.
Currently, there's only $1.4 billion in the fund, which is around $19 billion short of what's required for the conservative estimates of potential costs.
"The longer they are allowed to exist the more likely it is the taxpayers of Alberta and Canada will be stuck with the enormous cost of cleaning them up," said Kevin Taft, former Alberta Liberal Party leader and author of the recent book Oil's Deep State, in an interview with DeSmog Canada. "When the bills come due for the tailings ponds in 15 years of more, Suncor may not even be in business."
McNeill added that there's a very concerning vagueness around timelines and penalties for non-compliance: "There's no hard stop, no speed limits."
Suncor Approval May Set Precedent For Remaining Tailings Plan Reviews
Ultimately, the AER receives its marching orders from the provincial government.
And even though Premier Rachel Notley was an ardent critic of tailings management while opposition environment critic, her government has failed to tighten acceptable parameters for reclamation or address long-standing criticisms of the AER, including lack of enforcement power, a mixed mandate and overly close relationship with industry.
"This shows that the AER still doesn't have any teeth," said Mike Hudema, climate and energy campaigner for Greenpeace Canada.
"We've had four straight premiers pledge to remove tailings ponds from Alberta's landscape because of the toxic dangers that they pose. And what this announcement says is that we're going to continue to see tailings lakes not only grow in size but be around for the next century."
McNeill added that Pembina Institute has had "a lot of difficulty in getting any level of responsiveness" from the province when it comes to handing down stronger directions to the regulator.
"This is what happens when a regulator is fully paid for and apparently run by the industry," Taft concluded.
Photo: Julia Kilpatrick, the Pembina Institute