To Avert Armageddon, Push for a Cease-Fire in Ukraine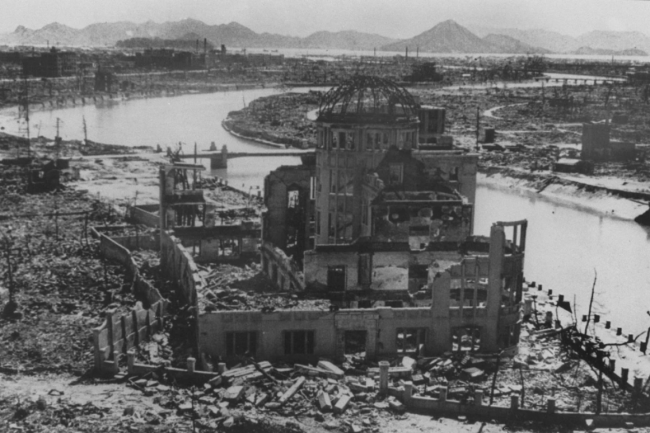 For Kyiv and its allies, negotiating an imperfect peace is preferable to risking a catastrophic nuclear confrontation.
Russian President Vladimir Putin was not bluffing when he said, "If the territorial integrity of our country is threatened, we will without doubt use all available means to protect Russia and our people." U.S. President Joe Biden seems to grasp this, saying on Oct. 6: "We've got a guy I know fairly well. His name is Vladimir Putin. … He is not joking when he talks about the potential use of tactical and nuclear weapons or biological or chemical weapons because his military is, you might say, significantly underperforming."
Putin's recent declaration that Donetsk, Luhansk, Kherson, and Zaporizhzhia are now, like Crimea, integral parts of Russia's territory dramatically raises the risk of confrontation. Indeed, if Ukraine's heroic military—backed by NATO military aid—continues to drive Russian forces out of this territory, Putin may continue to escalate the crisis, ultimately reaching for nuclear weapons in an attempt to find a way out. Putin and perhaps his lieutenants are more prepared to commit murder-suicide over Ukraine than saner Americans and Europeans are.
Russia and Ukraine are barreling toward each other in a game of chicken. It is time to flick on the bright lights and see farther down the road. Instead of pressing to see who turns first, wisdom requires pausing and working out a way for both countries to live another day.
Like then-U.S. President John F. Kennedy said reflecting on the 1962 Cuban missile crisis: "Nuclear powers must avert those confrontations, which bring an adversary to a choice of either a humiliating retreat or a nuclear war. To adopt that kind of course in the nuclear age would be evidence only of the bankruptcy of our policy—or of a collective death wish for the world."
Forcing a cornered nuclear-armed state led by a man who sees his misguided war as an existential struggle into a complete and humiliating retreat poses far greater risks than the benefits of trying to recapture every square mile of Ukrainian territory occupied by Russian forces.
A negotiated cease-fire, with strong enforcement, is the best option.
---
Unfortunately, many in the United States, Europe, and especially Ukraine—in their fully understandable eagerness to deny Putin any gains—seem too inclined to wish away this risk, either by claiming Putin is bluffing or by simply saying troops must be brave and press on with Ukraine's advances. An underlying—and understandable—worry is that if Putin gets away with making nuclear threats, he and other future nuclear-armed bullies will commit more aggression.
Stopping a war while the aggressor still occupies someone else's territory is indeed bad—though not unprecedented. Doing it under the shadow of a nuclear threat is arguably even worse. Other nuclear-armed revisionist powers like Pakistan or China could become emboldened to try something similar with Kashmir or Taiwan, respectively. Yet, it is much less bad than the alternative of pressing on until Russia detonates nuclear weapons. At that point, negotiation would be needed to end the destruction—or else Armageddon would ensue—with no guarantee that the aggressor leaves the occupied territory. Only then would the more massive injustice of mass casualties and environmental contamination occur.
But neither side is likely to come to this necessary realization on its own or soon. After building a heroic Ukrainian identity, Ukrainian President Volodymyr Zelensky and his supporters are also emboldened by their recent military gains and inclined to resist any compromise that Putin might accept. They want to press ahead to create even more facts on the ground in the coming weeks before winter sets in.
[Article continued below.]
READ MORE
The Additional Protocol I to the 1949 Geneva Convention offers a model, but the United States can't denounce Russia until it embraces the norms it's seeking to enforce.
Vladimir Putin's annexation of Ukrainian territories raises the risk of nuclear confrontation, but it's unclear whether Washington's rhetoric will stop him.
Stopping a war while the aggressor still occupies someone else's territory is bad. Yet, it is much less bad than the alternative of pressing on until Russia detonates nuclear weapons.
For his part, Putin—notwithstanding recent setbacks—continues to believe that sustaining the confrontation and, if necessary, expanding it to other states and more destructive tactics and weapons can wear out Ukraine and its Western backers. Doing so is necessary to maintain his position at home. The world is thus entering a few weeks of maximum danger before the combination of weather and unpassable soil in the contested areas will largely freeze the situation on the ground until the spring.
To prevent an escalation that involves nuclear weapons, world leaders must step in to encourage Ukraine to propose a cease-fire now under terms that Russia might ultimately conclude, albeit very reluctantly, that it can accept. This means the United States and NATO must lead, ideally joined by Chinese President Xi Jinping and Indian Prime Minister Narendra Modi.
Offering cease-fire negotiations would benefit Ukraine by helping to deter Russia's use of nuclear weapons. Agreed cease-fire provisions as well as monitoring and dispute resolution procedures would take time to negotiate. Ukraine could sustain its military operations until then but would need to forgo attempts to move forces into Crimea. Meanwhile, Russia would become a North Korea-like pariah in far wider circles than it currently is if it used nuclear weapons once Ukraine offered a cease-fire.
China and India have said they want the fighting to end; Xi and Modi each have a self-interest to help Putin get there and an even more powerful incentive to prevent nuclear escalation. Both have access and influence with him. Both do not want their main adversaries to see more value in acquiring nuclear weapons (Taiwan, Japan, and South Korea versus China) or threatening to use them (Pakistan versus India).
Both China and India have long insisted that no one should threaten to use nuclear weapons first. They are good messengers to tell Putin that first use of nuclear weapons would make it impossible for them to sustain their current cooperation and that he would be well advised to pursue a viable cease-fire before he would find it necessary to escalate further to prevent additional losses on the ground. Doing that would serve Russia's interests­—and the world's.
Given the harsh character of U.S.-China relations today, Xi would need positive inducement from Washington to make this effort. It would be pathetic (and condemnable) if U.S. domestic politics precluded overtures to Beijing to explore whether reasonable inducements could be arranged. The U.S. government should not lecture Xi about what serves his interests; Washington must ask Beijing what it would take to shift its stance and then negotiate.
If Xi and Modi are unwilling or unable to engage Putin on these points, U.S. and European officials would, with greater difficulty, need to try to persuade Russian and Ukrainian leaders to accept the logic of the nuclear age.
Armageddon, or even a smaller nuclear war, would certainly not serve the interests of the Ukrainian population that NATO is trying to defend—or the world more broadly.
Fighting Russian forces until Putin decides to use nuclear weapons as a last recourse may feel like a pursuit of justice against despots, but once nuclear weapons are unleashed, no one knows how to prevent the destruction from escalating. If the West presses forward, do the Russians quit or do they use more nuclear weapons in the hope that this time, the West concludes Ukraine should stop? After Russia has used nuclear weapons in two rounds of fighting, the pressure would grow on U.S. and other leaders to hit back with even more nuclear force. Indeed, no one has described a nuclear exchange that would be tolerable for the United States, Europe, and Ukraine as well as destructive enough to drive Russian forces back to Russia's pre-2022 or pre-2014 borders.
This is why Biden said on Thursday, "I don't think there's any such thing as the ability to easily [use] a tactical nuclear weapon and not end up with Armageddon." And this is why retired Gen. John Hyten, former commander of U.S. nuclear forces, said in July 2018 that every nuclear war exercise "ends the same way every time. It ends bad. And the bad meaning it ends with global nuclear war."
Armageddon, or even a smaller nuclear war, would certainly not serve the interests of the Ukrainian population that NATO is trying to defend—or the world more broadly. A negotiated cease-fire before nuclear use started would be preferable for all parties. Similarly, after nuclear use begins, a decision to negotiate an end to the fighting, or at least the nuclear fighting, would be saner than continuing. But that, too, would leave the whole world worse off than if a cease-fire had been pursued earlier.
Instead of being accused of rewarding nuclear threats with compromise and a cease-fire, Western leaders would, at that point, be accused of rewarding the actual use of nuclear weapons. The message to other nuclear-armed states would then be that nuclear threats don't work and they must actually use the weapons.
---
To achieve a viable cease-fire, Russia needs to give up on its goals of destroying an independent Ukraine and carving up its territory beyond the quickly diminishing areas that it currently controls. Ukraine and NATO need to recognize that Russia will not cede all the territory it has taken since 2014 right now (though it might eventually if it gets fed up years later with the hassle and cost of retaining it and the sanctions it endures for doing so).
International pressure should encourage Russia to accept cease-fire terms that proscribe any further Russian encroachment on any international boundary in Europe (well beyond Ukraine) established before February. Cease-fire monitoring provisions would need to be codified, perhaps involving monitors from the United Nations or the Organization for Security and Cooperation in Europe. After the shooting stops, the messy process of negotiating governance of the parts of the oblasts under the control of Russian and Ukrainian forces would begin.
Meanwhile, Western countries would need to help rebuild and resupply the Ukrainian military to deter Russia from reneging. NATO states would not be expected to bring Ukraine into the alliance, but Russia would have to accept that the West will continue to support Ukraine as long as Russia occupies its territory and threatens it.
This isn't World War II. Germany and Japan didn't have nuclear weapons; Russia does. That fact cannot be undone.
Regardless of where any cease-fire line is ultimately drawn, Ukraine will need the equivalent of an international Marshall Plan to rebuild—whenever the fighting stops. Western taxpayers will donate scarce public funds for this purpose (as well as confiscated Russian assets). The political will and fiscal capacity to help rebuild Ukraine would be more questionable after a nuclear war that extends beyond Ukraine, and there's no guarantee that such war would regain Ukraine's lost territories. Instead, the sooner rebuilding begins in Ukraine, the sooner Russians on the other side will see the need to move on from the deprivation, repression, and isolation their government has brought on them.
Some experts argue that anything less than total Russian withdrawal would be a victory for Putin and therefore must be resisted. But Putin has already lost strategically—NATO is working to expand its membership to include Finland and Sweden and has supported Ukraine in ways unimaginable before. The Russian army has been devastated and embarrassed. The economy has shrunk as well as lost capital and technology that are unlikely to return absent major changes in Russia's government. Russian citizens, especially the most talented youth, have become disaffected or have fled. A negotiated cease-fire would not change these facts.
Ukrainians and their admiring supporters would be legitimately frustrated by a negotiated cease-fire now. The world recognizes the injustice of any gain for Putin and Russia. But the desired heroic ending of World War II, in which the aggressors were vanquished and friendly new democratic governments were created, is not an option here. Germany and Japan didn't have nuclear weapons; Russia does. That fact cannot be undone.
If Ukrainian forces cannot expel Russia from all these lands without a cornered Putin using nuclear weapons as a last recourse, it is better for the people of Ukraine, Europe, and the United States to act on this realization before a nuclear war begins.
Ariel Levite is a nonresident senior fellow of the Carnegie Endowment for International Peace's Nuclear Policy Program. He was the principal deputy director-general for policy at the Israel Atomic Energy Commission from 2002 to 2007.
George Perkovich is the Ken Olivier and Angela Nomellini chair as well as vice president for studies at the Carnegie Endowment for International Peace. Twitter: @PerkovichG
[Top: A photo dated September 1945 of the remains of the Prefectural Industry Promotion Building after the atomic bombing of Hiroshima. AFP VIA GETTY IMAGES]