BCCLA Head Disagrees with NDP calls to label 'Proud Boys' a terrorist organization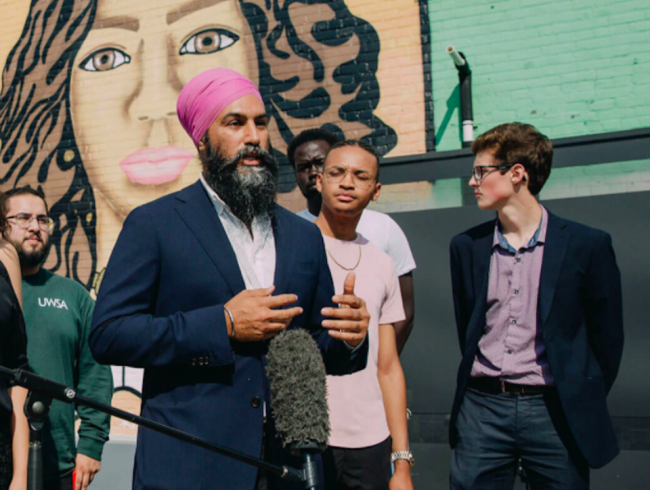 Jan 8, 2021
New Democratic Party Leader Jagmeet Singh says Trudeau's government has failed to list them as a terrorist organization
New Democratic Party Leader Jagmeet Singh is encouraging Canadians to sign a petition that would designate the "Proud Boys" group as a terrorist organization.
The federal NDP is calling on the Trudeau government to immediately ban and designate the Proud Boys as a terrorist organization. 
Singh took to Twitter Thursday (Jan. 7)  to share the petition, which he encourages Canadians to sign and share, too. 
"Today, Justin Trudeau's government was asked if they would list Proud Boys as a terrorist organization," he writes.
"They refused to commit."
"Alarmingly, their founder is from Canada."
The petition states how "Earlier this year, the Proud Boys, a right-wing extremist group that promotes white supremacist views made international headlines after being bolstered by Donald Trump."
Earlier this week, members of the Proud Boys joined a group armed with deadly weapons as they stormed the U.S. Capitol, which "was an act of domestic terrorism," explains the NDP.
The petition also notes that "Alarmingly, their founder is from Canada."
At one point, Singh says that the website crashed "Due to overwhelming support" from people signing the petition. 
"Unpopular opinion": Activist/writer weighs in on NDP petition  
Harsha Walia, executive director of the BC Civil Liberties Association, took to Twitter to express why she thinks the Proud Boys shouldn't be designated a terrorist group. 
The activist/writer argues that the terrorist designation negatively impacts minority groups--and that expanding the term to include white supremacists simply "won't work."
"It is fundamentally regressive law and targets Black, Indigenous, Muslim, Sikh, left communities by design," she writes. 
"There is no "appropriate" left reason for more criminalizing or securitizing laws. Global war on terror and its ongoing aftermath must be dismantled, not bolstered."
https://twitter.com/HarshaWalia/status/1347308024226934786?s=20
According to 
BBC
, the Proud Boys are a far-right, anti-immigrant and male-only organization that promotes and engages in political violence. 
Prime Minister Justin Trudeau, who over the course of the last four years has studiously avoided calling out the president by name, stopped pulling his punches. 
"What we witnessed was an assault on democracy by violent rioters, incited by the current president and other politicians," Trudeau said in a prepared statement during a news conference outside his Rideau Cottage residence.
Pro-Trump rallies in Vancouver and across the globe
The storming of the U.S. Capitol by supporters of President Donald Trump played out on national television and social media in searing fashion Wednesday. 
Locally, pro-Trump demonstrators gathered outside of the Vancouver Art Gallery to protest the result of the United States presidential election.
But many Canadians question why the protestors feel so impassioned about an election south of the border--particularly when that passion leads to violence. 
Vancouver Is Awesome's Editor-in-Chief Bob Kronbauer was shooting photos at the small rally on Wednesday, Jan. 6 when one of the demonstrators punched CBC photojournalist Ben Nelms in the face, completely unprovoked. 
While Kronbauer said that most of the protestors were relatively harmless (aside from some verbal attacks on strangers), many people have questioned why locals so passionately support Trump. 
Dr. Maxwell Cameron, a professor of political science at the University of British Columbia, tells V.I.A. in a phone interview that it isn't altogether surprising that Canadians have taken an interest in the United States election. The two countries share a border and have strong economic, cultural and political ties. 
"Many of the issues that Trump has been able to mobilize people around are issues that we also encounter in our own context," he explains.
While Cameron cautions against exaggerating the impact that the U.S. president has locally, he notes that a threat to the democratic process south of the border should concern us. 
"To paraphrase Martin Luther King--a threat to democracy anywhere is a threat to democracy everywhere," he says.
"When the single most powerful country in the world, which is one of also one of the world's oldest established democracies, stumbles--It makes democracies everywhere more vulnerable."
--With files from Bob Kronbauer and the Canadian Press 
[Top photo: New Democratic Party Leader Jagmeet Singh is encouraging Canadians to sign a petition that would designate the "Proud Boys" group as a terrorist organization.Photo via New Democratic Party]