Build a dozen pipelines, Alberta. It won't help.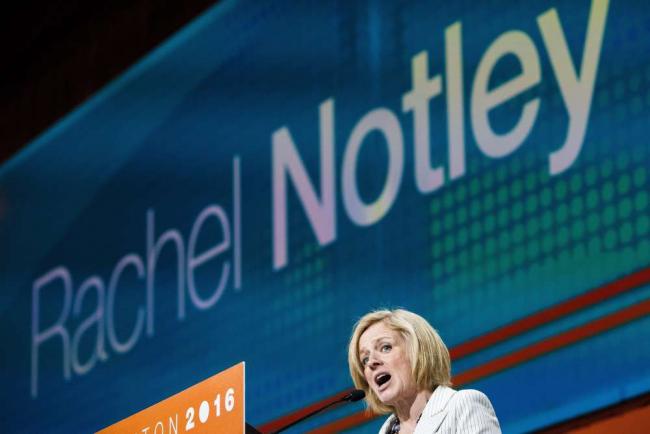 "I won't let up," Alberta Premier Rachel Notley told delegates to the NDP's national convention last week. "We must get to 'yes' on a pipeline." She repeated that message Saturday, asking the convention to support "pipelines to tidewater that allow us to diversify our markets."
In doing so, Premier Notley just became the latest Canadian politician to play games with pipelines. She's telling Albertans a pipeline to tidewater can cure what ails the industry. It won't — it can't — because the problem a pipeline to tidewater was intended to address doesn't exist anymore.
Alberta's problem is twofold: Its oilsands have been buried by fracked American oil that is both higher-value and cheaper to produce, while longer-term they face marginalization in a world committed to weaning itself off carbon.
So another pipeline isn't needed; oilsands production won't be expanding much in the foreseeable future, if it all. Alberta needs to figure out how to make the most of the infrastructure it has in place. Money spent on a pipeline right now would be money wasted. But Notley can't say that aloud — not while also delivering the bad news on her province's finances and fighting back against the implications of the so-called Leap Manifesto.
When it comes to playing political games with pipelines, nobody's on a level with Barack Obama. While wrapping himself in a 'green' flag, the U.S. president also managed to keep alternatives to Keystone XL, such as rail, on the back burner by appearing to waffle on what he was going to do. As spreads blew out on Canadian crude due to a lack of pipeline capacity, the result was billions of dollars in windfall profits for the U.S. Midwest refiners who were connected by pipeline.
American refineries — like the massive 320,000-barrel-per-day Flint Hills Pine Bend refinery in Minnesota, owned by the Koch brothers — made $10 million a month for every $1 per barrel discount that was in place. And back a few years ago, those discounts were much larger than $1 per barrel. In December 2013 the WTI/Western Canada Select spread blew out to almost $40 per barrel while the U.S. Gulf Coast heavy spread was only $8.5 per barrel.
The U.S. Midwest imports over 2 million barrels per day of crude from Canada by pipeline; in terms of economic benefits, not having Keystone XL was worth over a billion dollars per month to the U.S. industry at times. And the uncertainty Obama created was key to maintaining those prices for as long as possible — by delaying the development of alternatives.
There are no new markets. There is no need for Energy East — not now, not years from now.
But that was then. By the fall of 2015 those spreads had vanished — because pipelines other than Keystone XL continued to be built, expanded and reversed across North America (for example, Enbridge's Southern Access expansion 640 KBD, Seaway 950 KBD and the Line 9 re-reversal). Rail transport of crude has dropped dramatically everywhere because it's not economic and there's available pipeline capacity. Canadian oil is at tidewater and is getting there by pipeline.
So when Obama finally killed Keystone XL last fall, it was an easy call. No American refiners needed it. Even Canadian producers didn't seem to need it. Its cancellation had great symbolic meaning for the environmental movement, but little real-world impact.
"As long as I'm president of the United States," Obama said as he officially pulled the plug on Keystone XL, "America is going to hold ourselves to the same high standards to which we hold the rest of the world." Now, if Obama really wanted to have an impact on carbon emissions, he would have shut down the 500,000 barrels per day of California heavy crude — which is 'dirtier' than oilsands bitumen. He didn't; he didn't even mention it.
The climate change lobby 350.org doesn't mention it either; it's based in Oakland, just a few hours drive from those 'dirty' steam-injected wells. 350.org also played political games with Keystone XL, using it as a lightning rod to motivate its supporters even as it knew that blocking the project would not result in a single tonne of carbon being kept from the atmosphere.
Which brings us back to Premier Notley's problem. We already have oilsands material at tidewater. The National Energy Board's lower price forecast (which is much higher than today's actual price) offers a forceful argument that there won't be a big enough increase in oilsands production to justify the million-barrel-a-day Energy East line, even by 2040.
There are no new markets. Europe cannot run bitumen to any great extent. China and India are options but are just as accessible from the U.S. Gulf Coast as from New Brunswick. There is no need for Energy East — not now, not years from now.
The most disturbing aspect of Premier Notley's message is her call for federal government support for the project. It didn't sound like she was talking about financial support — but we've already heard the CEO of Scotiabank suggest that. Pipeline companies don't build lines on speculation. They require companies to commit up front to portions of the line; if they don't ship, they still pay the pipeline companies. When a pipeline company has enough commitments, it moves forward on line construction. Those commitments may not show up on energy companies' balance sheets as liabilities — but they are footnoted and do affect their financial ratings.
We'll have a better idea when we see first quarter earnings, but we should expect to see some brutal financials coming out of the energy sector soon — which may impair some companies' ability to commit to pipelines. What's troubling is the idea that a lack of interest from the private sector may drive governments to get involved.
Alberta's already has made a $5 billion commitment to Energy East. We don't need the feds jumping in too.
_________
Ross Belot is a retired senior manager with one of Canada's largest energy companies. In over 30 years in the energy sector he has gained an in-depth understanding of the economics of global and Canadian crude oil, refining and petroleum products economics and logistics. He has published essays, short fiction and poetry and works in photography and documentary film. He is currently enrolled at St Mary's College of California's Master of Fine Arts program.