Canada's Emissions Up 2.8% in 2021 with Fossil Fuels Leading the Rise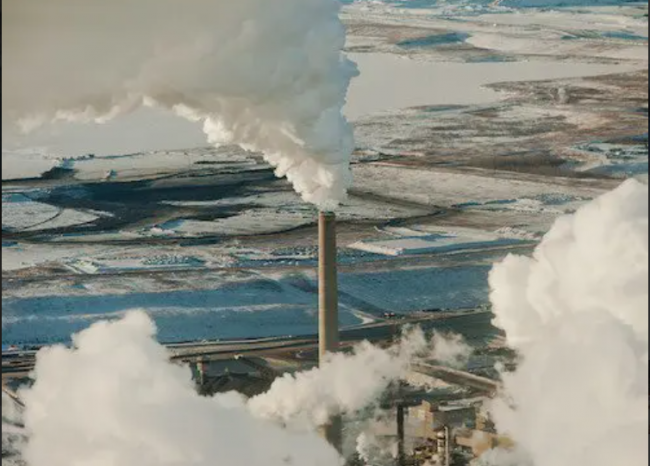 Feb, 23, 2023
Canada's greenhouse gas emissions rose 2.8% in 2021, and fossil fuels accounted for more than half of the total, according to an "early estimate" released today by the Canadian Climate Institute (CCI).
The Institute's analysis shows emissions continuing to "decouple" from GDP, so that each unit of economic activity produces less climate pollution. But the country's total greenhouse gas output increased by 19 million tonnes, to a total of 691 megatonnes, in a year when the economy was just beginning to restart after the COVID-19 pandemic.
Nearly 11 megatonnes—58% of the total—came from oil and gas extraction.
The Trudeau government has committed to reduce actual, not intensity-based emissions 40% by 2030, and the Intergovernmental Panel on Climate Change is calling for a 45% reduction this decade to keep a 1.5°C limit on average global warming within reach.
"It's promising to see Canada starting to make tangible progress in reducing carbon pollution, especially coming out of the pandemic," CCI President Rick Smith said in a release. But "time is short, and our goals are ambitious…. Long-term success now rests on how quickly the government's chosen policies are actually implemented."
"When it comes to cutting carbon pollution, going slowly is not an option," added CCI Principal Economist Dave Sawyer.
The CCI data pinpoints the sectors of the economy where emissions rose and fell the fastest in 2021. Emissions from oil and gas extraction increased 6.2%, followed by transport at 5.9%, heavy industry at 3.4%, light industry at 2.5%, and coal production at 1.6%.
Emissions fell by 6% in agriculture and 3.1% in the electric power sector.
Within the wider categories, specific industries accounted for a larger share of the impact.
• Emissions from fossil gas production and processing rose 9.6%, after falling nearly 20% from 2019 to 2020 and 26.5% since 2005.
• Oil sands emissions increased 6.3% in 2021 and still accounted for the biggest single chunk of new climate pollution, at 4.2 million tonnes.
• Iron and steel posted an emissions increase of 18.3% in a single year, followed by cement at 13.8%. Those industries have still reduced their emissions by 12.7 and 14.1%, respectively, since 2005.
• Passenger transport increased by 8.7%, pulp and paper by 7%, and forest resources by 6.7%.
The CCI's 440 Megatonnes project—named for the country's 2030 target—issued its preliminary data for 2021 a couple of months ahead of the federal government's annual National Inventory Report, and the plan is to publish figures for 2022 this fall—eight months ahead of the official release. CCI says its aim is to close the gap between the emissions the country produces and the corrective action needed to keep decarbonization on track.
"By the time Canada's national greenhouse gas emissions inventory report is published each spring, the data is already 16 months out of date," the Institute explains. "If the data shows Canada's efforts to reduce emissions are off-track, the lag in reporting makes it difficult to take timely action to correct course." With the release of earlier preliminary data, "we hope to support and spur on the action necessary to achieve Canada's emissions targets and build a cleaner, more competitive, and more prosperous economy," Sawyer said.
[Top photo: kris krüg/flickr]