Counting the costs and contradictions of the Trans Mountain pipeline expansion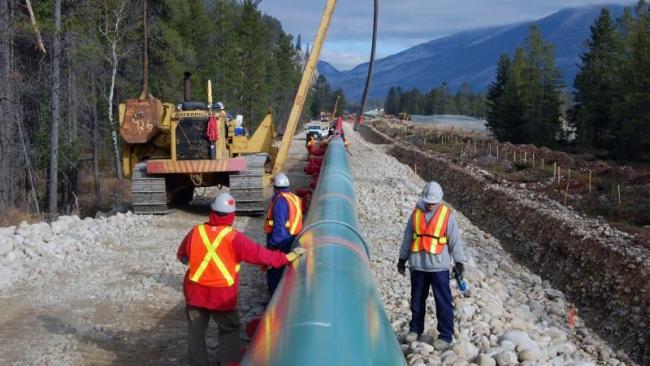 Jan. 23, 2023
Canada's uneasy relationship between climate change and fossil fuel development was illustrated in November 2021 when seven atmospheric rivers hit southern B.C. The "big one" starting on Nov. 13 led to massive flooding and landslides that crippled infrastructure and isolated the south coast from the rest of Canada.
Among the shutdowns was the Trans Mountain pipeline that delivers Alberta crude and other refined petroleum products to B.C. The pipeline was taken offline for three weeks, followed by reduced capacity for more than five weeks, prompting restrictions on gas and diesel supplies.
Construction of the pipeline's much larger twin, the Trans Mountain expansion project (TMX), was delayed by the floods and landslides.
In 2018, the federal government bought Trans Mountain from Kinder Morgan for $4.5 billion and committed to deliver on TMX at an estimated further cost of $7.4 billion. The TMX project was billed as "in the national interest" — despite substantial environmental impacts and opposition by many First Nations along its route — because it would reduce Canada's dependence on exporting to the U.S. in favour of Asian markets.
Over four years later, TMX has been plagued by delays and cost overruns. When purchased in 2018, total construction costs rose from an original $5.4-billion estimate in 2013 to $7.4 billion. It increased to $12.6 billion in 2020 and an astonishing $21.4 billion in 2022.
Only a small portion ($1.4 billion) of this massive increase is attributed to 2021's extreme weather (November flooding and landslides, summer wildfires and extreme heat) and two years of COVID-19 measures. The remaining cost overruns include "project enhancements," "schedule pressures" and higher financing costs.
Trans Mountain says only 20 per cent of the cost increases will be passed on to the pipeline's customers — oil companies. The other 80 per cent will be absorbed by Canadians. Robyn Allan, an economist who has closely tracked TMX's progress, estimates that some $17 billion in TMX debt to Canadians will be written off by the federal government to make the pipeline appear commercially viable — another huge subsidy to the oil and gas industry.
Even worse, higher prices are unlikely to be found in Asia due to higher transportation costs and lower prices for the heavy oil produced from Alberta due to differences in refining capacity. Earth scientist David Hughes has also pointed out these factors will "lead to a reduction in netbacks for Canadian producers, compared to the U.S., of US$4 to US$6 per barrel or more."
TMX is scheduled to be completed by year's end and will open as a project that could not be more ill-suited to this moment in history.
The type of extreme weather disasters B.C. experienced in November 2021 is increasingly common around the world. Governments are responding with new climate actions. In the U.S., passage of the Inflation Reduction Act is a game-changer in terms of driving new clean energy investment.
TMX is scheduled to be completed by year's end and will open as a project that could not be more ill-suited to this moment in history, writes Marc Lee @MarcLeeCCPA #ClimateEmergency #cdnenergy #TMX - Twitter
Our recent research estimated the economic costs of B.C.'s three 2021 extreme weather disasters (heat dome, wildfires and floods/landslides) at $11 billion to $17 billion. Our estimate counts all damages (insured and uninsured), government emergency response costs, cleanup and infrastructure repairs, and workers' lost income.
If TMX successfully expands Alberta's oil production, it will spur additional carbon emissions that will cause future damages. Economists call this the "social cost of carbon" — a fancy term for calculating damages associated with carbon emissions — with estimated costs of $200 per tonne of CO2 or higher.
TMX would facilitate about 84 million tonnes (Mt) per year of CO2 emissions (upstream and exported). At $200 per tonne, that's $16.8 billion annually in future damages, meaning every year TMX is in service, it could deliver a blow roughly equivalent to the $17 billion in damages B.C. experienced in 2021 due to extreme weather.
That 84 Mt is substantially larger than B.C.'s current GHG emissions and equivalent to 11 per cent of Canada's annual emissions. The catch? Most of those emissions will be in other countries, not counted in Canada's GHG inventory.
Also not counted above is the potential damage to land and water from a pipeline or tanker spill. Such a spill would impose huge cleanup costs, affect employment and devastate ecosystems. More extreme weather ups the ante for future spill risks.
TMX symbolizes the contradictions in Canada's climate policy. Never have Canadian politicians spent so much for so little, and at the wrong time.
Marc Lee is a senior economist with the Canadian Centre for Policy Alternatives' B.C. office. On Jan. 26, he will address the costs and absence of necessity of the Trans Mountain pipeline expansion project on a panel examining the hidden costs of major Canadian fossil energy projects.
[Top photo: TMX is scheduled to be completed by year's end and will open as a project that could not be more ill-suited to this moment in history. Photo via 2016 Archive TMX - Kinder Morgan handout]