Enbridge pipeline ruptures, sparks massive fire near Prince George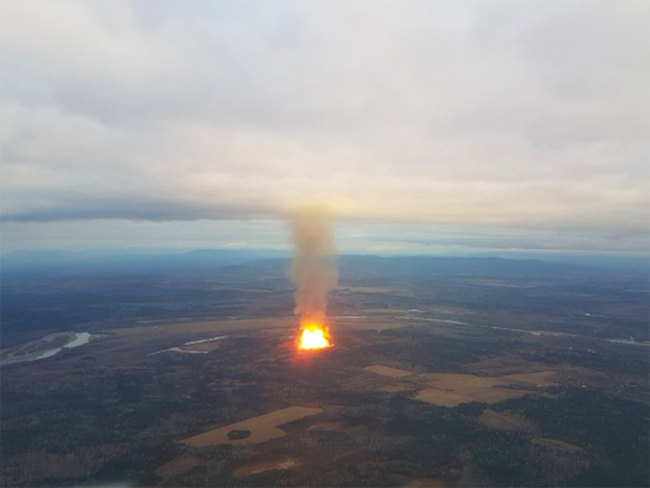 [Editor: So much for claims that pipelines are safe!] 
FortisBC is anticipating decreased energy flow and potential loss of service as a result of the incident
October 10, 2018
PRINCE GEORGE — Most residents are being allowed back into their homes after a gas pipeline ruptured north of Prince George, sparking a massive blaze.
RCMP say the explosion happened at about 5:30 p.m. Tuesday and forced about 100 members of the nearby Lheidli T'enneh First Nation from their homes.
Officials say it was from an Enbridge natural gas pipeline in Shelley, about 15 kilometres northeast of Prince George.
Police say residences within several kilometres were evacuated as a precaution, but the evacuation zone has now been reduced to residences within a one kilometre radius of the explosion site.
They say there are no injuries and no reported damage other than to the pipeline itself.
The gas supply has been shut down and police say there is no indication of a cause at this point in time.
In a statement, Enbridge spokesman Michael Barnes confirmed that a pipeline owned and operated by the company had ruptured at 5:45 p.m., about 13.5 kilometres north of Prince George.
The company's emergency crews have responded, Barnes said, and "have isolated and are currently depressurizing two natural gas transmission lines in the vicinity to contain the incident."
FortisBC anticipates potential loss of service
FortisBC is anticipating decreased energy flow and potential loss of service as a result of the incident.  Although its own system was not damaged, FortisBC is asking natural gas customers across the province to turn off their thermostats as well as reduce use of all other natural gas appliances.
Prince George resident Dhruv Desai said he was driving up a hill toward the nearby University of Northern British Columbia when he noticed several cars had pulled off the road taking photos of something.
He pulled over as well and snapped his own shots of a massive blaze.
"I was able to see it very clearly from the hill," he said. "It was huge even from this distance."
Between 70 and 80 people living on the north side of the Lheidli T'enneh reserve were evacuated.
"It was a bit frantic," said Terry Teegee.
"I just heard it at the start," added Teegee. "I thought it might have been a jet engine or a low-flying jet. And the next thing that came to mind is that maybe it's a train but that's way too loud.
"But then, as soon as I looked outside, I saw a massive fireball about a half a kilometre to a kilometre away behind the community."
He said the subsequent evacuation to the band's community hall on the south side of the river was a "little bit frantic as you can imagine," but everyone arrived safely.
[See video with link]
 

FIRE near Salmon Valley Prince George
Rodney Godwin and his family live on Estate Road, near the end of Landooz Road and just across the Fraser River from the Shelley townsite. They heard the sound of thunder shortly after 5:30 p.m. and when Godwin looked across the way, he saw a flame shooting into the sky.
They left their home shortly after that. Police soon had a perimeter established and weren't allowing anyone back in until it was deemed safe. The evacuation zone was initially for several kilometres but within a couple hours was reduced to one kilometre, allowing residents to return home.
The city of Prince George says all residents in the area can now return home if they wish.
Godwin and his family bided their time watching the slowly-shrinking fireball from a pullout along Northwood Pulp Mill Road while awaiting for the go-ahead to return home.
Meanwhile, National Energy Board spokesman Tom Neufeld said the fire was along Enbridge's Westcoast main line, which falls under the board's jurisdiction.
The Westcoast Transmission System transports natural gas produced in the Western Canadian Sedimentary Basin to consumers in B.C. and, through interconnecting pipelines, other Canadian provinces and the United States.
"NEB inspectors have been deployed to this area. They're going to monitor and oversee the company's response to the incident, and they're going to determine the impact and extent of the fire and release," Neufeld said.
The NEB has also activated its emergency operations centre in Calgary, he said.
It will work closely with the Transportation Safety Board, which is responsible for investigating the incident.
— with files from Mark Nielsen, Prince George Citizen
[Top photo: The incident is ongoing in the community of Shelley, northeast of Prince George. GREG N/@GREGNOEL / TWITTER​]
 

wishing the best to those affected by the pipeline explosion in Lheidli T'enneh First Nation north of Prince George, BC.