Extinction Rebellion UK - May 30, 2020 UK protests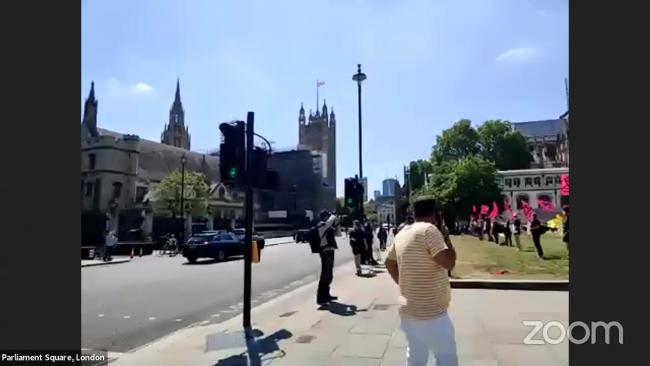 LIVE: Extinction Rebellion holds a mass protest all over the UK to demand the government ACTS NOW on the climate crisis with the same urgency as the health crisis!
We are at a major turning point in human history. In the current crisis, it is clear that the systems we have in place are not designed to support the majority of people and our planet. We're heading for extinction unless we ACT NOW!
The government has failed the public during Covid-19 - they did not listen to the science and were not willing to prepare for the inevitable. We've heard this all before. We've been saying it for years about another crisis, an even bigger one that continues to intensify as we speak - guess which crisis that is? YES The climate and ecological crisis.
We are coming to you live from 12 different locations, cities and towns across the UK - including London's Parliament Square, Birmingham, Brighton, Bolton and Cornwall, as Extinction Rebellion Rebels gather in a silent, socially distanced peaceful protest. They are all standing 3 metres apart, sending a powerful message to our leaders - local, regional and national, that this time we MUST rebuild for the vulnerable and the strong, the young and the old - for ALL LIFE. TOGETHER.
We've seen emissions fall during the coronavirus lockdown - experts expect that this year will be down almost 8% as compared to previous years. But that just shows the enormity of the task. We can't stay on lockdown forever, yet to make sure we don't exceed a global temperature rise of over 1.5 degrees, which the IPCC warn will cause climate devastation and death to millions of people, we have to continue this trend EVERY YEAR, YEAR ON YEAR, until 2030!
We demand the UK government implements a Covid recovery Citizen's Assembly to decide how we redesign the way we live to put people and planet first and to protect us against future crises.
It's time to listen to the people - we need radical change if we are going to prevent our species, and every other species of the planet, from being totally annihilated!
Change is NOW - YOU DECIDE.
We're the planeteers - and you can be one too:
 - find out more and join your local UK group
https://rebellion.global
 - find out more and join XR international, in 68 countries worldwide!
What will you commit to help the planet? https://actionnetwork.org/forms/nogoingback