'Free Trade' Will Kill Climate Movement, Hundreds of Groups Warn Congress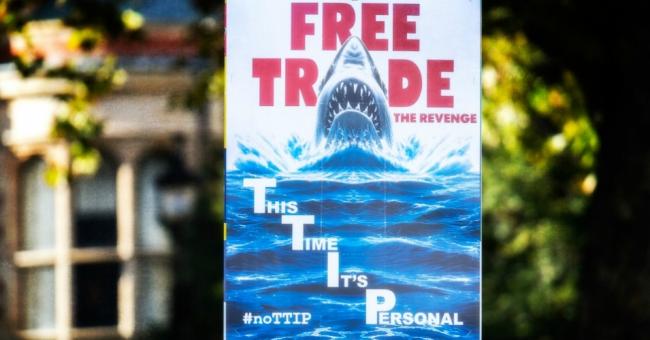 Warning against dangers to "workers, communities, and our environment," more than 450 environmental advocacy groups called on Congress to reject the controversial Trans-Pacific Partnership (TPP) and Trade and Investment Partnership (TTIP).
"These deals harm workers, communities, and our environment."
—Ilana Solomon, Sierra ClubSpecifically warning against the Investor-State Dispute Settlement (ISDS) provisions, which allow multinational corporations sue nations in private, clandestine tribunals for passing laws they don't like, the groups sent a letter on Monday that stated: "We strongly urge you to stand up for healthy communities, clean air and water, Indigenous peoples, property rights, and a stable climate by committing to vote no on the TPP and asking the U.S. Trade Representative to remove from TTIP any provision that empowers corporations to challenge government policies in extrajudicial tribunals."
The letter was signed by organizations both large and national and small and local, ranging from the Sierra Club, Food & Water Watch, and 350.org to groups such as Bold Nebraska, Catskill Citizens for Safe Energy, and Kauaians for a Bright Energy Future, among many others.
"The TPP would let foreign oil and gas companies undermine the will of hundreds of communities that have worked tirelessly to protect themselves from the environmental and public health hazards associated with fracking," said Food & Water Watch Executive Director Wenonah Hauter. "These trade deals give the worst climate scofflaws new and powerful weapons to wield against the broad-based grassroots movement to stop fracking and fight for a clean energy future."
Pointing out the precedent set by TransCanada's $15 billion lawsuit against the U.S. for its rejection of the Keystone XL tar sands pipeline, the groups detailed the stark dangers the ISDS provision poses to the environmental movement.
"By empowering many more firms to launch ISDS cases against the U.S.," the letter continued, "the TPP and TTIP would pose a major threat to efforts across the country to restrict fossil fuel activities," including:
Fracking: The TPP and TTIP would undermine efforts in various states to restrict the dangerous practice of fracking by granting ISDS rights to more foreign fracking firms than all 56 existing U.S. trade and investment pacts combined. The threat is real—a gas corporation named Lone Pine Resources is currently using NAFTA's nearly identical foreign investor rights to ask an ISDS tribunal to order compensation from Canada for a fracking moratorium in Quebec.
Offshore drilling: The TPP and TTIP would empower oil and gas corporations with more than 10 million acres' worth of U.S. offshore drilling leases—one out of every three leased acres—to use ISDS threats to resist offshore drilling restrictions, posing a threat to coastal communities and the climate. That is 24 times more area than that leased to firms with existing ISDS rights.
Oil and gas extraction on public lands: The TPP and TTIP would allow corporations with leases for oil and gas drilling on over 720,000 acres of U.S. public lands to launch ISDS cases against U.S. federal leasing restrictions, undercutting our ability to limit greenhouse gas emissions.
Fossil fuel pipelines: The TPP and TTIP would enable corporations that own tens of thousands of miles' worth of fossil fuel pipelines in at least 29 states to go to private tribunals and, like TransCanada, demand billions of dollars for delays or denials of dangerous pipelines.
"The TPP and TTIP's unprecedented expansion of U.S. ISDS liability would similarly threaten efforts to protect communities from fossil fuel trains, LNG terminals, refineries, and other fossil fuel hazards," the letter concluded.
The letter was also signed by several Indigenous groups, including Idle No More San Francisco Bay, Indigenous Environmental Network, and the Alaska Inter-Tribal Council, and drew particular attention to the threats such trade agreements pose to Indigenous rights and traditional territories:
Much of the world's remaining fossil fuel reserves are on or adjacent to Indigenous lands and territories. Unfortunately, the nation-states engaged in the TPP and TTIP agreements have not strongly defended Indigenous land rights and Indigenous peoples' right to free, prior, and informed consent. Ultimately, such trade deals grant more rights to transnational corporations, often at the expense of Indigenous rights, undermining special protections of Indigenous lands and cultural resources. For Indigenous peoples wanting a just economic transition away from oil and gas development, these deals pose severe risks to their sovereignty and ability to self-determine their futures as nations and tribal citizens concerned about the climate, health, and environmental impacts from fossil fuels.
Rising opposition to so-called "free trade" agreements has fueled voters this election cycle, and presidential hopeful Bernie Sanders has made his vocal opposition to the TPP and other deals like it a cornerstone of his campaign:
"There is so much momentum now to end the TPP and other trade agreements," as Sierra Club trade program president Ilana Solomon told Reuters. "This is an area where there is bipartisan agreement... that these deals harm workers, communities, and our environment."
President Obama is hoping to have the TPP ratified before he leaves office on January 20, 2017, and Reuters reports that Congress is expected to vote on it after the election in November.
Top photo: "By empowering many more firms to launch ISDS cases against the U.S.," environmental groups wrote, "the TPP and TTIP would pose a major threat to efforts across the country to restrict fossil fuel activities." (Photo: Garry Knight/flickr/cc)