Governments squander 'once-in-a-generation opportunity' to protect high seas, Greenpeace says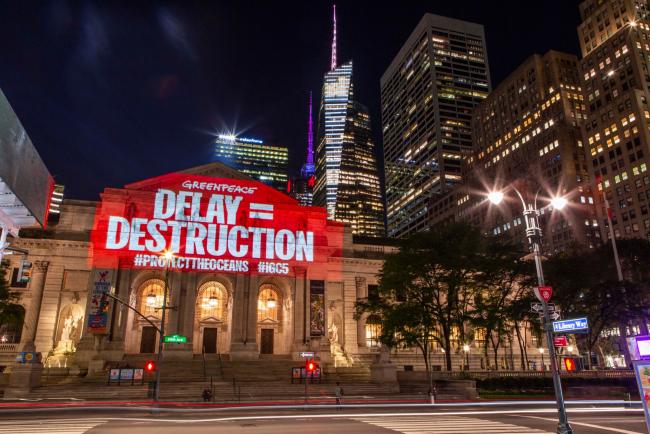 Aug. 29, 2022
Two weeks of United Nations negotiations for a high seas treaty have ended in failure, with wealthy countries slowing down the process and Russia acting as "a key blocker" in the discussions, says Greenpeace.
This will jeopardize ambitions to protect 30 per cent of the world's oceans by 2030, according to a press release from the environmental non-profit.
Roughly two-thirds of the world's oceans fall outside the jurisdiction of any nation and are largely unprotected from pressures like overfishing, pollution and resource extraction. A UN high seas treaty has been in the works for more than a decade and would be the first legally binding framework to protect these waters.
This latest round of negotiations showed countries like Canada, the United States, Australia, the U.K. and the European Union let a "once-in-a-generation opportunity to protect half the planet" pass them by, Sarah King, Greenpeace Canada's head of oceans and plastics, said in a press release. The negotiations concluded on Friday.
A coalition of more than 50 countries — including Canada — pledged to push to finalize a strong high seas treaty this year, but unless ministers call an emergency meeting to finish the negotiations, the talks will likely drag into 2023.
"Apparently, two decades of talks alongside catastrophic losses across marine food chains, ecosystems and to front-line communities aren't enough motivation for governments to agree [on] a blueprint for ocean recovery," said King.
While the Pacific islands and Caribbean groups pushed hard to finalize the treaty from the get-go, Global North countries waited until the 11th hour to work towards compromises, Laura Meller of Greenpeace's Protect the Oceans campaign said in the press release.
The Pacific islands region is threatened by myriad climate impacts, from dangerous sea-level rise to coral reef degradation. Fisheries are a key source of food, employment and economic development for the region, and climate change's lesser-known threats like ocean acidification can, and will, hurt the health of marine species. At the same time, these small island states are responsible for only a tiny fraction of climate-warming greenhouse gas emissions.
"Failure to deliver a treaty at these talks jeopardizes the livelihoods and food security of billions of people around the world," said Meller. "While countries continue to talk, the oceans and all those who rely on them will suffer."
[Top photo: Greenpeace USA activists project messages calling for ocean protection onto New York's public library. Photo ©  POW / Greenpeace]