A Guide To The Ruling Class's Domination And Destruction Of Canadian Media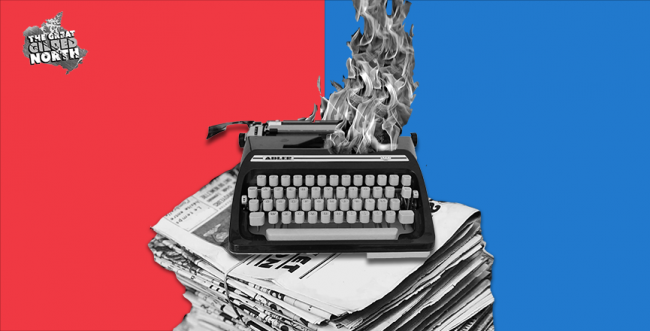 So much for trying to get sympathetic media notice for progressive causes. Good thing we have the Burnaby Now, the National Observer, this new publication--The Maple, and a few others. I don't know much about small media in other parts of BC and Canada. But big media, like all big corporations, serves the "iron law of profit," not us.
     Gene McGuckin
Nov. 12, 2021
"News coverage and the opinion journalism of the largest newspapers in Canada has now been weaponized and monetized by the owners."
Local news begins to disappear. Coverage on important issues wanes. Year after year, headlines emerge about which media giant is buying smaller outlets. Readers encounter the same stories in several community papers, only to discover the publications are all owned by the same company. What gives?
In 1970, the Davey Commission report stated that "What matters is the fact that control of the media is passing into fewer and fewer hands, and that experts agree that this trend is likely to continue and perhaps accelerate."
John Miller, professor emeritus and former chair of the School of Journalism at X University, told The Maple that the time of the Davey report's publication was an era of public-minded journalism.
"Even though many of the newspapers were making lots of money … they had at their helm publishers and editors who came up through journalism, and had this spirit of public service," said Miller. "[Davey] wrote a very powerful report that made a series of recommendations. And none of them are put into effect."
A very early newspaper chain in Canada was the Southam chain, founded at the turn of the twentieth century. In a 1950 Maclean's article, the head of the Southam Ottawa bureau is quoted as saying: "Don't call us a chain. That's a fighting word!"
Maclean's states that Southam papers all varied greatly in their editorial decisions, endorsed different parties and had differing opinions on social issues across the board.
"It was a very public-minded corporation; they were interested in journalistic values, in good journalism, in training," said Miller.
However, other chains weren't seen so favourably.
THE IRVING FAMILY

"(The Davey report) paid particular attention to New Brunswick, because the Irving family controlled all of the daily newspapers in New Brunswick, and was a penny-pinching outfit," said Miller.
After the Davey Report was released, more of the forewarned concentration of media occurred, and the federal government appointed former journalist and academic Tom Kent to chair a Royal Commission on Newspapers.
The Kent Commission report in 1981 proposed legislation in many areas of ownership, proposing to require regional monopolies to dissolve, prohibiting ownership of two or more newspapers with 75 per cent or more of the circulation in an area. The report specifically named the infamous Irving family as an example.
K.C. Irving, the Irving that started it all, built up that family's brand through the twentieth century and led the family to become the eighth wealthiest family in Canada in 2017, with their corporate reach extending to everything from oil and gas, to retail stores, to sea transport, to print media — the list goes on.
To this day, the Irving family still runs almost every print publication in New Brunswick, under the company Brunswick News Inc.
In a 2014 Canadaland episode about the Irvings, journalist Jacques Poitras said "It is very hard to get a bigger picture on how they operate because … they are very private. Their holdings are private; they don't have to disclose anything to shareholders. And they have been for decades, for generations of Irvings, kind of impenetrable to journalists."
The Irvings' interests have reached the papers they own before. A 2016 National Observer article stated that in the 1960s, K.C. Irving used his newspapers to help oust Liberal premier Louis Robichaud from power.
Politicians connected to the Irving family include Liberal MP Dominic LeBlanc, who was told by the federal ethics commissioner in 2016 to avoid decisions involving the Irvings due to his friendship with Jim Irving, as well as Conservative New Brunswick Premier Blaine Higgs, who worked high up at Irving Oil for 33 years.
When it comes to where their money goes, the National Post reported that the Irving family was the biggest political donor in New Brunswick between 2007 and 2015, donating just over $130,000 to the three major parties, with most going to the Progressive Conservative Party.
Of course, concentrated regional media ownership isn't just restricted to New Brunswick.
BLACK PRESS

Black Press, founded by David Holmes Black, owns over 170 publications in B.C., Alberta, all three territories, Washington state, Hawaii, California and Alaska. In B.C. and Alberta, Black Press owns a large swath of local papers.
This year, Canadaland spoke to former Black Press journalists who said they had been instructed to report police pressers as gospel, write stories with just one or two sources and were told that if they got on Black Press' bad side, finding a job in B.C. would be hard. They also said they had to file four to five stories a day.
Editorial control has also been blurry with Black Press publications. In 1999, David Black came out strongly against the Nisga'a treaty — the first modern treaty in B.C., meant to give the Nisga'a control over their land — and was accused of prohibiting Black Press papers from running pro-Nisga'a treaty content.
Since 2012, Black has been proposing an oil refinery in Kitimat, consulting with Alberta Premier Jason Kenney (who was then leader of the Opposition) in 2018 and then-Conservative Party leader Andrew Scheer, both of whom expressed positive sentiments about the pitch. Black has claimed the plan would be better for the environment than the Trans Mountain pipeline.
When it comes to political donations, Black's executive assistant told the CBC in 2020 that he feels obligated not to contribute to political campaigns. However, Elections BC records show that Black Press donated $3,500 to the B.C. Liberal Party in 2016, as well other donations of varying amounts dating back to 2005.
CANWEST

Historically, another major player in Canadian media was CanWest, founded by Israel "Izzy" Asper in the 1970s. Before that, Asper was leader of the Manitoba Liberal Party. Notably, CanWest owned Global TV, and acquired Southam in 2000 from Hollinger International Inc., run by Conrad Black, the founder of the National Post.
Back in 2000, Asper and Black discussed plans to buy The Globe and Mail and merge it with the National Post, according to a The Tyee article published in 2007. The pair also planned a "strategic alliance" with Shaw and Rogers.
"[At CanWest], there was a very direct interference," said Miller. "They began national editorials advocating for things that the Aspers personally wanted. And some very conservative editorials started appearing in all their newspapers — the same editorials across the country."
As well, a 2001 column in the National Post written by Asper's son, David, defended then-Liberal prime minister Jean Chrétien amid the "Shawinigate" scandal. Chrétien was accused of being in a conflict of interest when he helped get his friend a loan to go towards the hotel next to a golf course that Chrétien had shares in.
David argued that coverage — including the National Post's — of Shawinigate had been unfair. The Tyee noted that Chrétien was a family friend of Izzy Asper.
CanWest eventually went bankrupt and sold its newspapers to Postmedia in 2010, while Global TV went to Shaw Media.
POSTMEDIA

Postmedia was founded in 2010, and led by Paul Godfrey, CEO of the National Post. He was elected as an alderman in North York in 1964, and was asked to run the Toronto Sun in 1984. He eventually became president and COO of Toronto Sun Publishing Group in 1991, becoming CEO the following year. He was also CEO of the Toronto Blue Jays from 2000 to 2008.
Godfrey is a Conservative, and was CEO of Postmedia when the company instructed four of its Alberta papers to endorse then-premier Jim Prentice and the Alberta Progressive Conservative Party during the 2015 provincial election.
As well, many Postmedia papers had full, frontpage political ads from the Conservative Party of Canada in the 2015 federal election, around the same time multiple Postmedia papers ran editorials endorsing the Conservatives. The decision to carry the endorsement in the Edmonton Journal was made by the paper's owners rather than the editorial team, according to a Tweet by Paula Simons, a writer for the Journal at the time.
According to a recent Passage article, all Postmedia-owned papers studied have endorsed the Conservatives at every election from the media company's inception until today.
Postmedia is now owned by hedge funds, with the American firm Chatham Asset Management owning approximately 66 per cent of its shares. Leon Cooperman, an American billionaire and hedge fund manager, owns approximately 14 per cent, and German hedge fund Allianz owns 18 per cent.
"Media are being financialized and bought up largely by hedge funds, which are only interested in making a profit. They don't really care too much about journalism," Marc Edge, a journalist, academic and author, told The Maple. "It's just a means to an end, and that end, of course, is making money. As a result, journalism is being squeezed for every possible penny of profit."
The New York Times reported that since Chatham acquired their majority of shares, Postmedia laid off many workers, cut salaries and benefits, closed papers nationwide and centralized editorial operations. Layoffs continued during COVID, leaving journalists out of work and saving Postmedia money during one of the worst economic crises of our lifetimes.
Postmedia is currently Canada's largest newspaper chain, owning more than 120 media  "brands" nationwide.
TELECOMMUNICATIONS GOES INTO MEDIA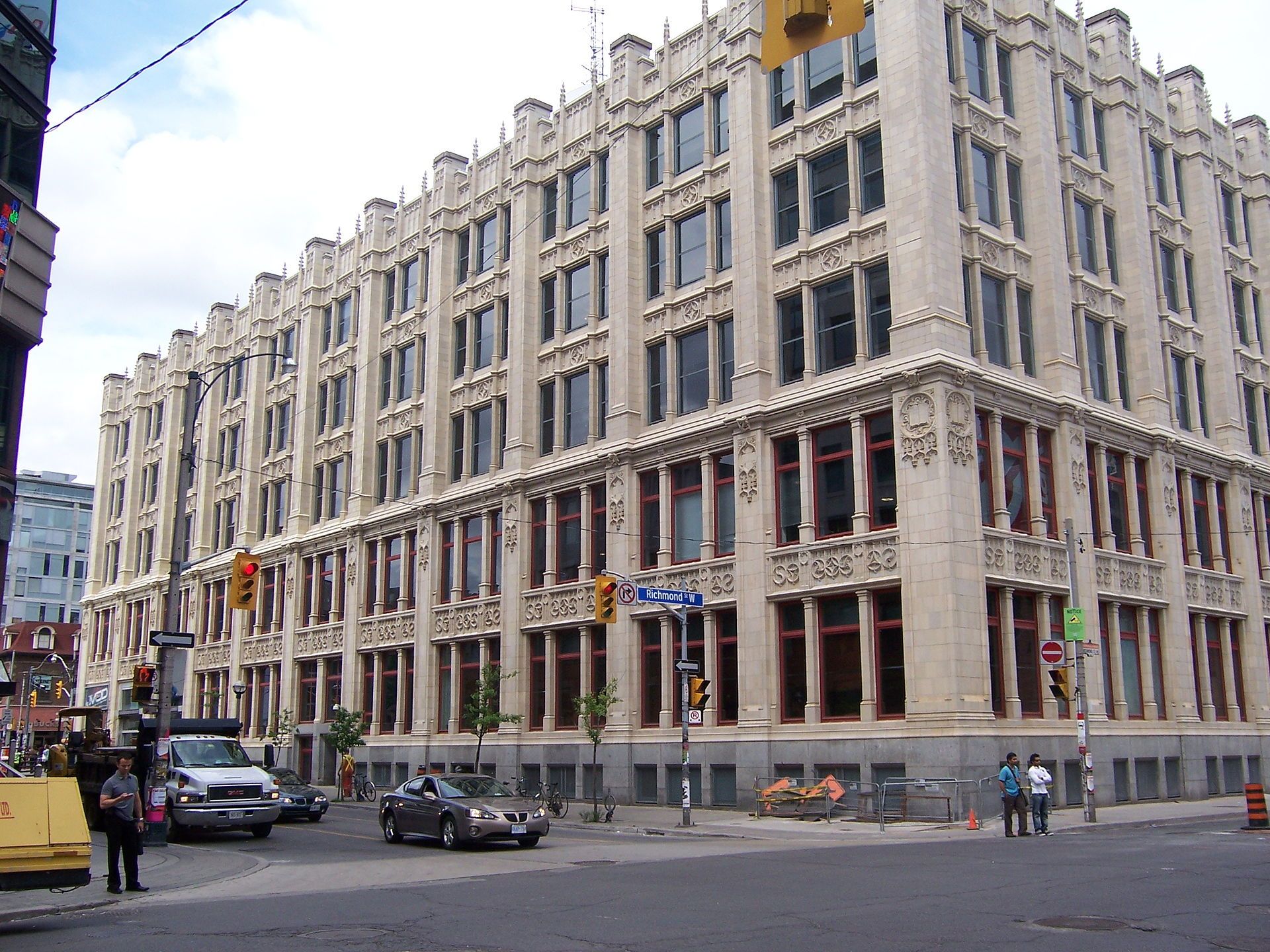 Edge said a major movement in Canadian media with the creation of the internet was the phenomenon of convergence.
"The theory was that the internet, digital media, all media, were going to converge into one medium online," said Edge. "There would be no more newspapers, no more radio, no more television; all of their content would be delivered online, digitally. This was a bit of a harebrained scheme."
Edge said that after the "internet bubble" burst, the plan came crashing down within about 10 years in Canada. An example he gives is the merger between The Globe and Mail and CTV — dubbed "CTVglobemedia" — which was then bought by Bell, and dissolved once Woodbridge bought majority ownership of the Globe in 2010.
"[Convergence] left Canadian news media in ruins, and we've been trying to pick up the pieces ever since," said Edge.
Even though it couldn't hold onto the Globe, Bell Media still owns CTV, as well as 109 radio stations. Its controversial acquisition of Astral Media in 2012 gave Bell a much higher concentration of radio ownership — an estimated 45 per cent of listening time, according to the HuffPost.
In 2015, The Globe and Mail reported that then-president of Bell Media Kevin Crull attempted to intervene in CTV's reporting on a CRTC decision to unbundle cable packages. Crull eventually apologized for this.
Bell isn't the only telecom company to buy up news media. When CanWest's newspapers went to Postmedia in 2010, the rest of CanWest's media assets went to Shaw Media, a subsidiary of telecom giant Shaw Communications. Shaw Media formed after buying a major stake in CanWest as it went under, and acquired Global TV stations across the country.
The billionaire Shaw family has a history of conservative political support. According to Elections Canada, J.R. Shaw donated $2,000 to the Conservative Party of Canada in 2015. As well, Shaw Communications Inc. has donated a total of $165,475 to the B.C. Liberals (a party dominated by federal conservative influence) from 2005 to 2017, according to Elections BC.
In 2016, Corus Entertainment acquired Shaw Media. Corus now owns all Global TV stations, 40 radio stations, and many TV entertainment channels. Two Shaw family members sit on the Corus board of directors.
Another major telecom with stakes in media is Rogers, which currently owns CityTV, OMNI, and 82 radio stations and podcasts across Canada.
Toronto mayor and former Ontario Progressive Conservative Party leader John Tory once served as CEO of Rogers Media, and is an advisor for the Rogers trust today, making the family's recent drama even more messy, according to the Star.
Rogers and Bell were both some of the biggest political donors in several provinces as of 2020, according to the National Post.
LOCAL EFFECTS OF MASS MEDIA
Miller sees the current state of media ownership as "cannibalistic."
"They're chewing away bone marrow of their own properties in order to make them make a profit, so the whole public service aspect of journalism has sort of taken a back seat," said Miller.
The trend is also resulting in shuttered publications and "news deserts" in smaller communities across Canada, said Miller. While some communities have produced new online outlets, he explained, the overall quality of journalism has been lost.
"They're trying to do the job but they just don't have the resources to cover communities the way newspapers did in their heyday when they were properly funded, properly led," said Miller. "You have fewer jobs, fewer journalists on the ground chasing stories."
Edge notes that there is also a loss of competition in journalism when chains buy up local papers.
"Competition is vital for journalism," said Edge. "If you don't have competition, you only have one source of news, and George Orwell had a name for that."
Edge is also troubled by another aspect of chain ownership.
"News coverage and the opinion journalism of the largest newspapers in Canada has now been weaponized and monetized by the owners," said Edge. "This is a trend that was started by Conrad Black in the mid-1990s, when he took over the former Southam newspaper chain, which he felt was much too liberal."
Edge explained that once Black sold the Southam chain to Asper, it became even more conservative.
"By following the trends from the 1960s to where we are now … this is not leading in a very good direction."
Last year, NordStar Capital purchased Torstar (which owns the Toronto Star, a longstanding pro-Liberal publication, along with a slew of other assets, some of which have since been sold off) for $60 million.
At the time of the sale, NordStar's principals, Jordan Bitove and Paul Rivett, promised to maintain the Star's "progressive positions." At the same time, Canadaland pointed out last year, the new owners have extensive records of making donations to Conservatives, including to Ontario Premier Doug Ford, failed federal Conservative leadership candidate Maxime Bernier (now leader of the far-right People's Party) and current Tory leader Erin O'Toole.
Editor's note, Nov. 12, 2021: A previous version of this story mispelled Kevin Crull's name. He is Kevin Crull, not Kevin "Krull." The Maple regrets this error. The story has been corrected.
Editor's note, Nov. 13, 2021: A previous version of this story mispelled the name of the company Woodbridge. It is called Woodbridge, not "Woobridge." The Maple regrets this error. The story has been corrected.
Sam Smart is a Vancouver-based freelance journalist. She has a degree in English literature from UBC, where she served as blog and opinion editor at The Ubyssey. Follow her on Twitter @uglyblender.
[Top: The Maple/Original Graphic.​]