Hereditary Chief Dsta'hyl Arrested on Wet'suwet'en Territory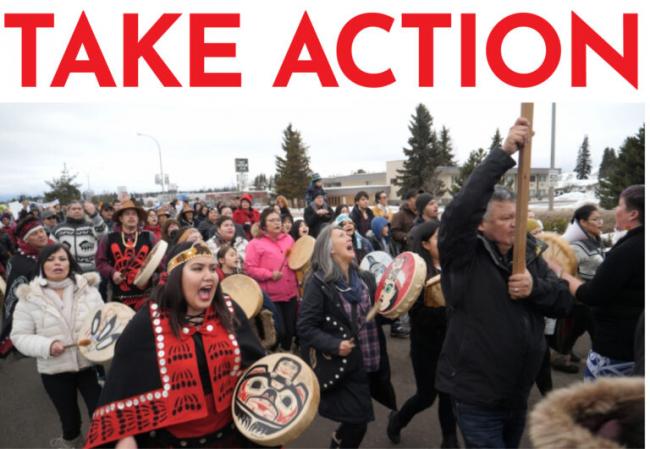 RCMP Arrest Likhts'amisyu Hereditary Chief Dsta'hyl and Gitxsan Supporter Colin Sutherland-Wilson

Three days ago CGL denied Likhts'amisyu chief Dsta'hyl and a convoy accompanying him access to his clan's territory.

CGL blocked the road to Likhts'amisyu territory with a gravel truck. In response Dsta'hyl and others set up an encampment in front of the truck cutting off worker access to pipeline construction sites.  

Dsta'hyl began decommissioning CGL heavy machinery as promised. 

Last night the RCMP arrested chief Dsta'hyl and Gitxsan supporter Colin Sutherland-Wilson.

A call out for support has been made and solidarity actions have already begun in response to the arrests!
Video of Chief Dsta'hyl and Gitxsan relatives setting up an encampment in the middle of the road after being blocked by a CGL truck.
This twitter account has a detailed recap of events leading to this occupation.

The Liksamisyu territory Dsta'hyl was attempting to reach is in the mountains beyond the Unist'ot'en camp and has never seen any development until CGL put the first road ever built there to begin building their pipeline right of way.  

The encampment blocked CGL workers from getting between their worksite and the massive man camp on Unist'ot'en territory.
As promised Cheif Dsta'hyl began decommissioning CGL heavy equipment at the encampment site:
Video of CGL assets being seized posted on  Sovereign Likhts'amisyu

"The Wet'suwet'en have been challenging industry for almost 20 years. This is not new news. Our Likhts'amisyu enforcement officer has been taken into custody tonight for standing up to industry and enforcing Likhts'amisyu tresspass laws by using any means he can to get onto our own Likht'samisyu territories to let CGL know they are trespassing. It is time to move and shake and make it known that corporate justice is no justice. CGL is tresspassing on Wetsuweten land."
RCMP responded by arresting Chief Dsta'hyl and Gitxsan supporter Colin Sutherland-Wilson:
Words from Colin Sutherland-Wilson as he was being taken into custody last night: 

"Gitxsan people supporting our brothers and sisters of the Likhts'amisyu, of the Wet'sutwet'en. I stand here as a diplomatic prisoner of the Gitxsan nation of the Git'luuhl'um'hetxwit people, and I fully stand behind the Likhts'amisyu clan government and all those who seek to uphold the traditional laws of the land. So much love to all the people of the world. Thank you again for your support.

"Everyone out there I trust you to back up the people who are protecting the land. Who are doing everything in their power to stand up to injustice because we are doing what we is right, and we are following our truths. As a member of the Git'luuhl'um'hetxwit I ask that Gitxsan people stand up to uphold our laws for the sake of peace. For the sake of the land!" 

Colin was released from jail last night and Chief Dsta'hyl has a bail hearing this morning. 
Sleydo' made an urgent call out for support in response to a hereditary chief being taken prisoner on Wet'suwet'en territory:
"The actions here and the actions of the Likhts'amisyu are an enforcement of the eviction notice given on Janurary 4th of 2020. We have every right to be on our territories. Under the United Nations Declaration of Rights of Indigenous People, under Wet'suwet'en Law, nobody has the right to remove our chiefs from the Yintah. They cannot block us access from the territory. We have every right to be here and we need to stop criminalizing our Indigenous people for defending our territories."

"So get your boots on the ground, support Likhts'amisyu in whatever way that you can and keep this resistance going because we have to win!"

"Stand up! Fight Back! Get Boots on the Ground!"

-Sleydo' Gidimt'en Clan

Follow @likhtsamisyugovernment

#AllOutForWedzinKwa #WetsuwetenStrong
A rapid response solidarity action is already happening at 1492 Land Back Lane where the Hwy 6 bypass is being blocked now!