Highlights from Sunday December 6 -- COP21 in Paris - Canadian Youth Delegation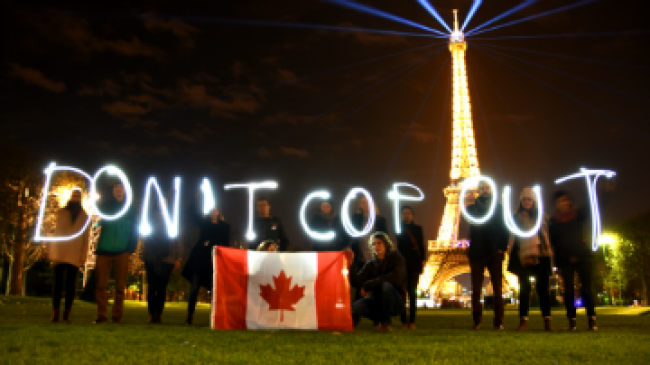 Highlights from Sunday December 6 -- COP21 in Paris
• Indigenous led 'Canoes to Paris' action sends message of strength and hope

• McKenna announces support for 1.5℃ global target

• CYD joins a light brigade outside the Eiffel Tower


Indigenous Action Shows Strength of Global Indigenous Movement

Yesterday the CYD supported an action by indigenous leaders in Bassin de la Villette in the 19th arrondissement in support of the Keep It In the Ground Declaration and to call for the inclusion of rights for Indigenous peoples in the operative text of the final climate treaty.
This beautiful action wove together stories of resistance and demands for climate justice. Banners drew attention to REDD+, a scheme by rich countries and polluters to privatize the carbon in the world's remaining rainforests and trade it as climate indulgences for rich countries and the fossil fuel industry. You can read about the action here and see a video here.



A Promise Without a Plan: McKenna Announces Support for 1.5℃
Canada's Environment Minister McKenna surprised us on Sunday by announcing that she supports the inclusion of a 1.5℃ target, in some form in theParis Agreement. Decarbonisation by 2050 through a justice-based transition has been one of our core asks throughout our time here at COP21.  We are happy, but we are cautious.
1.5℃ is an extremely important goal to keep in the agreement because it is what hundreds of millions of people need to survive. The implications of Canada committing to 1.5 degrees means putting tar sands pipelines and tar sands expansion on the chopping block, not to mention reducing our net emissions to 0 over the next 35 years. However, our government currently has no plan for getting to below 2℃ of warming, let alone 1.5. If the Canadian Government is real about this kind of ambitious target, they are going to need to break it to Kinder Morgan and TransCanada Corporation that they won't get to build their new proposed pipelines projects. Not to mention that they will have to come
up with an ambitious near-term plan for how to reach
this target - something Canada so desperately needs.
If this commitment is a serious one, this could bode well for the direction the negotiations will take. Why? Because McKenna has accepted the offer to be one of the facilitators of plenary here at COP. With this role comes huge responsibility and a notable amount of power. Facilitators have the ability to shape the tone and of the negotiations and help guide the direction of the agreement.
The CYD will continue pressuring McKenna and the Canadian negotiators through the rest of the week to secure a firm commitment to a 1.5 degree approach to the text that is legally binding and ambitious.



Canada: Don't COP Out
The CYD and other Canadian youth here in Paris coordinated an action outside the Eiffel Tower yesterday where we spelled "Don't COP Out" calling for strong climate action from the Canadian Government.
Thanks to our friends Laura Cameron and Claris Figuera for suggesting such a beautiful action, and bringing us all together! Thanks to our own Diane Connors for snapping this incredible shot!
Send Your Love to the CYD
The CYD has had an incredible amount of media coverage over the past week. Our no-bullshit approach to demanding climate justice has garnered a lotof praise, and also extreme backlash.
Women on our delegation have been subject to hate-filled messages on the basis of ethnicity, nationality, age, gender, and speaking truth. Specifically, women in our delegation are being targeted by messages threatening violence. These personal attacks are unacceptable, and have real impacts on individuals and the team collectively.
If you have a moment today, please send love to your friends, family, and inspiring individuals who are working to make the world a better place. It is an incredibly challenging job at the best of times, let alone when there are people trying to trivialize your voice and intimidate you.
Let's take a moment to lift up the people in our lives that do this hard work. The strength of people in the climate justice movement is something to behold, but please, send love in your thoughts or in social media.
It is love that will save this place.


Media Round-Up
• Our action had a very wide reach - even getting reprinted in the Vernon Community News
• CYD Member Diane Connors reflects for Council of Canadians on her time so far at COP21

- The Canadian Youth Delegation

 
--------------------------------------
It is our intention to provide both french and english versions of the CYDaily. Due to the short turn around time of this update, please know that this is not always possible. We appreciate your patience and understanding for the times when this is not possible or when there is a delay in providing french content. 
[End of post]