How the NDP establishment stole the B.C. leadership race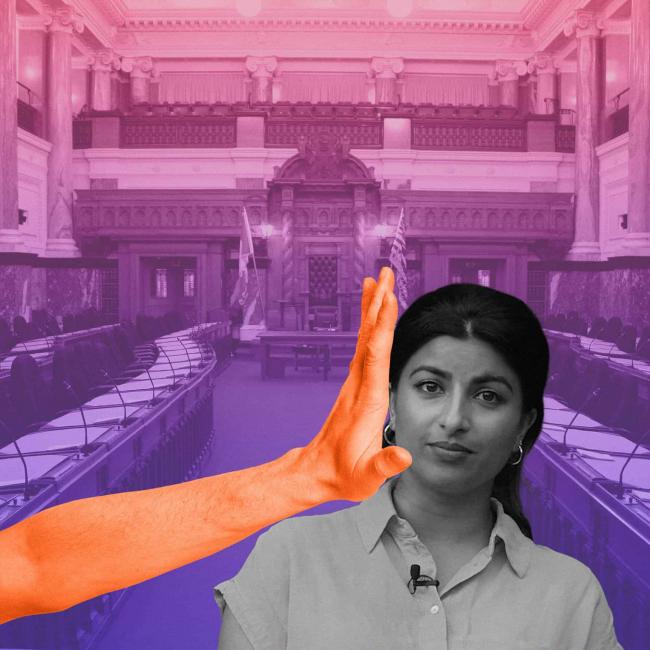 Oct. 26, 2022
A 'culture of cheating,' party insiders say, stopped climate activist Anjali Appadurai from becoming premier
It was early September, and a top official in B.C.'s New Democratic Party had put in a call to the Ottawa office of Canada's largest labour organization. The caller was panicked.
"We fucked up," they said, according to a source familiar with the call.
The coronation of David Eby in British Columbia was supposed to have been frictionless. The former NDP attorney general and housing minister had the backing of the premier, the party apparatus, and almost the entire caucus. Insiders had boasted that he wouldn't even have to organize much.
But the deadline had just passed to sign up party members to vote in the leadership contest, and it was now clear that Anjali Appadurai—a 32-year-old climate activist who had announced her candidacy in time for barely a month of campaigning—had thrown a wrench into the proceedings.
Amid disenchantment with the government's climate record and a backdrop of extreme weather disasters that have rocked the province, her platform of dramatic improvements to public services and bold environmental action had inspired droves of activists to sign up and former members to return to the party.
On the phone, the B.C. NDP official warned the employee at the Canadian Labour Congress that it was far more people than expected. So many, in fact, that if the vote went ahead, Appadurai could very well win—and become the next premier of British Columbia.
The NDP caller's message apparently was simple: help us salvage this leadership race.
Over the following weeks, with current and former party insiders lending a hand, Appadurai's campaign would be subjected to manipulative rule changes, targeted expulsions of new members, public smears, and a biased investigation rife with double standards. It was a pattern that reflected what one former top-ranking B.C. NDP official told The Breach is the party's "pervasive culture of cheating" to boost preferred candidates. 
The maneuvering culminated in last week's disqualification of Appadurai, after the party's executive voted overwhelmingly to accept the results of an internal investigation.
Several tactics built up to this outcome. 
The party outsourced the aggressive vetting of newly signed-up members to a private agency, an effort the former party official says was an "exercise in voter suppression" that built off past experiences in the province. 
As many as thousands of members were disqualified based on a secretive definition of "supporter" that appeared to exclude anyone who had given money or lent support to any other political parties in the past. The party did not vet several current B.C. NDP MLAs and executive members who have donated previously to the Liberal Party, according to the provincial donations registry.
An emerging class of NDP insiders who have become lobbyists for a variety of corporate interests, including oil and gas companies, spread a message that Anjali Appadurai was part of a "Green Party takeover" and was involved in signing up "fraudulent memberships."
The NDP's Chief Electoral Officer Elizabeth Cull, herself listed as a senior associate at a fossil fuel-connected lobbying firm, shifted the rules of the leadership race halfway through the campaign. That set up her investigation to incriminate Appadurai—an investigation, moreover, that was strategically written to insulate the party from a legal appeal.
And while David Eby made a public show of welcoming Appadurai into a debate about the future of the province, behind the scenes his team filed numerous complaints to the electoral officer and assisted the investigation that eventually called for Appadurai's disqualification.
Speaking to journalist Rob Shaw last week, Appadurai said the evidence was impossible to ignore that these tactics were the only thing that could stop the momentum of her campaign.
"I think that what happened here is that I entered the race, wasn't considered a threat, went on to sign up thousands of new members to the party, and at a certain point it became clear that the number of memberships that I had brought into the party exceeded that of my opponent," Appadurai said.
"And so until that point, this race was welcomed by everyone involved. But as soon as there was leverage of a potential win, I believe that the pieces were put in place to disqualify me from the race."
Turning a movement meeting into a political crime scene
Preparations to undermine Appardurai's campaign appear to have begun even before her campaign was formally launched.
On Aug. 6, nearly a hundred people from B.C.'s activist circles and environmental movements, including the organization Dogwood, turned out for a Zoom meeting to discuss the prospects of someone from their ranks making a leadership bid.
Much like "barnstorm" meetings popularized by U.S. Senator Bernie Sanders, it was an open, mass meeting where people spontaneously pledged money or support.
It was here that Appadurai, swayed by the energy and enthusiasm, committed to a leadership run.
The B.C. NDP would soon turn this normal movement meeting into a political crime scene.
A recording and transcription of the meeting was secretly made by the Eby campaign and passed onto Electoral Officer Cull.
It would become central to Cull's case for Appadurai's disqualification—the essential piece of evidence that Cull said demonstrated "serious improper conduct" because of her campaign's "co-ordination" with a third-party organization like Dogwood.
While Dogwood would go on to encourage thousands of its supporters to join the NDP to elect a "climate champion," something entirely permitted, they have denied any co-ordination with Appadurai. 
In order to fully lay that charge on Appadurai, however, the electoral officer would make a subtle-but-decisive change to the leadership race rules.
In a bulletin issued to the campaigns on Aug. 31, midway through the race, Cull laid out new, more stringent guidelines.
The original leadership race guidelines required candidates to "comply with all of the rules, policies and regulations prescribed" by Elections BC, but the body has limited regulations covering internal party contests. They set out rules for fundraising, while the NDP's rules offered little else governing the relationship between third parties and leadership candidates.
But in her bulletin, Cull lifted almost verbatim from BC Elections guidelines that relate to third parties doing advertising in general elections and applied them to campaigns in party leadership races.
It was a piece of legalistic trickery, meaning that Appadurai would be made responsible for the actions of Dogwood.
Dogwood had been in close contact with Elections BC to ensure they followed the rules, but they could not have accounted for those rules changing halfway through the campaign and being applied retroactively.
Eventually, the electoral officer would conclude that Appadurai's campaign had broken rules which at the time didn't even exist.
Meanwhile, she appears to have less vigorously investigated violations not attributable to Appadurai's campaign.
Early in the campaign, an unsigned mass letter bearing the letterhead of the Steelworkers urged members to temporarily join the NDP to stop "climate extremist" Appadurai from winning. 
This week the Vancouver Sun obtained a shorter report Cull did on the Steelworkers and Eby, discounting any charges of "coordination."
But Cull appears not to have investigated how the USW local's wepage supporting Eby, since taken down but viewable on web archives, had a link taking people to Eby's website, then redirecting them to the NDP website to buy a membership—going further than anything Dogwood did. 
The Canadian Union of Public Employees BC also endorsed Eby, had members working on his campaign, and had locals that were registered as third party-advertisers.
An employee of the British Columbia Government Employees' Union who served as a top advisor to Eby did phone canvassing for him.
David Eby with the leadership of the United Steelworkers District 3 during campaigning in the leadership race, September 23, 2022. Credit: USW
Cheating 'normalized and rationalized': former party official
Such tactics were not surprising to three former high-level officials in the B.C NDP interviewed by The Breach, who all asked to stay anonymous for fear of retribution.
"It is richly ironic that the party establishment is trying to hold themselves up in this leadership race as pure and holier-than-thou, when they have a pervasive culture of cheating to get preferred candidates to win in nomination races," one former official told The Breach.
They described how the party has regularly provided resources to preferred people in candidate selections.
"In my time there, they would extend deadlines in nomination races to allow certain candidates to sign up more members, when unfavoured candidates had gotten a head start," the former official said. "Membership lists have been given to candidates before they were approved, contrary to nomination rules. And paid party staff would unlawfully telephone candidates to give them advice for nomination races."
B.C. NDP Director Heather Stoutenburg did not respond to a request for comment.
Party operatives tilting the scales against climate activists is scarcely a new development.
The Breach has previously reported how party officials through 2020 and 2021 had rigged convention resolutions, filibustered meetings, and claimed to lose paperwork to prevent a member vote on the government's support for controversial fracked gas development from being debated democratically by the party membership.
"I was surprised about how open the cheating was," the former official said. "It was normalized and rationalized as better for the party this way."
In her investigation, Electoral Officer Cull honed in on an example of Appadurai supporter Atiya Jaffar suggesting on an Instagram live forum that she could pay for people's memberships —although there was no evidence she followed up after being alerted about the rules.
The former party official pointed out during Adrian Dix's B.C. NDP leadership campaign in 2011, an MLA had been caught stapling $10 bills to memberships forms but had not been reprimanded.
'Voter suppression' through vetting calls
As the Sept. 4 deadline for new memberships who could vote in the December leadership vote passed, it became clear that Appadurai's campaign had out-organized Eby's.
According to some reports, they had signed up as many as 13,000 new members to Eby's 4,000.
After a string of government reversals on old-growth logging, Liquified Natural Gas projects, the Site C dam, and RCMP raids on Wet'suwet'en land defenders, the B.C NDP's membership had cratered. From a previous high of 40,000 it now stood at 11,000—which meant Appadurai's numbers could have proved to be a decisive advantage.
Party officials and a network of allied operatives kicked into gear.
They initiated an aggressive vetting of members that director Stoutenburg described as an "usual audit" to ensure the integrity of voters. 
But The Breach has learned it was far more extensive than acknowledged by the party.
According to an official familiar with the outlines of the arrangement, the party contracted Public Outreach, a canvassing and fundraising agency, to call upwards of 7,000 new members.
Members were aggressively questioned about their motives for joining, asked if they had previously supported or donated to any other party, and if they had read and agreed with the party's constitution, according to reporting by The Maple.
The constitution is not available to read on the B.C. NDP website or anywhere online, and the right to leave a party to join another is constitutionally protected, leading Appadurai to describe the calls as "polite, Canadian McCarthyite interrogation."
According to the former top-ranking NDP official, the systematic calling functioned to diminish the potential vote for Appadurai.
"They know that the calls that were being made to newly signed up members constituted an exercise of voter intimidation, and would serve to suppress the vote and keep Appadurai voters home," they said. "NDP nomination races in B.C. have been previously won or lost this way."
Public Outreach did not return repeated requests from The Breach for comment.
The agency's digital director is a former staff member of the NDP.
According to Electoral Officer Cull's final investigation, nearly 20 per cent of those called during vetting had their memberships cancelled, using a definition of membership that appears to have forbidden them from having been members or supporters of other political parties previously. The majority of those, by Cull's description, were from the Green Party.
But even though the B.C. NDP soon accused the provincial Green Party of orchestrating a "hostile takeover," Green Leader Sonia Furstenau has said that according to their records as few as 90 people had given up their Green Party membership.
According to donations registries, B.C. NDP MLAs Brenda Bailey and Megan Dykeman have both made repeated donations to the Liberal Party of Canada and party executive members Sarah Miller and Christine Leclerc have given money to the B.C. Liberal Party.
The Breach emailed the B.C. NDP's Director about whether the party investigated or revoked the membership of these individuals, but did not get a response.
Insulated from legal appeal: the disqualification of Appadurai
By October, the B.C. NDP establishment were well-positioned to reverse their "fuck-up."
The hard math of the membership numbers was not in their favour, but the chief electoral officer appeared to be coming through for them, and it seemed like they may not have to conduct an election that they could very well lose.
During the previous month, the Appadurai campaign had been hit by the electoral officer's constant questions and notices, tying them up in responses.
Questions from the Appadurai campaign seeking clarifications, in turn, were left unanswered.
New members, merely for having supported other parties in the past, had been stuck with the label of "fraudulent."
A week before the delivery of Cull's investigation recommending disqualification, Premier John Horgan, perhaps with advance tip-off, indicated in an exit interview on radio that he would hand over power sooner than expected.
Meanwhile, public opinion had been prepared for a disqualification, with a group of NDP insiders-turned-lobbyists spinning a story about unsubstantiated campaign violations.
Leading the attack were Michael Gardiner, a former party executive director and current president of lobbying firm 360 Strategies, and Jeff Ferrier, a senior vice-president at Hill+Knowlton Strategies who previously ran communications for the B.C. Minister of Health.
Gardiner and Ferrier lobbied Horgan's government and its predecessors on behalf of the fossil fuel industry, including pipeline companies and natural gas interests. Among Gardiner's colleagues at 360 Strategies is a former senior aide to David Eby.
Cull is a current colleague of Ferrier at Hill+Knowlton, where she lobbied in 2018 for the Resource Benefit Alliance, a group of municipalities which were pushing for a slice of LNG profits—profits which were set to balloon with billions in planned subsidies from the NDP government. 
Last Monday, Cull's investigation was approved by a small group of party executives, before being sent to the party's full executive on Wednesday, where Appadurai was denied a chance to address the charges.
According to legal sources, Cull's investigation, based specifically on challenging Appadurai's credibility, was written in a way as to effectively insulate the party from legal appeal. Courts will always defer to the original decision-maker—the party executive, in this case—when it comes to evidence gathered about credibility.
When Appadurai was disqualified, it also brought to an end Election BC's own investigation, which may have provided the public with an accounting of what rules, if any, were broken.
Despite all stops being pulled to block a climate justice advocate from winning the leadership of the party, the momentum and enthusiasm for Appadurai's campaign may be a clear sign of a new development in New Democrat politics: insurgent politicians are not going away.