Last of protesters in Burnaby trees removed by RCMP at Trans Mountain site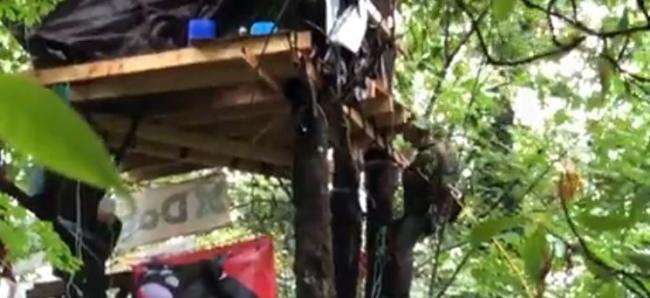 Sept. 28, 2021
"Heartbreaking but we're not done yet"
RCMP officers moved in today (Seot. 28) to remove the last of the platforms and other items where protesters have been tree sitting to protest the Trans Mountain Pipeline expansion project for months.
Videos on social media show RCMP tactical teams preparing and then going in to remove tree houses. 
"Today we made a tactical retreat ln the forest in the face of overwhelming forces of the petro-state," a tweet from Protect the Planet – Stop TMX said on Twitter
"We will not stop defending the planet since we know the state will not. The Kenney-Trudeau TMX pipeline is a climate catastrophe that must be stopped for future generations."
Burnaby RCMP Cpl. Mike Kalanj told the NOW this afternoon (Sept. 28) there were still three protestors at the site when police arrived. 
He said after discussions, all three decided to leave the area with no police action taken. 
On Sept. 24, Protect the Planet – Stop TMX said two people had "locked themselves down to the ground" at the tree-occupation site, located west of North Road and south of Highway 1 in Burnaby.
The day before, one person was arrested as police continued to clear out people occupying trees
The demonstrator had trespassed into a fenced area on private property owned by BNSF Railway, in violation a court ordered injunction stating they could not obstruct, impede, or otherwise prevent access to Trans Mountain work sites.
"The demonstrator was given the opportunity to leave the area voluntarily, but chose not to," said police. She was safely arrested just before 10 a.m.
"Burnaby RCMP would like to take this moment to remind those who are involved in ongoing demonstrations that police are an impartial party and are there to ensure the safety of everyone involved," said a police news release.
In total, four people were arrested in the last week. Three related to the injunction and another protester involved with a safety issue, which is still being investigated.  
[Top: RCMP tactical officers removed tree houses built by protestors trying to block Trans Mountain pipeline expansion work to continue. Screen shot/Twitter]