Let's Build a Mass Anti-Eviction Movement - Leaflet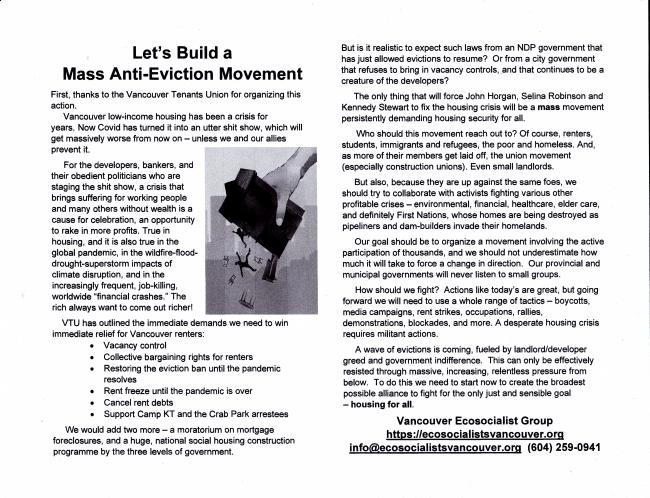 TEXT:
Let's Build a
Mass Anti-Eviction Movement
First, thanks to the Vancouver Tenants Union for organizing this action. 
  Vancouver low-income housing has been a crisis for years. Now Covid has turned it into an utter shit show, which will get massively worse from now on – unless we and our allies prevent it. 
For the developers, bankers, and their obedient politicians who are staging the shit show, a crisis that brings suffering for working people and many others without wealth is a cause for celebration, an opportunity to rake in more profits. True in housing, and it is also true in the global pandemic, in the wildfire-flood-drought-superstorm impacts of climate disruption, and in the increasingly frequent, job-killing, worldwide "financial crashes." The rich always want to come out richer!
VTU has outlined the immediate demands we need to win immediate relief for Vancouver renters:
Vacancy control

Collective bargaining rights for renters

Restoring the eviction ban until the pandemic resolves

Rent freeze until the pandemic is over

Cancel rent debts

Support Camp KT and the Crab Park arrestees
We would add two more – a moratorium on mortgage foreclosures, and a huge, national social housing construction programme by the three levels of government.
But is it realistic to expect such laws from an NDP government that has just allowed evictions to resume?  Or from a city government that refuses to bring in vacancy controls, and that continues to be a creature of the developers?
The only thing that will force John Horgan, Selina Robinson and Kennedy Stewart to fix the housing crisis will be a mass movement persistently demanding housing security for all.
Who should this movement reach out to? Of course, renters, students, immigrants and refugees, the poor and homeless. And, as more of their members get laid off, the union movement (especially construction unions). Even small landlords.
But also, because they are up against the same foes, we should try to collaborate with activists fighting various other profitable crises – environmental, financial, healthcare, elder care, and definitely First Nations, whose homes are being destroyed as pipeliners and dam-builders invade their homelands.
Our goal should be to organize a movement involving the active participation of thousands, and we should not underestimate how much it will take to force a change in direction.  Our provincial and municipal governments will never listen to small groups.
How should we fight?  Actions like today's are great, but going forward we will need to use a whole range of tactics – boycotts, media campaigns, rent strikes, occupations, rallies, demonstrations, blockades, and more. A desperate housing crisis requires militant actions.
A wave of evictions is coming, fueled by landlord/developer greed and government indifference.  This can only be effectively resisted through massive, increasing, relentless pressure from below.  To do this we need to start now to create the broadest possible alliance to fight for the only just and sensible goal – housing for all.
Vancouver Ecosocialist Group https://ecosocialistsvancouver.org info@ecosocialistsvancouver.org (604) 259-0941
---
---