THE OCTOBER REBELLION IS HERE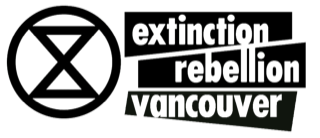 #rebelforlife on the unceded territories of the Sḵwx̱wú7mesh (Squamish), Səl̓ílwətaʔ/Selilwitulh (Tsleil-Waututh) and xʷməθkʷəy̓əm (Musqueam) Nations
THE OCTOBER REBELLION IS HERE
Hey!
On Saturday, October 9, Extinction Rebellion Vancouver held a press conference delivering an ultimatum to the provincial and federal governments and announcing plans for the October Rebellion. If the government does not commit to ending fossil fuel subsidies prior to the COP26 UN climate conference in Glasgow in November, we will be disrupting business-as-usual with actions every day from October 16 - 29.
This is the latest in a series of regular, escalating actions we've had over the last several months as we focus on what's necessary to bring about the change we need.
Our governments have failed us. It's time to rebel.
Join us at other events this week in preparation for what will be our biggest and boldest action to-date! See details below.
OCTOBER REBELLION: SHUT DOWN CANADA TO END FOSSIL FUEL SUBSIDIES FOREVER

We are rising up from coast to coast DEMAND an END TO ALL FOSSIL FUEL SUBSIDIES. FOREVER! This is the first step we must take to secure a livable future for this and future generations. From 16-29 October, Extinction Rebellion Groups across 'Canada' will rebel against the vacuous political culture that promises climate action and delivers destruction and lies. Actions and updates are listed here and on our Facebook page
Overarching theme: End fossil fuel subsidies now
Day 1/ Sat Oct 16: Mass die-in, Burrard and Georgia - Nelson Park, 12pm
Day 2/ Sun Oct 17: Stop TMX, Commercial-Broadway - Grandview Park, 12pm
Day 3/ Mon Oct 18: Interfaith action, Granville and Georgia - Nelson Park, 4:30pm
Day 4/ Tues Oct 19: Granville and Georgia - Nelson Park, 4:30pm
Day 5/ Wed Oct 20: Burrard Bridge 3.0 - Nelson Park, 4:30pm
Day 6/ Thurs Oct 21: Media Tell the Truth! Georgia and Cambie - Nelson Park, 4:30pm
Day 7/ Fri Oct 22: We will not stop! Cambie Bridge - Cooper's Park, 4:30pm
Day 8/ Sat Oct 23: We will not stop (again)! Cambie Bridge - Cooper's Park, 12pm
Day 9/ Sun Oct 24: Save Fairy Creek, Grandview Hwy - Falaise Park, 12pm
Day 10/ Mon Oct 25: YVR Airport Pause - Larry Berg Flight Path Park, 4:30pm
Day 11/ Tues Oct 26: UBC Divest Already! - Jericho Beach Park, 4:30pm
Day 12/ Wed Oct 27: UBC Divest Already! Day 2 - Jericho Beach Park, 4:30pm
Day 13/ Thurs Oct 28: Downtown Snake March - Nelson Park, 4:30pm
Day 14/ Fri Oct 29: Final Day March - Dude Chilling Park, 4:30pm
Considering being an arrestable?
Most people who come to an XR action choose not get arrested, however our movement is built on self-sacrifice. Mass arrests in urban areas is the most efficient mechanism to communicate the severity of our climate and ecological crisis, and to drive radical societal change. This is XR's underlying foundation.
If you are considering arrest at this action, or would like to know more about getting arrested at this action, please fill out this form and a Rebel volunteer will follow up with you.
You can also choose to get arrested on the day. Regardless of when you decide that arrest is your moral duty, make sure to check in with an Arrest Support Volunteers (in green high-vis vests) to ensure your arrest process is recorded, monitored, and that your receive post-arrest support.
EVENTS THIS WEEK
Following some big wins at Ada'itsx (Fairy Creek), this event opens up conversations about the next steps to create lasting impactful change for our forests and for our future.
We are faced with a government that is facilitating a mass extermination project. Civil Disobedience & Resistance is now a must if we are to create a livable future.
In this online event we will be having a discussion about the effectiveness of doing civil disobedience on the streets and doing it in the woods. Should we stop each ecocidal project at a time? Should we bring down the government by taking to the streets like Gandhi and Martin Luther King.
Whether you are planning on sitting down on the streets in the city for the October Rebellion or sitting down on logging roads at Ada'its/Fairy Creek (or any other old growth logging blockade), consider attending this training.
One of our members will go through the importance of nonviolent civil disobedience, and why it is necessary to break the law at this stage of human history. We'll get an update from people on the ground at the Fairy Creek Blockade, with what to expect and advice on what to bring and how to get there. Following that, a member of the law union will share his knowledge of the arrest and legal processes.
The planet is in ecological crisis: we are in the midst of the sixth mass extinction event this planet has experienced. Scientists believe we may have entered a period of abrupt climate breakdown. This is an emergency.
The October Rebellion begins on the 16th of October, demanding an end to all fossil fuel subsidies. Find out more and join us on the streets.
In this public talk, speakers from Extinction Rebellion will share the latest climate science on where our planet is heading, discuss some of the current psychology around climate change, and offer solutions through the study of social movements.
Everyone is welcome and there will be time to ask questions and discuss afterwards.
This is a really good opportunity to meet those who are involved in XR locally, and to understand more about what the group gets up to. It's also a great way to meet others who are also concerned about climate change, and who are ready to offering a bit of time and energy to accelerating positive changes.
Register here
---
Get Involved with XR
Interested in getting involved as an organizer with XR? There are many ways to get involved, no matter what your interest or skillset. Whether you're interested in planning actions, making art, or managing budgets - we need you!
To join one of our working groups (Arts, Media, Outreach, Action, Regenerative Culture, Solidarity), or to find out more in general about XR, email outreach.xrvan@protonmail.com
Fund XR Actions
We are a grassroots movement funded entirely on generous donations from rebels and allies around the world. As we gear towards large-scale mass civil disobedience, we need your help more than ever. Every volunteer hour helps, but we also need donations to help purchase critical equipment, art materials, and superglue.

Brought to you with love and rage from the XR Vancouver Outreach Team