* The oil sands stark new reality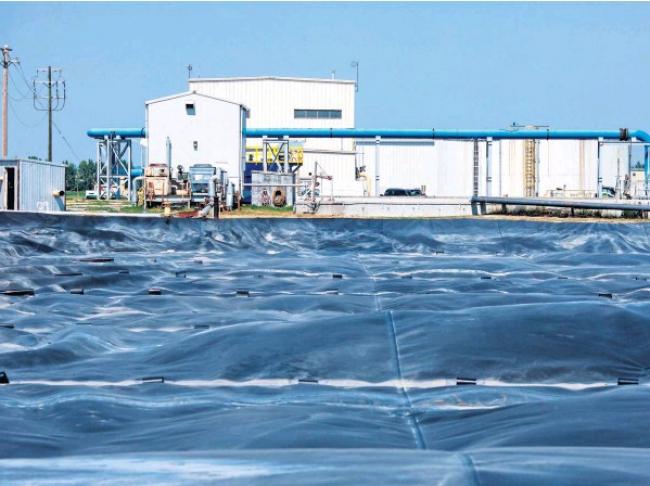 Scott Entz climbs a metal catwalk to show off the latest slaughterhouse technology that keeps Cargill Inc.'s kill floor humming while helping to "green" Alberta's carbon-spewing energy sector.
Some 4,500 head of cattle are dispatched every day at the hangar-sized rendering plant about an hour's drive south of Calgary. Just about everything that isn't carved into steaks and roasts, from guts to the coarse hair on the animals' tails, is incinerated in a state-of-the-art furnace that also serves as an unlikely cog in the province's multibillion-dollar oil economy.
"Sometimes we don't have markets for the hair off the end of the tail, so then those will come here," the plant manager says, shouting over the roaring inferno, which blazes at temperatures up to 1,750 degrees Fahrenheit [about 950 C]. "It's anything we don't have a market for."
The three-year-old setup, called a fluidized bed boiler, helps generate about 1.4 megawatts of electricity from biomass, making Cargill a bit player in Alberta's booming market for carbon offsets. To justify the $36-million investment, the U.S. agri-giant sold credits for slashing its carbon emissions to TransCanada Corp., a proponent of large oil sands pipelines such as Keystone XL and Energy East.
Similarly, Cargill's methane reductions have in recent years been packaged as carbon credits and sold to global oil giant Royal Dutch Shell PLC, which pumps about a quarter million barrels of bitumen a day from northern Alberta. In both cases, the energy companies got credit for Cargill's relatively inexpensive effort to reduce planet-warming greenhouse gases (GHGs).
For Alberta's energy industry, those exchanges have taken on new urgency as major companies face increasing pressure and costs to slash emissions just when executives say they can least afford to. It is a moment of reckoning for oil sands companies that have spent years fending off pointed attacks from environmental groups while playing down deepseated concerns from investors over the mounting cost of wringing crude from the wilds of northern Alberta.
The relentless slide in U.S. oil prices from more than $100 (U.S.) to around $40 a barrel has prompted companies to shed thousands of jobs, slash or halt dividends, and cut billions from capital budgets in a bid to stay profitable. Prices for oil sands crude have tumbled even further, touching $20 a barrel this summer.
Now, the industry faces a stark reality: Rising costs to meet more stringent environmental targets coincide with a deep slump in energy markets that some analysts say could last for years.
Climate change Global pressure to tackle climate change is mounting as countries – and Canada's provincial premiers – prepare to gather in Paris later this year to conclude an international agreement on reducing GHGs. Some argue nothing short of the oil sands sector's survival is at stake – that the industry, already among the highest-cost globally, must dramatically curb emissions to stay competitive as the world weans itself from carbon-intensive energy sources.
"If we don't do something transformative on GHGs, others will find ways to stop us," says Eric Newell, an elder statesman in the oil patch who recently chaired a federally appointed panel on environmental challenges in the oil sands sector.
The former Syncrude Canada Ltd. chief executive officer says industry will continue to face effective opposition to new pipelines, as well as low-carbon fuel standards in key markets and even border measures from countries that have tougher climate rules.
"You can mitigate [emissions] but it's still not enough – you actually need to go to the transformative technologies," he said in an interview. "It's not an option as to whether we improve, it's a requirement."
It takes a tremendous amount of energy to wring bitumen from Alberta's oil sands.
Start with the massive trucks that haul raw bitumen at vast open-pit mines north of Fort McMurray, Alta. The house-sized vehicles operate 6,000 hours a year, sucking up 230 litres of diesel an hour. At that rate, they spew out an estimated 3,700 tonnes of carbon emissions a year, per truck, according to a Council of Canadian Academies report this year that cited thirdparty data.
The refinery-like plants that process raw bitumen into a lighter oil suitable for making gasoline exacerbate that footprint, adding to so-called fugitive methane emissions that escape from pipelines, production facilities and sprawling tailings ponds at openpit mines.
A typical upgrading plant with a capacity of 100,000 barrels a day emits roughly 1.4 megatonnes of carbon a year, the report says. In 2011, upgrading accounted for 5 per cent of Canada's overall emissions.
In recent years, the industry has moved away from building such projects toward smaller, less centralized facilities in a bid to keep costs low. But that has raised new challenges. Indeed, more than half of current oil sands production and the bulk of future growth projections are tied to steam-driven plants that burn huge volumes of natural gas, representing more than 75 per cent of the sector's emissions of 62 megatonnes of CO2-equivalent in 2013.
"Part of the problem right now is [that for] each 1,000 barrels a day of oil that we produce, we're burning roughly 50 million standard cubic feet of gas to generate the steam," says Audrey Mascarenhas, a chemical engineer and chief executive officer of Questor Technology Inc., an environmental services company in Calgary.
"That's the big issue that no one wants to talk about. Reality is we've got a big carbon footprint in the oil sands and we need to work on it."
A stricter regulatory regime There are signs of progress, though it's spotty.
Since 1990, industry has reduced its per-barrel GHG emissions by 28 per cent, but that intensity-based improvement ended over the past few years. And it was overwhelmed by booming development. GHGs from the oil sands rose from 15 megatonnes to 59 megatonnes between 1990 and 2013. As mining gives way to more steam-driven production, GHGs from the sector are forecast to triple from 2005 to 2020.
In 2007, Alberta's former Progressive Conservative government created a new regulatory system – including a budding market for carbon offsets like those sold by Cargill – in order to slow that trajectory.
The goal was to achieve a 12per-cent improvement from a base year in GHG-intensity per unit of output by large industrial emitters such as oil sands operators and coal-fired power plants. If companies achieved a greater reduction at one plant, they receive "performance credits" that can be applied to other facilities. If they exceed the regulated limit, they must either pay $15 a tonne of CO2 into a technology fund, or else buy offset credits from companies that can slash emissions at a cheaper rate.
Today, that system is the midst of a major rewrite. Alberta's new NDP government has bluntly called the regulations obsolete. New rules introduced this summer require companies to achieve an additional 8-per-cent improvement in emissions intensity by 2017 or they'll have to pay $30 a tonne into the fund or purchase offset credits. And Premier Rachel Notley is promising to release a more wide-ranging climate policy later this year that should set the bar for post-2017.
The government says large oil and gas producers will pay between 35 and 40 cents a barrel in added costs in 2017. Canadian Oil Sands Ltd. – a part-owner in Syncrude – says climate regulations cost that oil sands operator 21 cents a barrel in 2014, a figure that will triple in 2017.
For its part, the Canadian Association of Petroleum Producers says the new levy will cost the oil and gas sector $600-million a year. That's on top of the impact of a 20-per-cent bump to corporate taxes, at a time many companies are already bleeding cash.
"That's certainly not insignificant for the sector," says Alex Ferguson, vice-president with the Calgary-based lobby group. He noted that the industry has invested 100 per cent of its cash flow back into Canadian operations, so any reduction in revenues will cut into capital expenditures. At the same time, the sector relies on foreign investment for expansion plans.
"If you reduce the returns, there's a chance that foreign direct investment won't come into Canada. It will find a cheaper jurisdiction and we've already seen that," he says. "It wanders down to the States pretty easily."
The CAPP executive says the industry acknowledges the need for stepwise improvements on its GHGs, and has an "aspirational goal" that oil sands emissions be reduced to levels equivalent to the average crude consumed in North America.
However, the group flatly rejects the notion that a more aggressive climate policy will win social licence or reduce opposition to the sector's expansion and the pipelines that are needed to facilitate it.
"There is no link between market access and climate policy," Mr. Ferguson says. While some jurisdictions could create policies that would target high-emissions oil sands, "I don't think climate policy has much to do with getting a pipeline in the ground to flow your resources," he adds, despite the fact that U.S. President Barack Obama has explicitly tied the fate of the Keystone XL pipeline to the industry's performance on GHG emissions.
'I think everything's on the table' Producers are pursuing a cautious approach – stress-testing investments against relatively modest carbon pricing, investing in technology that could make a significant difference in the long run and counting on rising global demand to keep oil prices high enough to offset the higher compliance costs.
Indeed, some of world's largest oil companies have embraced the concept of "carbon pricing" as a means of combatting climate change. Suncor Energy Inc.'s chief executive Steve Williams has urged an economywide pricing scheme. In an open letter earlier this year, CEOs from Europe's six largest oil companies urged governments around the world to adopt carbon pricing. The group included Shell, Norway's Statoil ASA, and France's Total SA, all of which have significant investment in the oil sands.
"If governments act to price carbon," they wrote, "this discourages high carbon options and encourages the most efficient ways of reducing emissions widely." This week, those European companies indicated support for deep emission reductions that would limit global warming to 2-degrees Celsius. That support was not forthcoming from American-based oil companies, with the exception of ConocoPhillips Co.
While critics say oil sands reserves will have to "stay in the ground" to reduce global warming, the International Energy Agency has concluded that success on climate change is entirely
consistent with rising oil sands production, although Canada's own commitments for cutting emissions would be more difficult to achieve as the sector expands output.
Nevertheless, political pressure on the industry is sure to grow.
In the federal election campaign, NDP Leader Thomas Mulcair has pledged to make GHG performance a key yardstick in environmental assessments for proposed pipelines such as TransCanada's $12-billion Energy East project, which would send more than one million barrels of western oil a day to refineries and export points in Eastern Canada. Liberal Leader Justin Trudeau argues that Canada needs a credible emissions policy – including greater carbon pricing for the oil sands – in order to shed its image as climate laggard.
In Alberta, Ms. Notley appears determined to roll out new policies that will target not only industrial polluters but transportation and housing. More stringent targets for the energy sector are likely to emerge, ratcheting up pressure on producers already in contraction mode.
"I think everything's on the table," says Andrew Leach, associate professor and academic director of energy programs at the University of Alberta, who was tapped to lead the review by the provincial NDP. That includes potentially higher carbon fees that target absolute, provincewide emission cuts, instead of the current plan that merely aims to slow the growth in GHGs.
"If you want to drive deeper emissions reductions, you either have to go more stringent on the tools that you have, or you have to go to different tools," Mr. Leach said in an interview.
The oil sands accounted for 22 per cent of provincial carbon emissions in 2013. The sector also represents the fastest-growing source nationally, although the pace of growth may slow considerably if crude prices remain lower for longer and more expansion projects are scrapped. More than one million barrels a day of future
output has already been shaved from the sector's long-term production outlook since the downturn began last summer.
To date, companies that operate oil sands mines have been able to slowly reduce energy consumption – and hence emissions – through a series of operational changes. And some new mines are boasting major improvements.
Imperial Oil Ltd. says its massive Kearl mining project – which started production in 2013 – will have the same GHG intensity per barrel of oil as the average crude consumed in North America, for example, in part because the plant uses co-generation to produce both electricity and steam.
Others are exploring ways to reduce energy and water use required to produce a barrel of oil at steam-driven plants. Such work holds the potential to lower emissions sharply while at the same time reducing operating costs.
Over 10 years, Cenovus Energy nc. has cut emissions per barrel at its flagship Christina Lake and Foster Creek projects by a third, says Jon Mitchell, director for environment and sustainability at the oil sands producer.
"We've been anticipating the increase in the carbon price and regulatory change for some time and we're well prepared for it," he says. "This [climate change issue] is one of the key challenges the industry has and so by incorporating a price into our economics and looking at the technologies that can stimulate, that's going to help us tackle this problem over time."
Oil sands giant Suncor is aiming to get its GHG emissions down to the level of conventional crude, and is pursuing solvent technology for future steam-driven projects. The technique involves pairing injections of propane and butane with steam to curb energy use at such projects.
"We're very encouraged by what we're seeing," Mr. Williams told analysts last month.
Few, if any, of such technologies are planned for use at existing oil sands operations, however, and wide-scale adoption is likely years away. Innovations are also difficult to replicate. Each project has its own geology and its own engineering challenges: What works at one may be unproductive at another.
Some of the world's largest energy companies have banded together to share intellectual property and speed adoption of novel technologies. But that effort, called Canada's Oil Sands Innovation Alliance, has so far produced little in the way of tangible results.
Mr. Newell, who helped Syncrude wrangle down costs during the 1980s oil bust, argues that the industry has an opportunity to slash costs and lower emissions by investing in more efficient technology.
"We should have a moon shot out there," he says. "Why aren't we saying: Canadian oil sands will be the cleanest source of fossil fuels by 2030?"
Some of that work is quietly under way. Indeed, if there's any consensus across the industry, it's that the carbon levy collected by Alberta should continue to finance promising technologies that stand to have a dramatic impact on the sector's emissions.
So far, virtually all the money collected since 2007 has gone to the tech fund, which is operated by the arm's-length Climate Change and Emissions Management Corp. (CCEMC). But the government may decide to allocate the growing revenues from the carbon levy to other sectors in order to generate emission reductions – for example, to finance public transit or energy efficiency programs.
Since 2010, the CCEMC has committed $350-million to 109 projects across a wide spectrum of emissions-reduction technologies. But its investment has leveraged nearly $2-billion in private sector funding for those projects. With the increase in the carbon tax announced in June, the CCEMC could see its annual revenue grow to $225-million a year, assuming industry maintains its pattern of compliance.
The provincial corporation aims for breakthrough technologies that won't be developed if it does not participate, its managing director Kirk Andries says. "These represent bold new thinking around how things can be processed in ways that had not previously been considered," he says.
Mr. Andries acknowledges that the technologies are often in the early stages of development and unproven, so there is an element of risk and uncertainty regarding the GHG reductions that will result. One example is Quebec City's
CO2 Solutions Inc. The company was a recipient of CCEMC money to help commercialize an enzyme-based technology that it says will dramatically reduce the cost of capturing carbon dioxide from the flue gas of industrial sources.
CO2 Solutions received a $500,000 grant from the Alberta agency – as well as money from the federal government – to build a demonstration unit in Valleyfield, Que. It is now working with
Husky Energy Inc. to build a carbon capture unit at the producer's heavy oil facility near Lloydminster, Alta.
The outfit's president, Evan Price, says he's confident that his enzyme-based system will capture CO2 from natural gas boilers at a cost below $30 a tonne – below the price level set by the NDP government.
But that's just the first step. It's still unclear what the industry will do with the CO2 that could be captured, and how to get it from where it is produced to where it might be needed.
Alberta is currently proceeding with a "carbon trunk line" that will ship CO2 from the industrial region around Edmonton for use in reviving old oil fields in the south – an attractive market for captured CO2 that stands to make the economics of the technology more appealing, according to Mr. Price.
The CCEMC is also looking to develop other markets for CO2, offering $35-million as part of a "Grand Challenge" to find commercially-viable applications for the waste gas. The winner will receive a $10-million award to establish a business in the province.
"Alberta has an abundant supply of CO2 and what we want to do is find technologies that can consume CO2 in significant ways and convert it from waste into a useful, market-ready product," Mr. Andries says. One example of the ideas being funded in the first stage: Solidia Technologies from Piscataway, N.J., is working with
Others say that approach amounts to a free pass for oil sands companies to keep spewing carbon uninhibited into the atmosphere, arguing that there are better opportunities for meaningful – and more immediate – emissions reductions in the sector's massive supply chain.
Fleets of service vehicles could be converted to run on natural gas, for example, instead of diesel.
There is also substantial room to improve the efficiency of equipment at well sites and curb venting of methane emissions, industry participants say.
Such efforts could become more economic as large producers shop for offsets to comply with tougher environmental rules, vastly expanding a market estimated to be worth about $50million. But deep reductions are likely to remain elusive as the industry retools for an extended slump.
"Barring carbon capture and storage, which is very costly, it's a challenge," says Klym Bolechowsky, president of ClearSky Engi
neering Inc. , a small outfit that specializes in verifying that emissions reductions claimed by companies like Cargill are real.
"It's going to take a real gamechanger up there, like a new technology for combustion, or a real paradigm change," he predicts.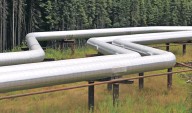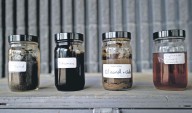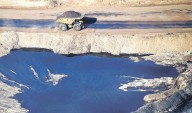 "If there was an easy way, I think they would have done it by now." 
[End of article]