* Ontario looks to Newfoundland for hydro deal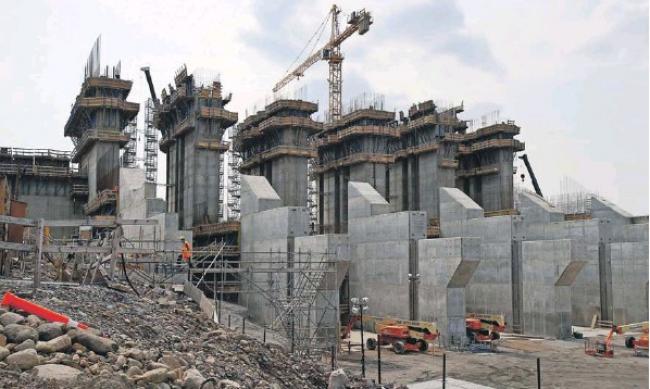 Ontario is eyeing a deal to buy hydroelectric power from Newfoundland and Labrador, a first step toward implementing the newly signed Canadian Energy Strategy to build energy integration between provinces.
For Ontario, the deal would represent one move in a longer process of boosting electricity imports, in hopes of driving down greenhouse gas emissions and controlling skyrocketing power prices. For Newfoundland and Labrador, it would mark a stride towards the province's goal of becoming a major exporter of emissions-free power.
Ontario Energy Minister Bob Chiarelli said on Monday he is negotiating to buy up to 500 megawatts from Newfoundland annually. Ontario is also working on a separate contract with Quebec for up to 1,000 megawatts after already securing a deal for 500 megawatts from La Belle Province last year.
The idea is to use the power from Quebec and Newfoundland to temporarily replace electricity from the province's nuclear reactors, which will be partially taken offline for refurbishment in the next few years.
Mr. Chiarelli said he would only do a deal for Newfoundland and Labrador power if it costs Ontario the same or less than electricity from gas plants.
"The biggest item is price and respect for the ratepayers. That's overriding," he said in an interview. "The second consideration is climate change. If we can have clean hydroelectric instead of emitting gas plants, that would certainly be beneficial."
The amounts of power under discussion are relatively small, and are only meant to serve Ontario temporarily during nuclear refurbishment, but Mr. Chiarelli left the door open to considering more deals in future.
Newfoundland has plans for another hydroelectric project, at Gull Island, but wants to have long-term export contracts in place before starting construction. While Mr. Chiarelli said Gull Island is not on the table "right now," Newfoundland and Labrador Natural Resources Minister Derrick Dalley suggested he would push for it to be on the province's agenda.
Mr. Dalley said his province is also considering what it will do with power from the Churchill Falls Generating Station when the controversial contract for that facility with Quebec expires in 2041.
Newfoundland has a thorny relationship with Quebec because of the Churchill Falls deal, making any hope of getting transmission cables from Labrador to Ontario through Quebec difficult.
Instead, Mr. Chiarelli said, Ontario would receive Labrador's power via a circuitous route that passes underwater through the Maritimes, New England and New York.
Quebec Energy and Natural Resources Minister Pierre Arcand said there have so far been "no real discussions" between his province and Newfoundland about pushing Labrador electricity through Quebec to Ontario.
But he said he was eager to reach a deal to sell more Quebec power to Ontario, which he estimated would be concluded within a few months.
"There is a basic of understanding between both governments," he said. "We've said that we would start by agreeing on something that is easier to do, and if there are other needs coming from Ontario of course we will be willing to listen and discuss this. We're going to make a first step in that direction and then after we will see what happens."