Pipeline pits B.C. whales against Alberta jobs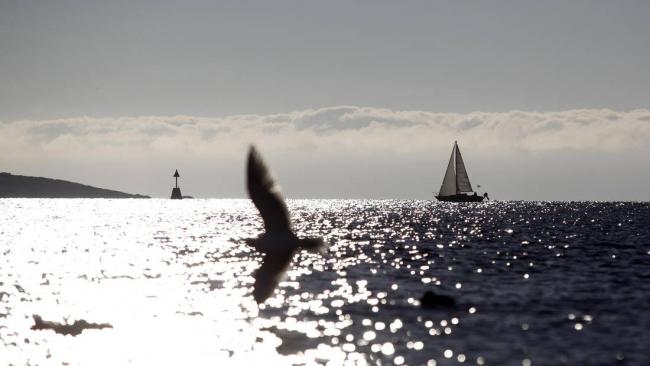 The mayors of Victoria and Edmonton view the Kinder Morgan pipeline expansion plans very differently – in ways the prime minister may not be able to reconcile.
Every month, five marine tankers laden with crude oil depart from Kinder Morgan's Westridge Marine Terminal in Burnaby, wending their way through the Salish Sea and rounding the southern tip of Vancouver Island to the open Pacific Ocean.
The shipping lane cuts through the waters where the last surviving members of a threatened population of whales, the southern resident orca clan, spend most of the year. If Kinder Morgan's Trans Mountain pipeline expansion project is approved, the company will send 34 loaded oil tankers per month through their habitat.
The federal government will decide next month whether to allow the expansion project.
Campbell Clark: Trudeau needs to go all-in if pipelines are to proceed
Related: Canada needs pipelines built the Canadian way
Related: Do not let Canada's climate get Trumped
Victoria Mayor Lisa Helps has written a personal letter to Prime Minister Justin Trudeau, invoking the horror that will follow should there be a spill in those waters and reminding him of his pledge to make Canada an environmental leader.
"A decision that will capture the hearts and keep alive the hopes of the younger generation of Canadians who worked hard to put you in office and who have great expectations that you will make decisions that will truly balance the environment and the economy," Ms. Helps wrote to Mr. Trudeau.
"You can't square the circle," she said in an interview. "You can't be a climate action leader and approve a new pipeline that will exponentially increase the number of tankers travelling through our waters."
Mayor Lisa Helps is photographed in front of the Strait of Juan de Fuca, where oil tankers pass through regularly if the pipeline expansion is approved.
CHAD HIPOLITO/FOR THE GLOBE AND MAIL
But following the pipeline route back to its source, the concerns are different.
In Edmonton – the heart of Canada's pipeline network – the sustained downturn in the energy sector caused by low oil and gas prices is beginning to show up in the unemployment lines. As investment slows and the Alberta government's deficit grows, the project is seen as a vital link to new markets.
Edmonton Mayor Don Iveson also uses the Prime Minister's words to make his case, saying that if Mr. Trudeau follows through with his promise to make evidence-based decisions, his cabinet must say yes to Trans Mountain.
"We have relied on facts and arguments to win the day. We don't have emotion on our side in the same way, unless you are an unemployed metalworker or someone with the anxiety of a national rail corridor with a million barrels a day of product moving past your home," Mr. Iveson said.
From these two cities on either end of the debate – and communities all along the line – Mr. Trudeau is facing two strong and competing demands.
* * *
Along British Columbia's coast, local governments have registered objections to the project, fearing a catastrophic marine oil spill that would be impossible to fully contain. A bunker fuel spill from the bulk grain carrier M/V Marathassa in English Bay in April, 2015, carried an indelible lesson: Even in perfectly calm conditions and close to shore, only half the fuel was ever retrieved.
Kinder Morgan has promised enhanced spill response if its pipeline expansion is approved. That includes new safety response vessels, the use of escort tugs and support for more vessel tracking through the busy marine corridor.
But Ms. Helps said the promises do not assuage her concerns.
The B.C. government commissioned a study by the U.S.-based marine consulting firm Nuka Research and Planning Group that estimated it would take five days to recover between 9 and 31 per cent of a 70,000-barrel spill in southern B.C. waters. In other words, an oil spill would not be contained within the southern resident orcas' critical habitat. It would also put Victoria's sensitive coastal bluff ecosystems, its migratory bird sanctuary and the city's important tourism industry at risk.
"No matter what the spill response is," Ms. Helps said, "there is no such thing as actually cleaning up from an oil spill. The environment never fully recovers."
* * *
In Edmonton, where the Trans Mountain pipeline starts, Mr. Iveson says his community worries about oil spills, too. And Trans Mountain is what provides the relief.
"I understand some of the angst about energy products moving through a community because that is our daily experience in Edmonton," he said. "We are the epicentre of the pipeline network. … We have millions of barrels a day moving by pipeline, but because of constraints on pipeline capacity, more and more product is moving by train right through our city, on rail lines that were laid to move grain and steel and people. So those rail lines go right past schools and houses and businesses."
Expansion of Kinder Morgan's pipeline capacity to the coast would mean safer transportation. "It is a safer and lower-risk choice," Mr. Iveson said in an interivew. "But we haven't relied on fear and infinitesimal risk to make our case. We trust the cabinet will make an evidence-based decision rather than an emotional decision."
* * *
For Washington State whale researcher Deborah Giles, the fear is real and even an infinitesimal risk is too much. She works in the waters her state shares with Victoria, and her organization, the Center for Whale Research, focuses exclusively on the southern resident orcas. She worries an increase in oil tanker traffic in the Salish Sea would tip this endangered clan into extinction.
A mother orca known as J28 went missing in mid-October and is presumed dead, dooming her 10-month-old calf, J54. Protected as an endangered species for more than a decade, the clan remains at a precarious population level of just 80 members.
Their decline is attributed to a lack of Chinook salmon, which make up most of their diet, and to pollution and marine traffic. Dr. Giles says even without a spill, the noise generated by large tankers is a major threat. A spill would be devastating.
"I can tell you the whales coming into contact with contaminated water for an immune-depressed population, it's a recipe for disaster," she said in an interview. "They are already so compromised … I don't know how much more they can handle."
The Washington State Department of Ecology has filed its concerns about the Trans Mountain project with Canada's National Energy Board.
A newborn baby killer whale is shown swimming with whales believed to be the baby's mother and brother in the Haro Strait between Vancouver Island and Washington state.
AP PHOTO/COURTESY WHALE RESEARCH CENTER, KELLEY BALCOMB-BARTOK
The National Energy Board conducted an 18-month review of the project and concluded that it is in the national interest and that the probability of a spill from crude carriers or the pipeline is "very low." The board recommended that cabinet approve it, subject to 157 conditions.
* * *
When hard economic times hit Calgary, Fort McMurray and Red Deer, Edmonton seemed to avoid the consequences of the drop in energy prices. It had other economic sectors, including the civil service. But persistently low oil and gas prices have finally worn away the city's insulation.
Approval of the pipeline expansion will allow Alberta's oil sands producers to reach a critical alternative to reliance on the U.S. market, where it sells its products at a discount. For Edmonton, the benefits will be indirect but tangible. The city can expect almost $550-million in construction spending, 734 jobs at peak construction and $514,000 in annual local taxes once the project is complete.
Terminal personnel demonstrate and practice for incident prevention and response for the Trans Mountain Pipeline system in Edmonton June 10, 2015.
JASON FRANSON/FOR THE GLOBE AND MAIL
Edmonton chief economist John Rose noted those benefits are more important now to his city than ever.
"Around May of this year, we began to see very significant pullbacks in areas like construction and manufacturing, so we have seen employment in Edmonton go negative," he said.
"What really counts for Edmonton is what is going to be the medium- and longer-term impact of investment levels in the energy sector in Alberta, because that's what drives our manufacturing sector. …What we would hope to see, with improved access to international markets, is that energy companies will say we at least know we are guaranteed access to global prices [that] provide us with the confidence to proceed with further investments in the energy sector."
* * *
Both Edmonton and Victoria have a stake in the decision facing Mr. Trudeau and his cabinet. Both are watching for campaign promises to be made real.
As Ms. Helps wrote: "You have an enormous opportunity on this critical file to make a decision in the national interest that will have positive reverberations for generations to come."
[Top photo: A sailboat passes through the Strait of Juan de Fuca off Victoria. The strait would see a significant increase in oil tankers if Kinder Morgan's Trans Mountain pipeline expansion is approved.CHAD HIPOLITO/FOR THE GLOBE AND MAIL]