Pipeline saboteurs becoming oil patch's newest foes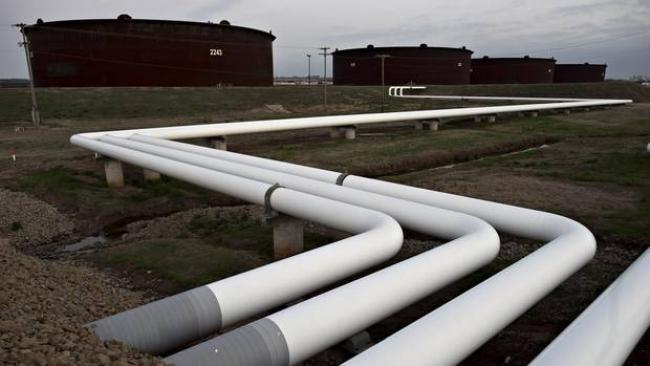 A handful of anti-pipeline activists with lock cutters and the will to get arrested have become Canadian oil producers' newest hurdle to delivering crude to markets.
Enbridge Inc. said it was forced to shut its Line 9 from Sarnia, Ont., to Montreal for about four hours after the company's control centre detected that a valve had been tampered with and closed late on Sunday. It was the fourth time in two months that an Enbridge line was shut after a such incident. While deliveries weren't affected by the shutdowns, the company plans to enact permanent security measures at valve sites, Graham White, a company spokesman, said, declining to disclose the costs. "They have used lock cutters every time," Mr. White said. "In the latest three incidents, they destroyed locks or fences, sabotaged the equipment and departed without staging a protest."
Saboteurs represent the latest hassle Western Canada faces in getting its crude to coastal markets as plans to build new pipelines are stymied by environmental and legal challenges. Pipeline development in Canada has been under increasing public scrutiny and has become a political football for local, provincial and federal leaders. Last week, Montreal Mayor Denis Coderre, along with about 80 other Quebec mayors, announced his opposition to TransCanada Corp.'s plans to build the Energy East line to Saint John on the Atlantic coast.
Tampering with pipelines is the latest form of opposition to moving crude oil, said Steven Paget, an analyst at FirstEnergy Capital Corp. in Calgary. "It doesn't seem that they thought they'd need to have armed guards at every pump station."
Enbridge's Line 9 provides eastern Canadian refineries with western Canadian and U.S. crude. The line went into operation last year after its direction was reversed amid opposition from local communities. In the latest incident, the Enbridge control centre detected a valve closing at 11:15 p.m. and the line was shut while it was inspected, Mr. White said. Unlike in the first two incidents, the company received no calls in advance of the action.
On Dec. 7, three protesters manually shut a valve and chained themselves to the equipment at a fenced-in site along Line 9 about 80 kilometres west of Montreal. They were removed by police. Ten days later, the line was shut again by protesters. On Jan. 4, the company's Line 7 was shut for about three hours after flow was partly restricted by protesters near Cambridge, Ont.
"The People versus Enbridge line 9" group page on Facebook posted a picture of a protester breaking a chain with a lock cutter last month.
"We are taking additional permanent security measures at valve sites to help discourage such activities," Mr. White said in an e-mail. "We would not discuss details publicly since that would risk reducing the effectiveness of those measures."
Oil sands producers including Suncor Energy Inc. and Canadian Natural Resources Ltd. have clamoured for years for new pipelines to increase access to world markets, in a bid to improve the price they receive for crude. Heavy Western Canadian select is among the world's cheapest grades, selling for less than $15 (U.S.) a barrel last week.
Last year, U.S. President Barack Obama rejected TransCanada's planned Keystone XL line to the U.S. Gulf Coast. Kinder Morgan Inc. is set to face new environmental hurdles to expanding its Trans Mountain line from Alberta to tidewater at Burnaby, B.C.
New security measures to protect pipelines might include drones or cameras, Mr. Paget said. "The alternative is terrifying," he said. "Turning a valve on a pipeline is like jamming the brake on a train. It poses a very high risk."