Protesters kick off NEB hearings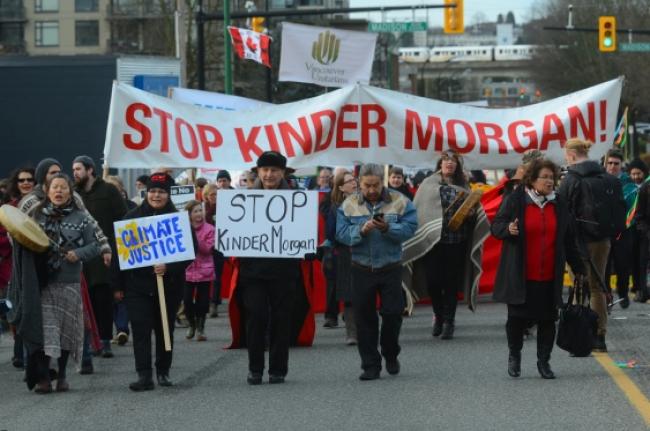 [Remember rally at the NEB on Saturday, Jan. 23 at 1 pm - see "Events"]
Carrying signs and a marching tune, dozens of people turned up to the Trans Mountain National Energy Board hearings in Burnaby to voice their opposition to the Kinder Morgan project. 
The rally was planned days before the hearings and was intended to send a message to the NEB, which was holding final arguments for intervenors inside the Delta Burnaby Hotel and Conference Centre Tuesday.
The group of peaceful protesters gathered at Jim Lorimer Park at around noon first, before marching to the hearings taking place later in the day.
Among those taking part in the rally was Union of B.C. Indian Chiefs Grand Chief Stewart Phillip, who said he was there to support the First Nations opposed to the pipeline proposal.
He called on new Prime Minister Justin Trudeau to honour his campaign promise and revamp the federal environmental assessment process and NEB review process.
Stewart also said the prime minster needs to suspend the NEB hearings until a fair process is properly established.  
"We're here today once again to bring forward our concerns, our issues and demonstrate our support for all of those groups that are opposed to the proposal," he said. "We cannot allow such a risk-fraught proposal to be imposed upon the general public. As far as we're concerned, this pipeline will never ever happen."